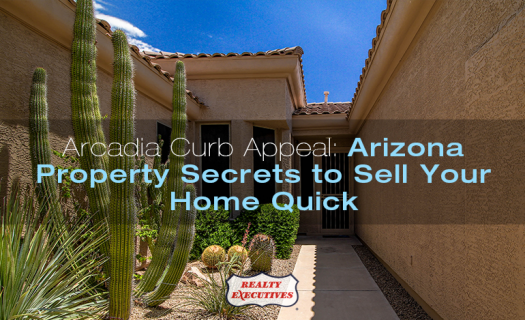 Although we have five senses at our ready disposal, our vision is the one we use most often to help us to make our first impressions. This is especially true when it comes to buying real estate: as a seller, you have to think about what your buyers will be seeing from the moment they get near your property and if they will like your Arcadia curb appeal.
Stage Your Home's Exterior for Maximum Curb Appeal
Whether you have a potential buyer pulling up to your home in a car or viewing it online, they will form their first impressions based on what they see from the outside. If your home's exterior is inviting, that feeling will stay with prospective buyers as they enter the home. Here are some tips to help you set the stage for a positive showing:
Landscaping for a Manicured Front Yard
Lush, green grass can be a challenge in the Phoenix area, but it is possible. Drought-resistant Bermuda or St. Augustine grasses are ideal for Arcadia lawns. Regardless of the grass you have, deep watering done regularly in the early morning hours will go a long way toward keeping your lawn from turning yellow or brown and looking unkempt. Be sure to keep your lawn mowed, edged, and weed-free so it looks well-manicured and ready to show.
Consider adding flowers and other native plants for a splash of color. Landscapers recommend flowering plants like desert fairy duster or feather bush since they thrive in this climate with minimal maintenance. Make sure you choose colors that will compliment your home's exterior. If you prefer not to plant flowers or other flora, adding a desert container garden will liven up the front entrance.
Clean Your Home's Exterior and Hardscaping
Hire a professional or rent a power washer to remove dirt and grime from your hardscaping, driveway, fence, deck, garage, and the exterior of your home. This will brighten up your outdoor surfaces and make them look clean and inviting.
Stage Your Front Porch and Entryway to Enhance Curb Appeal
Take a critical look at your home's front entrance. Do you see peeling paint, cracks in the concrete, poor lighting, or an overall blah appearance? If so, now is the time to freshen up the area. Repaint the door with an eye-catching, welcoming color. If you aren't sure what color to go with, talk to your Arcadia realtor about which colors would be most attractive for your neighborhood. If the house needs repainted, have that done. Fix any cracks in the concrete or resurface those areas. Here are some other general tips:
Make sure lighting is updated (if needed) and matches the door lock/handle and house numbers for a consistent, modern appearance.
Keep the front porch swept and the windows sparkling clean.
Add planters, a welcome mat, a sitting bench, or other decor that reflect the luxurious lifestyle your home offers.
Interior Tips to Help Your Luxury Home Show Well
Now that you've wowed guests with an irresistible exterior, keep the momentum going inside with the tips below.
Light It Up
Not only can dark halls seem a little ominous, the areas that lack light may appear to be smaller than they really are. Let the brightness in by opening up the shades and blinds, and keep fixtures on during showings or open houses. The brighter the light, the better buyers can see — and see themselves in those surroundings.
Note Neutrality
While purple may be your favorite color, it may not be the favorite of your prospective buyers. While your home is on the market, keep the colors neutral. White, cream, and beige are great background colors to let the natural beauty of the home shine through. Warm grays and new neutral colors like light blush and soft pinks are also gaining popularity this year. Go with something that compliments your space without being a distraction. Ask an experienced real estate agent in Arcadia for ideas if you aren't sure, or check out these paint colors for inspiration.
Clean and Declutter
If buyers are distracted by all of your personal collections and pictures, they'll have a hard time picturing themselves in your home. Instead of keeping up all of your treasured items, get ahead in your packing and put them in boxes in a storage unit. Hire a weekly cleaner to keep the place clean and sparkling so it's always "show" ready.
Remove 50% and Add 100%
Have you ever noticed how, when you have less furniture in a room, it looks a lot bigger? Go through your home and get down to the bare minimums: a couch and table in the living room, bed and dresser in the bedrooms, and only season-appropriate clothing in the closets. By pulling out about 50% of what you have in the home already, your place will look 100% bigger.
Add to the illusion with mirrors hung in small spaces, such as foyers and hallways. They'll reflect natural light and make the space appear bigger and brighter.
Hire a Professional Stager
If you are overwhelmed by the list above or need help getting your luxury home ready to show, it's worth enlisting the help of a professional stager to get the job done. He or she can rearrange and/or redecorate as needed to help your property stand out from the competition. The right staging can help the home sell more quickly and often for a higher price.
________________________________________________
Are you interested in luxury homes for sale in Arcadia AZ? Reach out and contact Thomas Osterman, an experienced Realtor serving Arcadia Arizona. Call (602) 405-4052 to speak with Thomas today!
Read related articles: