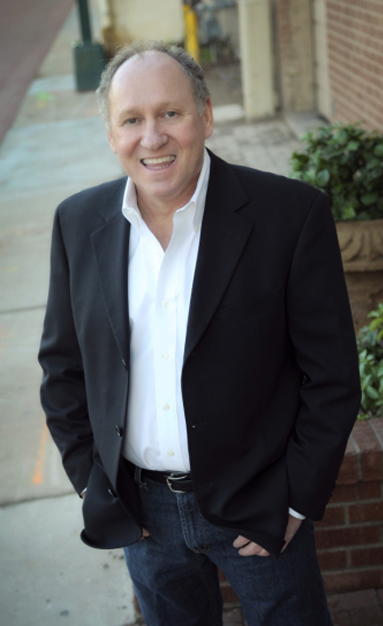 Thomas Osterman has been a leader in the real estate industry since he first became a commercial broker in 1984. He quickly differentiated himself from the competition as a competent, hard-working realtor, always willing to go the extra mile to ensure complete satisfaction
His dedication to excellence was recognized when he was selected as the exclusive, in-house broker for Dentro, Ltd. – one of Phoenix's premier investment and development firms.
Within two years, Thomas completed more than $19 million in transactions through his ability to select undervalued real estate, negotiate deals, and coordinate all aspects of transactions.
Thomas later left Denro to syndicate land investments in southern Arizona as part of a personal investment strategy.
With several syndications under his belt, Thomas began developing 870 acres of a mixed-use, master-planned community in Nogales, Arizona, just north of the Mexican border.
While creating Pena Blanca Highlands, his accomplishments brought him to the attention of a local investment group that asked him to found S&S Diversified Services, a "collection agency" that bought unsecured, nonperforming paper from the federal government.
While at the helm of S&S, Thomas traveled across the US to review files and perform due diligence on thousands of loans and coordinate their acquisition, as well as complete all collection and settlement activities.
In 2002, Thomas joined Realty Executives to transition his career into residential real estate, with a focus on high-end luxury homes.
To date, he has closed over $128 million in sales, was among the top 3% of Maricopa County Realtors in 2012 for gross-dollar sales volume, was named a Top Producer by Phoenix Magazine for 2021, was in the top 1% of gross-dollar sales volume in Arizona for Q1 2022 and the top 2% for Q2 2022.
His unique background across all aspects of the real estate industry gives him the knowledge and experience to represent his clients and advocate for them at every stage of the transaction.
You can rest assured that you will be in good hands with Thomas, whether you are looking to buy or sell.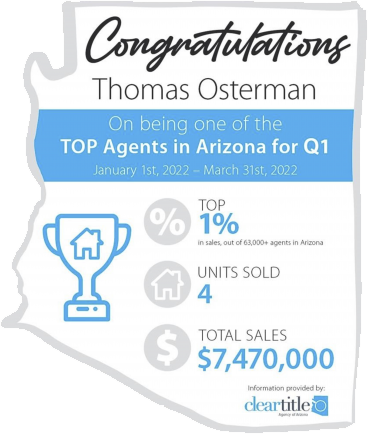 I was recently represented by Thomas Osterman in the purchase of my new home. His efforts were tireless and I was amazed at his tenacity in pursuing the home I wanted. Thomas clearly had my best interest in mind and provided me with critical information, enabling me to make informed decisions. He was extremely knowledgeable about the marketplace, contract documents, inspections and escrow process. Thomas also kept in constant contact with me and was always available to answer my many questions. He never made me feel I was imposing and was at all times very cheerful. Professionals like Thomas don't come along very often and I would highly recommend his services to anyone planning to buy or sell a home.
"Although I'm no stranger to buying and selling luxury homes, I was pleasantly surprised by Thomas' knowledge and attention to details. He took the time to become familiar with my needs and to research the market to find just the right options. In addition, Thomas was available for any questions I had about the communities and what I could expect. He also helped tremendously to coordinate the escrow process when I found a home I wanted. I am happy to know that I can rely on Thomas for all of my future real estate needs."
My husband and I had been searching for a home in the Arcadia / Paradise Valley area for months and were frustrated with the entire process, even when working with other agents. We chose to go out on our own, and when we called Thomas about a listing of his and he suggested he represent us, we were skeptical. But he won us over with his energy, humor, and frankness. We have not been disappointed!
"We are convinced that Thomas knows the buying and selling process better than any other agent in town. In addition to his vast knowledge, his network was at our disposal for any additional aspects we needed throughout the process. Due to his experience in contract negotiation, Thomas was able to point out aspects of the contract that other agents missed, resulting in us saving money.
"We feel lucky to count Thomas among our good friends and as our personal advocate. You cannot do better than Thomas for your real estate needs."
"There is no doubt that Thomas Osterman is now our Realtor of choice. After years of frustration working with other agents, we were introduced to Thomas by a friend, and he took the time to learn our needs and wants to help us in the best way possible. He asked all the right questions and gave us options we hadn't even considered. He then showed us so many fantastic properties it was hard to choose!
We've now partnered with Thomas on a number of real estate transactions, both as buyers and sellers. We have found his marketing skills creative to bring potential buyers to us in a steady stream. With customer service, he is unsurpassed, following every detail along the way with class and professionalism. We've never had to follow up with him to see where he is because he's so far ahead of the game. And he makes the whole process fun and painless.
Thomas Osterman doesn't just meet your expectations — he always EXCEEDS them! Without hesitation, we are enthusiastic in our referrals to him."