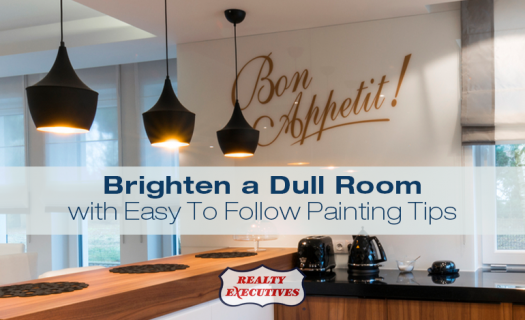 If watching paint dry is no fun at all, the opposite must be true: putting a new coat of color on the walls can transform an otherwise lifeless room into something magnificent. Sure, you can just paint one color and be done with it — and there's certainly nothing wrong with that — but with a little imagination, you can turn a couple of cans of paint into a brand-new room that is fun and memorable. Discover how to brighten a dull room today!
Write on the Walls; We Dare You!
We've always been told that it's not okay to write on the walls, but is there a good reason why not? If you section out some of the wall for a coat of chalkboard paint, you can keep imaginations going long after the paint can is empty. This is a great idea for a child's bedroom or playroom; just be sure to put the chalkboard area closer to the ground so the kids can easily reach it. But don't stop with the little ones. A chalkboard is perfect by the back door or in the kitchen, where you're prone to leave messages between family members or jot down grocery-list items.
If chalk is a little too messy, you can opt instead for dry-erase paint, which magically transforms an ordinary wall into a whiteboard. This is a perfect option in the home office for keeping track of clients, the children's rooms for artistic masterpieces, the garage, hobby and craft area, or in the kitchen.
Whether you use chalkboard paint or dry-erase paint, you can cover the entire wall and change styles as the mood strikes, or you can paint just a portion of the wall. If you section it off, add a painted or hung frame to bring that part of the wall to life and set it off from the rest of the room.
The Scent of Silence
Have you ever encountered "loud" smells? They're the kinds that tell you a smoker, baby, or pet lover has been in the room. Strong smells get into everything, but when it comes to paint, there's a solution: odor-eliminating paint with baking soda. By absorbing the smells contained in an area, this special paint serves to neutralize cigarette smoke, diaper pans, cooking catastrophes, or that strange smell coming from the mudroom. Even if you don't have any of these odors lingering in your home currently, if you're planning to put your home on the market, it might be a good idea to consider such a paint before it's listed. Bad smells may lead to no offers.
Lights, Camera, Action!
If you have an extra room and have been trying to figure out what to do with it, how about turning it into a home theatre? Instead of investing in a costly 80" screen, try projector paint. It's specially formulated to reflect light differently from regular paint, so it instantly transforms a smooth surface into a screen. As with the chalkboard walls, you can frame your screen so you know exactly where to aim the projector. Just be sure to measure correctly!
Magnet Madness
Do you have a collection of paper notes or magnets that need a home? Magnetic paint can be used alone or under chalkboard, dry-erase, or even regular paint to create a backdrop for anything you want to stick to the wall. Because it contains iron powder, the more coats you use, the more magnetic the surface will become. Imagine the possibilities! How about using it inside kitchen cabinets, on walls throughout the house, or even on a refurbished piece of furniture, such as an office desk.
______________________________________________
Are you interested in houses for sale in Arcadia Arizona? Contact Thomas Osterman, an experienced Realtor in Arcadia. Speak with Thomas by calling 602-405-4052 now!
Read related articles: