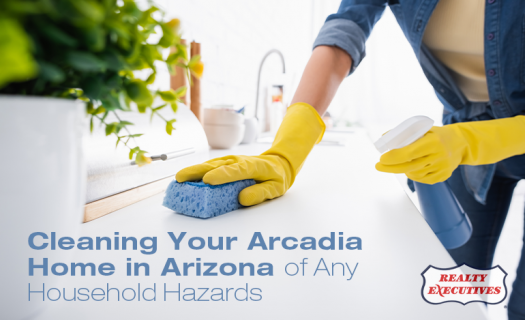 Your home is your haven, but what you might not know is that you likely have some dangerous chemicals lurking in your home, making it less than safe. As we as a whole choose to be more health conscious and aware of how our actions affect the future of the environment, we should be striving to avoid these toxins. Here are five chemicals to put on your "banned" list when cleaning your Arcadia home.
AMMONIA

While excellent at cutting grease on windows and glass surfaces in your home, this nitrogen and hydrogen gas is caustic. If swallowed, it is poisonous, and when mixed with chlorine bleach, it's toxic. Ammonia comes from petroleum, another chemical that is good to avoid, and it's strong odor lets you know it can irritate the eyes and respiratory tract, sometimes causing headaches and triggering asthma attacks. It also burns skin on contact. Plain white vinegar works just as well at cutting grease and leaving glass streak free, plus it's less expensive and non-toxic.
CHLORINE BLEACH

As previously mentioned, when bleach and ammonia mix, you not only have a noxious odor, but the gas they create is quite dangerous. In fact, if you read labels on some bathroom cleaners, it will warn you not to mix the two. Bleach, or sodium hypochlorite, has long been a go-to disinfectant and whitener and is sold solo or as part of dishwasher detergent, laundry soap, and toilet bowl cleaners. Gloves must be worn when using bleach since it burns the skin, plus the fumes are irritating to the eyes and mucous membranes, and it can be lethal if swallowed. Try lemon juice as a safer alternative in many cases.
FORMALDEHYDE
Not just used for embalming bodies, this colorless, highly odorous gas is commonly added to air fresheners, carpet cleaners, furniture polish, and dishwasher detergent as a disinfectant and preservative. The list of symptoms caused by formaldehyde use is long and includes dizziness, headaches, fatigue, irritation of eyes and nose, and immune dysfunction. It should also be pointed out that formaldehyde is a known carcinogen. It often hides in the ingredient list, disguised under the labels 1,3-dioxetane, formalin, methanol, methyl aldehyde, methylene oxide, oxymethyline, Quarternium-15, and urea. Instead of using preservatives, make small batches of cleaners with household ingredients, such as a paste of baking soda and water.
SODIUM HYDROXIDE

Sodium hydroxide, also known as caustic soda or lye, is the main ingredient in bar soap, and in that mixture, it's not an issue. But as a household cleaner, it is one of the most toxic ingredients in many households. The primary ingredient in oven and metal cleaners as well as drain-clog removers, it converts grease to a soapy residue and decomposes the protein in hair that's clogging your sink. Sodium hydroxide should not come in contact with skin, and the fumes can aggravate the nose, eyes, and lungs. In addition, this caustic chemical can affect the pH levels of water, killing aquatic life. Try a natural mix of baking soda and white vinegar to create that bubbling effect that cuts grease and breaks up drain clogs.
TRICLOSA

This pesticide, as labeled by the Environmental Protection Agency, is used in antibacterial products, namely hand soap, laundry detergent, sponges, and hand sanitizer. You'll find triclosan listed as Microban®, Irgasan®, Lexol 300, Cloxifenolum, BioFresh, and Ster-Zac. Ironically, studies show there is no benefit to using antibacterial products, and they may, in fact, decrease one's natural ability to fight bacteria. The use of products containing triclosan has also been linked to asthma, allergies, decreased immunity and fertility, cancer, and even tainted water. If you must use a hand sanitizer for on-the-road cleanups, you can try adding essential oils to distilled water or watch hazel.
_________________________________________________
Are you interested in luxury homes for sale in Arcadia Arizona? Contact Thomas Osterman, the best real estate agent in Arcadia. Call 602-405-4052 to speak with Thomas today!
Read related articles: