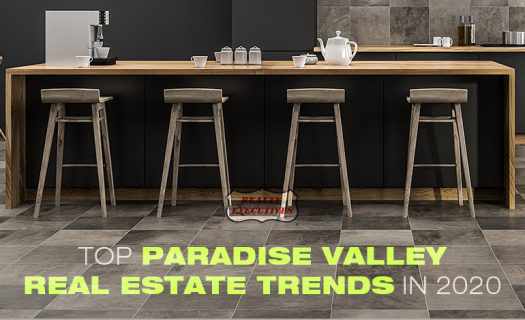 Located just fifteen minutes north of the heart of Phoenix, Paradise Valley holds its spot as one of the most exclusive communities in Arizona. When shopping for a luxury Paradise Valley property, you will discover a diverse range of homes with different architecture, designs, and amenities as custom homes are built and modified to satisfy the preferences of their owners.
However, there are some features that have gained popularity in Paradise Valley and other luxury communities across Arizona. Read on to learn about Paradise Valley real estate trends that are gaining traction in 2020.
Luxury Home Trends in Paradise Valley, AZ
Architecture / Design
Contemporary homes are highly sought after right now. Many new home builders are showcasing properties built with modern and streamlined styling, including dramatic levered roof lines, urban and natural textures, and open floorplans that allow for a natural blending of styles and transitions. Spanish Colonial, rural Mediterranean, and transitional styles also remain popular. By working with a top Paradise Valley realtor, you can certainly find a luxury home in the style you prefer.
Layouts
Generally, there is a trend towards simpler floor plans and flexible square footage. Here are some other current layout trends to look for:
Master Bedrooms—Master suites have become more intimate, and sitting areas are on the outs. Instead, well-appointed closets and bathrooms are gaining the square footage.
Living Rooms—Formal living rooms are shrinking, and great rooms are taking up more of the square footage. Many homeowners now prefer great rooms next to the kitchen with lots of seating and areas to gather.
Dining Rooms—Traditional dining rooms are being replaced by breakfast rooms and other casual dining areas like patios where residents can enjoy the beautiful weather and views.
Bonus Rooms—Also referred to as "flex rooms," these family-friendly spaces serve as second family rooms and are flexible enough to change uses as the needs of the family change.
Kitchens—Kitchens are a focal point and are equipped with extra-large islands that can double as an eating area and gathering spot. Kitchen plumbing and lighting fixtures are high quality and make a statement all their own.
Indoor-Outdoor Living Spaces—Retractable glass walls, multiple outdoor entertaining spaces, and outdoor living rooms are becoming favorites and helping homeowners enjoy the outdoors to the fullest.
Garages—Garages are getting upgraded with additional length and height, room for multiple cars, oversized or sidewinder doors, auto lifts, and more. For car enthusiasts, showroom garages are increasingly popular.
Guest/Extended Family Accommodations—To enhance privacy for long-term guests and extended family members, homes are being equipped with multiple family rooms, guest houses, casitas, or suites.
Outdoor Spaces—Multiple balconies/terraces off various rooms are giving residents ample opportunity to enjoy private time in an intimate, outdoor setting. Fire and water features and comfortable seating areas enhance these secluded spots.
Indoor Design Trends
Lighter hues are replacing rich, dark colors in wood flooring. Porcelain, which has shown much improvement in recent years, now offers highly durable, low maintenance parquet and plank varieties with limitless options that homeowners enjoy.
Wallpaper (yes, really), wainscoting, and bright, warm paint colors that complement the surrounding desert landscape are in style right now. White walls are also in with a focus on softer, warmer whites and pops of color provided by décor and furnishings.
Neutral colors are still popular, but they've pivoted towards grays with warmer colors like gray greens, blue grays, Dove gray (lilac undertones), and gray beige combinations.
When it comes to metals, gold is back and so is a lighter and toned-down brushed bronze from what we remember in the 80s and 90s. Mixing metals like stainless steel, pewter, copper, gold, and gunmetal is on the rise.
Granite countertops have lost popularity while quartzite and marble have become more common. For serious cooks, Cambria and other man-made quartz finishes offer a maintenance-free, chef friendly alternative.
Large kitchens with lots of natural light are all the rage. Open display shelving is replacing some of the traditional cabinetry of the past. Homeowners are looking for the best appliance brands, like Wolf, Sub-Zero, and Cove, to make meal prep and clean up more enjoyable. Induction cooktops, steam ovens, and kitchen appliances with smart features are very popular. Luxury homeowners are turning towards more personalization with colored, black stainless, and white appliances. Built-in appliances that blend with the surrounding cabinetry like built-in column refrigerators are now the preference for many.
Luxury bathrooms are now equipped with statement lighting pieces like chandeliers, high-end plumbing fixtures, and enclosed showers. Spa-like free standing tubs and dual commodes are still in high demand.
Indoor Amenities
Today's focus is on personalizing custom homes for the preferences of the owner. Of course, this will vary greatly from person to person, but some highly desirable indoor customizations right now include:
Wine rooms or cellars
State-of-the-art home theaters or media rooms
Top-shelf gym or exercise rooms with large windows or indoor/outdoor accessibility
Onsite spa with a sauna, showers, hot tub, and other resort-like equipment
Mini yoga and Pilates studios
Swim spas (indoor or outdoor)
Smart Home Technology
The latest in-home technology adds a new level of comfort, safety, and enjoyment to our lives. While products and systems will change and evolve, the desire for whole-home technology systems, or "smart homes," is here to stay.
Outdoor Features
Paradise Valley residents enjoy beautiful weather and stunning views, so it only makes sense that they would want to enjoy the outdoors whenever possible. In addition to the outdoor spaces we mentioned above, residents are showing a preference for the following:
Retractable sun screens and awnings
Specialty and LED lighting
Misters
Fully equipped outdoor kitchens
Televisions
Fireplaces
Plunge pools and infinity edge pools with features like waterfalls
Elaborate pool houses
For larger homes, basketball courts, tennis courts, and putting greens further enhance the enjoyment of the outdoor space.
These are the Paradise Valley luxury home trends topping our list for 2020.
---
Thinking of buying a home in Paradise Valley this year? Do you want to know how to best prepare to list your Paradise Valley home? In either case, give Thomas Osterman a call! A Paradise Valley Arizona real estate professional, he has an unparalleled knowledge of the local market, trends, and strategies to get you the most favorable terms for your real estate transaction. Contact Thomas today to get started!
Read Related Articles: