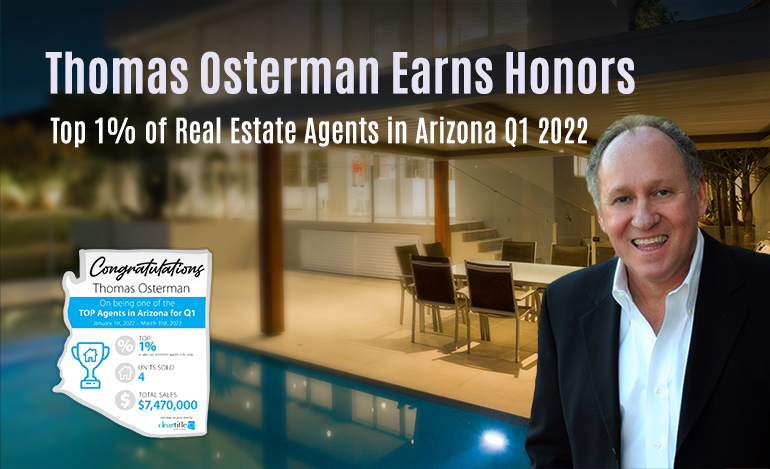 Recently Luxury realtor Thomas Osterman was named by Clear Title Agency of Arizona as one of the top agents in Arizona for the 1st quarter of 2022.
The designation highlights some of his most recent accomplishments.
These include:
Top 1% in sales out of 63,000+ agents in Arizona
Four units sold during the first quarter
$7,470,000 in total sales
The real estate transactions in the first quarter of this year included two where Thomas served as the buyer's agent, one where he represented the seller, and a fourth property where he worked with both the buyer and seller.
One transaction was a luxury home in the highly-sought Paradise Valley Country Estates neighborhood of Paradise Valley, AZ, which closed for $2,660,000. Amidst heavy competition, Thomas was able to help the buyer secure this four-bedroom, four-bathroom, 3,536 square foot home perched on an elevated hillside featuring unobstructed mountain views.
A second property Thomas assisted a buyer with was a newly renovated 6,205 square foot commercial office building located in beautiful Scottsdale, AZ. The property closed for $2,295,000.
Thomas also assisted a seller in Scottsdale, AZ, by negotiating a sale in the amount of $2,200,000 for the client's fully remodeled and renovated four-bedroom, four-bathroom, 3,429 square foot Scottsdale home.
Finally, Thomas worked with the buyer and seller to negotiate the sale/purchase of a property in the heart of Phoenix. This two-bedroom, one bathroom, 935 square foot property was prime for an update and possible expansion, being in a great location close to the airport, shopping, dining, entertainment, and more!
Click here to see more of the properties that Thomas has recently sold.
Many of Thomas' clients offer glowing endorsements regarding the service they received. For example, Michael Micco recently provided this feedback:
"We worked with Thomas recently to sell our house in Scottsdale and subsequently purchase a home in Paradise Valley. Thomas was one of the best realtors we have ever used. He was always available, always on time, and had great attention to detail. He works alone and we loved the individual attention we received. He helped us through both transactions in just over 4 weeks. We will definitely work with him in the future. Amazing."
You can see more testimonials from Thomas Osterman's past clients here.
Why Experience Matters When Choosing a Luxury Real Estate Agent in Arizona
Some people are under the impression that it doesn't really matter who you choose to represent you in your real estate transaction.
That is a false assumption. In order to get the most profit or value from your transaction, you need a realtor that knows your local market inside and out.
If you are in the luxury market, this is even more important, as there is more money at stake.
Your realtor's expertise is invaluable when it comes to the local schools, prices for different towns (and different neighborhoods within those towns), and even what features add value (and how much) when it comes to luxury homes.
Going with a realtor that doesn't specialize in your market can cost you big time.
Your realtor should also be a good communicator—someone you trust has your best interests at heart.
About Thomas Osterman – Top AZ Luxury Realtor
Thomas Osterman has been a leader in the real estate industry since 1984, when he became a commercial broker.
His hard work and dedication to excellent service led to him being selected as the exclusive in-house broker by one of Phoenix's premier investment and development firms, Denro, Ltd.
In two years, he had completed more than $19 million in transactions due to his keen eye for identifying undervalued real estate and coordinating all aspects of these transactions.
Thomas went on to develop 870-acres of master-planned, mixed-use land which is Pena Blanca Highlands in Nogales, Arizona.
Thomas joined Realty Executives in 2002, where he transitioned his efforts into residential real estate with a focus on luxury properties.
His diverse experience across aspects of the real estate industry gives him the ability assist his clients on a level that few others can. In the past twenty years, he has closed over $126.5 million in sales!
Real Estate Recognitions for Thomas Osterman
For Thomas, providing first-class services is second nature. It's no wonder he has been recognized as a stand-out in the real estate industry! Here are just some of the other recognitions he has received:
Top 3% of Maricopa County Realtors for 2012
Kev's Best: One of the 5 Best Real Estate Agents in Phoenix
Named a "Top Producer" by Phoenix Magazine for 2021
Enjoy a Seamless Buying or Selling Experience with Thomas
Are you considering buying or selling your luxury Arizona home? Thomas Osterman can handle every aspect of your transaction—soup to nuts—to help you sell for top dollar or purchase the home of your dreams, even in this highly competitive market.
Reach out to him today and put his decades of experience and exceptional customer service to work for you!
---
Are you looking for a top-rated luxury AZ real estate agent that has experience helping affluent home buyers and sellers get the most for their investments in Arizona? Call Thomas at (602) 405-4052 and enjoy a more personalized real estate experience today.
Related Articles: