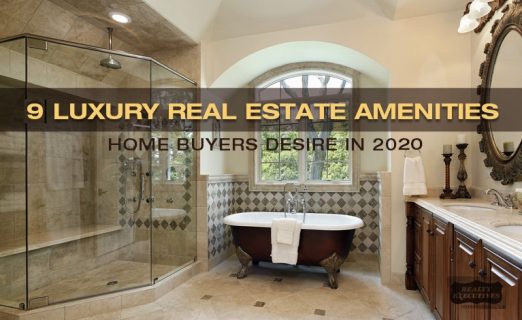 The luxury home market can be highly competitive, and discerning home buyers are often attracted to ultramodern home trends that will take a luxury home to the next level of comfort or innovation. Whether you are looking to buy a luxury home or are a savvy homeowner getting ready to list your high-end home in 2020, here are some of the top luxury real estate amenities that will attract buyers and help sellers get the best returns from their luxury upgrades.
1. Integrated Technology for Smarter Homes
Home buyers are looking for properties with smart technology to connect them with every aspect of their home, including lighting, home security, appliances, temperature settings, entertainment areas, window treatments, irrigation, and more with the simple voice command or the touch of one's tablet or smartphone. These amenities are not only convenient, but many of them (like lighting, water, and temperature control) also help with overall energy efficiency. Check out some of the latest smart home trends for the coming year.
2. Luxurious Gourmet Kitchens
This popular trend will continue into 2020 and beyond. Home buyers are looking for top-of-the-line, energy efficient appliances like the Sub-Zero Wolf product line for wall ovens and gas cooktops, which are quickly replacing traditional oven ranges. Smart appliances like programmable coffee makers and refrigerators that allow you to view the contents without opening the door, keep grocery lists, and even offer Wi-Fi connectivity so you can order your groceries, stream video content, and more are becoming all the rage.
Luxury amenities like high-end fixtures, open display shelving, windows and other features are gaining popularity. Today's most desirable kitchens feature large, functional islands with sinks, electric, and seating. Luxury features like touch faucets, many of which include water temperature color indicators and pre-set temperatures, are an up-an-coming trend, especially for avid cooks.
Countertops made of quartzite and marble are edging out granite as the surfaces of choice. For serious cooks, Cambria and other man-made quartz finishes are maintenance free and provide a wide range of textures and color schemes to fit any style preference. With a focus on entertaining, kitchens that open up into other living spaces, like living or dining areas, are especially popular as they create a great gathering place, make hosting easier, and help the space feel more connected.
"Dirty" or catering kitchens, which are secondary kitchens located near the main kitchen, are gaining traction for those who want to cook and entertain while keeping the main kitchen pristine.
3. Large, Open Floorplans for Socializing
Today's home buyer is gravitating towards luxury properties with more open floorplans and social gathering areas. Formal living and dining rooms are being replaced by large, eat-in kitchens with adjoining expansive great rooms. Private movie theaters and media rooms are still in high demand, but families are trending towards game rooms and open loft areas where families and friends can interact more freely.
4. Beautiful Outdoor Living Spaces
Buyers and homeowners alike are viewing their outdoor spaces as valuable parts of the home to be enjoyed to their fullest. This is especially true in places like North Scottsdale or Paradise Valley, Arizona where spectacular views and favorable weather are enjoyed all year long. More than just a pool or patio, today's trends include amenities like outdoor kitchens and high-end outdoor furniture so hosts can prepare meals and entertain without having to leave their outdoor space. Fire and water features are also becoming more prominent.
Resort-like amenities like large windows and floor-to-ceiling glass doors off the living and dining rooms, which allow panoramic views and open out to the patio or courtyard, are also in high demand.
Rather than one patio area, homeowners are seeking multiple outdoor spaces, like balconies and patios off guest rooms, offices, master suites, and other areas of the home for a more intimate outdoor experience.
5. Spa-Like Bathrooms
Along with kitchens, bathroom upgrades have always been a high priority for home buyers and homeowners as they are well utilized and provide a high return on investment. Today's trends include (somewhat surprisingly) the absence of a bathtub, especially for smaller bathrooms. For larger spaces, bathtubs are separate from the shower area. Showers now get top priority, with many homeowners opting for two-person showers with seating, steam options, multiple shower heads, and heated floors for a more spa-like experience.
Other popular amenities include touch faucets, which help the sink area stay cleaner and more sanitary. Luxury buyers also look for digital showers, which include a digital interface that allows you to control temperature, steam, lighting, music, water pressure, and more for the optimal shower experience.
6. Collectors' Garages
For car enthusiasts, large garages that can showcase carefully curated luxury car collections are becoming a staple for luxury home builders. Oversized garages equipped with man caves, workshops, car lifts, and other amenities are trending for 2020.
7. Spa-Like Fitness Areas
Many of today's luxury home buyers look for fitness spaces that rival top luxury spas. Exercise rooms with large windows that bring residents closer to nature while providing ample space for weights, workout equipment, yoga, and other activities are highly sought. Today's luxury fitness rooms are equipped with large screen televisions and wireless speakers for the ultimate workout experience.
Saunas and indoor/outdoor pools round out the experience for those looking to relax after a good workout.
8. Flexible Spaces
For families with young children and those who work remotely or run their own businesses, multifunctional spaces are becoming more sought after, especially among affluent millennials. These flex spaces allow for an easy transition as the needs of the household change.
9. Guest Houses
For homeowners who have out-of-town visitors or family members who stay at their home for an extended period of time, many are opting for small guesthouses (casitas) instead of guest rooms to give guests and homeowners more privacy and autonomy.
These are just six of many popular luxury amenities today's homebuyers are looking for. If you want to buy a luxury home in the Scottsdale, Arizona area with certain must-have amenities, it is best to get in touch with a top luxury real estate agent in Paradise Valley, AZ who can help you find exactly what you are dreaming of.
---
In today's real estate market, there are a number of luxury properties available with amazing amenities to enjoy. If you are looking for the perfect luxury home in the greater Phoenix or Paradise Valley, Arizona area, get in touch with Thomas Osterman, an experienced Scottsdale realtor with his finger on the pulse of today's luxury real estate market. He can help you find just what you are looking for.
Read More About Luxury Arizona Real Estate:
Arcadia Curb Appeal: Arizona Property Secrets to Sell Your Home Quick
Top Paradise Valley Real Estate Trends for 2020