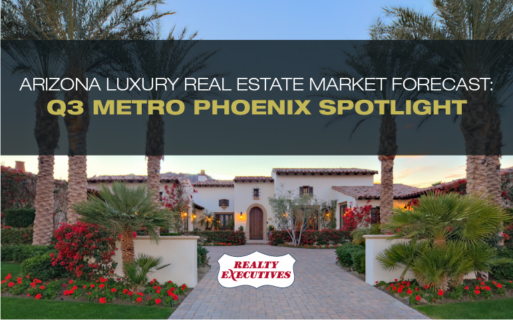 Greater Phoenix is one of the fastest-growing areas in the country right now because of its strong local economy, beautiful desert views, and low cost of living. As such, the luxury real estate market has been strong. What will the luxury housing market look like this quarter?
Let's get an overview of the forecast, current trends, challenges, and opportunities for affluent buyers and sellers in Greater Phoenix to find out what to expect in the third quarter of 2023.
Greater Phoenix Luxury Real Estate Forecast for Q3
The Arizona luxury real estate market has been booming in 2023, largely because of the high demand from affluent buyers who are looking for luxurious homes in desirable locations.
According to the latest report from the Arizona Association of Realtors, the median sales price of luxury homes in the state has reached $1.8 million. This is a 12.5% increase from June 2022 to June 2023.
The inventory of luxury homes also decreased by 18.7%, indicating a strong seller's market.
The forecast for the third quarter of 2023 is fairly optimistic, as the economic recovery and low taxes continue to attract more buyers to the Arizona luxury real estate market.
The most popular areas for luxury homes are Phoenix, Scottsdale, Paradise Valley, and Sedona. Buyers shopping in these communities can find a variety of styles and amenities based on their preferences and lifestyles.
The Arizona luxury real estate market is expected to remain competitive and dynamic, offering excellent opportunities for both buyers and sellers.
Q3: Current Trends in Luxury Residential Homes
Greater Phoenix's attractive offerings, such as wall to wall sunshine, comparatively low taxes, and a lower cost of living, have attracted homebuyers from all income brackets. In recent times, this appeal has intensified, drawing the attention of some of the nation's highest earners to the booming luxury home market.
As temperatures heat up, so does the demand for luxury housing in the Valley. Some industry experts have gone so far as to describe the market as "on fire," pointing to examples like the Arizona Biltmore Resort mansion, which was originally acquired through foreclosure for $4.25 million and is now listed for an impressive $15 million.
According to recent data, Arizona welcomed over 5,200 high-earning households in just one year, ranking it third among the states that attracted the most high-earning households, following Florida and Texas.
Many of these out-of-state buyers have set their sites on luxury homes in the Phoenix area. Take a look at data from Redfin for some of Greater Phoenix's most popular luxury communities.
Data shows that the median price of homes in Paradise Valley increased by 21.9% year-over-year, reaching $4.5M in June 2023. The average time on market for homes in Paradise Valley was 104 days in June 2023, compared to 53 days in June 2022. The number of homes sold in Paradise Valley rose from 32 in June 2022 to 38 in June 2023. Going into quarter three of this year, the Paradise Valley market is considered not very competitive.
According to Redfin, the median sale price of homes in North Scottsdale increased by 8.7% year-over-year in June 2023, reaching $1.0M. The average time on market for homes in this area was 55 days, more than double the time from last year. The number of homes sold in June 2023 was 468, a decrease of 24% from June 2022. North Scottsdale is considered somewhat competitive going into quarter three of this year.
According to the latest data, the median home price in Arcadia dropped to $1.4M in June, a 7.7% year-over-year decrease. The average days on market for homes in Arcadia increased from 31 in June 2022 to 69 in June 2023. There were 85 homes sold in June 2023, a decrease of 15% from June of last year. Arcadia is not considered to be very competitive right now.
According to recent data, the median home price in Biltmore rose by a whopping 68.5% year-over-year in June 2023, reaching $775K. The average time on market for homes in Biltmore was 35 days in June 2023, compared to 25 days in June 2022. The number of homes sold in Biltmore increased from 27 in June 2022 to 37 in June 2023. The Biltmore market is considered somewhat competitive going into quarter three.
Data shows that the median sale price of homes in the North Central Corridor dropped by 6.6% year-over-year in June 2023, reaching $958K. The average market time for homes in this area increased from 22 days in June 2022 to 50 days in June 2023. The number of homes sold in June 2023 was slightly higher than the previous year, with 48 transactions compared to 46. The North Central Phoenix market is considered somewhat competitive going into quarter three.
Factors Driving Demand for Luxury Homes in Phoenix
Several factors contributed to this trend of high demand and limited supply in the luxury housing market.
Location
One big factor driving demand for luxury homes in Arizona is its close proximity to California, which has the largest number of high earners in the country. As the COVID-19 pandemic changed the work environment, and more flexible or remote work options became available, many states, including California, saw a movement away from big cities, giving professionals more choices for luxury housing.
Affordability
Those who move from California and other states with a high cost of living benefit from lower taxes, more affordable living expenses, and decreased housing costs offered in Phoenix and surrounding areas.
Essentially, a high income earner's dollar goes further in Arizona, which is driving more searches for luxury homes. And prices keep rising because demand is higher than supply. This is a problem that is affecting the Phoenix housing market as a whole.
Limited Inventory
With an ever-growing population, Arizona's demand for housing often faces the challenges of limited supply, and the luxury market is no different. Zoning rules and restrictions on development in some areas further tighten the market, supporting a steady increase in property values.
Investment Opportunity
Arizona's economy is thriving, and its local real estate markets offer more stability than many other regions. These factors make it an attractive option for affluent investors who are looking to buy luxury properties.
Increased Personal Wealth
While factors like higher mortgage rates, surging home prices, a nationwide housing shortage, and intense competition have created challenges for the average buyer, those with a budget exceeding $1,000,000, are less affected.
According to Sotheby's International Realty's 2023 luxury outlook report, the consistent high-end sales can be attributed to two significant factors:
There has been an explosion of personal wealth, driving a demand for luxurious properties.
Homebuyers are placing greater emphasis on their living spaces following the upheavals brought about by the COVID-19 pandemic.
Also, many high-end transactions are conducted in cash, making interest rate fluctuations on the luxury residential sector a non issue.
For the reasons listed above, the demand for luxury housing in Greater Phoenix looks like it will remain strong through the third quarter of this year.
Challenges in the Greater Phoenix Luxury Housing Market in the Third Quarter
Even with the increase in supply, the Phoenix luxury market still faces some challenges that may limit its growth potential. One of them is the lack of new construction and development of high-end properties.
In a recent study, Arizona ranked #7 among states having the most severe housing underproduction between 2000 and 2015. This creates a gap between supply and demand for luxury homes.
Another challenge is the uncertainty of the current economic and political environment, which may affect consumer confidence and spending habits.
Luxury Real Estate Opportunities for Q3
Despite these challenges, there are also some opportunities for buyers and sellers of luxury homes in Phoenix. One of them is the demographic shift that is happening as more baby boomers retire and downsize their homes.
According to Zillow's home value index, typical property values in Phoenix-Mesa-Scottsdale area declined by 6.7% over the last twelve months as of June 2023, though home values are still higher than they were in the beginning of 2022. This means that sellers who are looking to cash out their equity and move to a smaller or cheaper home may find favorable conditions in the third quarter and into next year. On the flip side, buyers will pay slightly less than they would have a year ago.
Another opportunity is the diversification and innovation of the luxury market itself. PropStream lists some of the top Phoenix neighborhoods to call home as Arcadia, Agritopia, Camelback East Village, Glendale, and North Mountain Village. These neighborhoods offer different types of luxury properties, including historic mansions, modern condos, urban amenities, and even rural charm. Buyers who are looking for a unique and customized living experience may find what they are looking for in one of these areas.
Exploring Up-and-Coming Neighborhoods for Luxury Living
Some of the highest sales in the Phoenix area this year are for new construction homes. Here are a couple of new luxury neighborhoods to keep your eye on if you are in the market for a new home:
Crown Canyon Estates, Paradise Valley
Crown Canyon Estates, named after a crown-shaped rock formation in a canyon within the Phoenix Mountains Preserve, will be an exclusive community of 12 luxury homes in Paradise Valley. The 30-acre canyon landscape offers privacy and scenic views for the residents. The homes will feature a Sonoran contemporary style that reflects the Arizona aesthetic and the natural beauty of the area.
Some of the lots are available for custom designs, including one of the most expensive sites in the estate, a 5-acre lot located at the highest point in the canyon.
Silver Sky, Paradise Valley
The Paradise Valley Town Council gave unanimous approval in April to a plan by Scottsdale developer Silver Sky for a 17-acre luxury home community on the slopes of Mummy Mountain. The property will feature 12 distinctive home sites, with eight reserved for custom builds and four for showcase homes.
The custom homes will vary in size from 7,500 to 15,000 square feet. The architectural team is composed of Mark Candelaria of Candelaria Design Associates and Stratton Andrews of Stratton Architects. The homes will offer amenities such as tennis courts, spacious multi car garages and cutting-edge fitness centers with spa and cold plunge.
Canyon Residences, Scottsdale
Located at the foot of Camelback Mountain and next to the 16th hole of the prestigious Phoenician Golf Course, the upcoming Canyon Residences will offer five luxury villas with floor plans ranging from 3,000 to just over 3,600 square feet.
Each residence will showcase contemporary desert architecture with a focus on a sleek, modern use of natural materials. Interiors will blend clean lines and desert themes. Floor-to-ceiling windows throughout enhance views, invite natural light, and create a more spacious feel. Each unit will have three bedrooms, 3.5 baths, a den, and a two-car garage.
Nearby, the Phoenician Resort provides many options for fine dining, shopping, spa services, and fitness facilities. These are priced starting at $2.995 million.
Conclusion
Based on the information provided, the luxury housing market in Phoenix, Arizona, looks like it will remain strong for the third quarter of 2023. If you are interested in buying or selling a luxury home in Phoenix, Paradise Valley, Scottsdale, or surrounding areas, get in touch with Thomas Osterman. He can help you navigate the buying or selling process for the best possible outcome. Contact him today at (602) 405-4052 to get started!