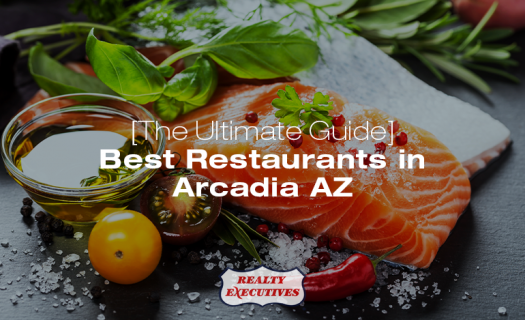 Arcadia has no shortage of incredible restaurants around its neighborhood. In fact, the best restaurants in Arcadia, AZ are so numerous that trying them all would take months.
For anyone who is new in town or who wants a quick guide to which ones they should try first, this list can help narrow their options according to what they are in the mood for. Time to get your bibs out and your appetite ready for the incredible offerings from these cavaliers of cuisine:
Best Traditional American Restaurant in Arcadia, AZ — O.S.H.O. Eatery + Nanobrewery
Website: http://ohsobrewery.com/home/
Address: 4900 E. Indian School Road
Phone: (602) 955-0358
The mark of great classic American cuisine is that you never have to overthink it. With recognizable dishes like a hot pastrami, salmon BLT and brisket, we can safely say that O.S.H.O. accomplished this task. Even their more inventive dishes like "Mac Del Mar" — featuring homemade mac & cheese with crab, shrimp, fresh jalapeño and Applewood bacon — offer comforting, down-home flavors.
Enjoy their huge selection of house made brews, dog-friendly patio and spectacularly scrumptious weekend brunches and Sunday BBQs, all of which are sure to make you a patron for life.
Best Asian Restaurant in Arcadia, AZ — Sushi Brokers
Website: http://www.sushibrokers.com/
Address: 4419 E Indian School Rd
Phone: (480) 515-5000
Sushi Brokers manages quite an impressive portfolio of fresh raw seafood and fusion entrées. Don't expect too many authentic flavors, but creative choices like the "Sanchez" roll containing eel, cream cheese, crab, avocado and jalapeño all tempura battered and deep-fried will hardly leave you pining for a more accurate taste of Tokyo.
Best Breakfast or Brunch in Arcadia, AZ — Arcadia Farms Cafe
Website: http://arcadiafarmscafe.com/
Address: 7014 E 1st Ave
Phone: (480) 941-5665
With an emphasis on locally sourced natural products, Arcadia Farms Cafe's deceptively simple menu disguises the layers of rich complexity within their dishes. Choices like the breakfast panini, breakfast quesadilla and wild mushroom omelet contain far more gourmet subtleties than one would expect from the straightforward description. Don't forget the Crepes "Croque-Monsieur"? Oooh la la!
Arcadia Farms has also been a staple in the catering and event planning business around Scottsdale, so keep them in mind when something special comes on the horizon.
Best Italian Restaurant in Arcadia, AZ — Nook
Website: http://nookkitchen.com/
Address: 3623 E Indian School Rd
Phone: (602) 651-1390
Nook is exactly as cozy as its name sounds. With a distinct "neighborhood hangout" vibe, Nook's understated menu has so many delicious-sounding choices that you may need the staff to help pick something for you. Delectable 12-inch pizzas, incredible bruschetta and unexpected offerings like poutine all pair well with their diverse array of beers, wines and cocktails.
Best Mexican Restaurant in Arcadia, AZ — Tee Pee
Website: http://teepeemexicanfood.com/
Address: 4144 E Indian School Rd
Phone: (602) 956-0178
Tee Pee Mexican Food has been serving the Valley since 1958. This is truly a family-owned and operated restaurant. The owners' children, nieces and nephews help keep this laidback, mom and pop restaurant running, giving Tee Pee an unmatchable family feel. Their full service bar and delicious traditional entrees have kept people coming for generations. George W. Bush is even a fan. During his visit, he enjoyed the cheese enchiladas, which you should be sure not to miss.
Best Steak House in Arcadia, AZ — Steak 44
Website: http://www.steak44.com/home
Address: 5101 North 44th Street
Phone: (602) 271-4400
Steak 44 aims to please with their extensive menu full of steak and seafood options. Their other choices like rack of lamb that is sure to have you dreaming about them later that night. Also worth fantasizing over are their popular side dishes, such as roasted brussel sprouts with sea salt and bacon or their sumptuous corn créme brulee.
Save some room for dessert, though, if only for an excuse to polish off one of their choices of exquisite dessert wines.
Best Modern American Restaurant in Arcadia, AZ — Crudo
Website: http://www.crudoaz.com/
Address: 3603 East Indian School Road
Phone: (602) 358-8666
Yes, Crudo restaurant is Italian at heart, but chef Cullen Campbell's avant-garde dishes are sure to turn heads on any continent. Choices like risotto with squid ink and tuna or brisket with a side of bone marrow sound bizarre on paper, but they will have you trying something adventurous and gushing about it later to friends. House-made cheeses and a menu of expertly-crafted cocktails round out your meal with memorable "befores" and "afters." One thing you absolutely cannot skip: the crispy pig ears with Fresno chiles.
We hope this list of Arcadia's best places to dine will have you trying something new that local residents already love. The variety of cultural experiences like these are part of what makes Arcadia great, so if you want to move to a place where gourmet cuisine from all corners of the globe can be found, let Arcadia Realtor Thomas Osterman help find you a dream home in the neighborhood. Bon appetit!
__________________________
Are you a foodie looking to move near the best restaurants in Arcadia AZ? Thomas Osterman, an experienced Arcadia real estate agent, has in-depth knowledge of the neighborhood and can help you find your perfect dream home. Contact us via email or call (602) 405-4052 today!
Read related articles: