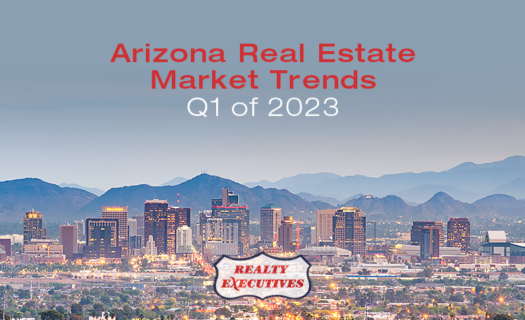 If you have been following the real estate trends in the United States these past couple of years, you know that it has been quite the roller coaster ride.
There was a seemingly insatiable demand for housing in 2021.
This was fueled by a low supply of homes for sale, a growing number of 25-40 year olds (the typical home buying population), low interest rates, and a healthy economy. That demand spilled over into the first part of 2022.
But then interest rates skyrocketed, home prices continued to rise, and inflation continued to wreak havoc on the pocketbooks of many Americans.
Something had to give–and it did. By the 4th quarter of 2022, interest rates, which had reached as high as 7%, brought about a slow down in home sales.
So what will 2023 bring? Are we facing an impending housing market crash?
In this post we will take a look at the U.S. housing market trends as well as the local housing market around Phoenix, Arizona, to make sense of the ever-changing real estate landscape.
U.S. Real Estate Trends for Q1 2023
As we head into February, interest rates are an average of 6.43% for a 30-year mortgage.
The Federal Reserve is meeting again this week, which could result in another interest rate hike.
That said, many experts think that rates may be at or close to their peak. That's a relief for those looking to buy in the coming months.
Typically when interest rates go up, demand goes down, ultimately leading to a decrease in home prices.
Experts are predicting that home prices will begin to decline slightly in the coming months, but they caution against the expectation of a steep drop.
Data shows that house prices for Q1 are about two percentage points higher than this time last year.
Because of these factors, it is likely that first-time home buyers will continue to sit it out in quarter one, as will would-be buyers who have been priced out of the market by high home prices and interest rates.
Lack of housing inventory continues to plague the market in the first quarter of 2023. According to the National Association of Realtors, there is currently a 3.3-month supply of homes for sale.
To put this in perspective, it is better than a year ago but far from the 5-6 month supply that you would typically see in a balanced market.
What about the luxury real estate market? According to RedFin, it experienced the biggest decline on record (since data collection started in 2012). L
uxury home sales fell 38.1% year-over-year during the three month period ending on November 30th, 2022.
This was more than the 31.4% decline in non-luxury home sales during the same period.
Now that we are solidly in the first quarter of 2023, we can see that the luxury market is still struggling with the same obstacles as the non-luxury market.
These include high interest rates, inflation, a tumultuous stock market, and rumors of a coming recession.
However, with interest rates coming down slightly from a 7% high and a slight uptick in searches for luxury properties reported by Google and real estate websites, we could see an increase in luxury home purchases for the first quarter.
Arizona Real Estate Market in Q1 of 2023
As of December 2022, home prices were down 2.2% compared to the previous year, with a median price of $411,000.
The average number of homes sold was down 44.8% year over year.
The median days on market was 62, which was up 27 days year over year.
As we ease into 2023, the housing market has started to balance out in Arizona.
Interest rates are predicted to stabilize, which will invite reluctant buyers back in.
The increased demand will create more competition.
Data shows that we are on track to experience continued growth, namely in the Phoenix, AZ, market.
In the Phoenix Metro area, for example, the median sale price for a home in the fourth quarter of 2022 was $450,000, up 5.9% from the previous year. Inventory had gone up 73.2% in that year, and months supply of homes increased by 186.7% in the same time frame.
Average days on market were around 52, up from 28 days the previous year.
Luxury Real Estate Trends
Luxury real estate trends in Arizona depend on the location, but in general the market has cooled.
According to RedFin, during a three month period ending on November 30th, 2022, Phoenix showed a decline of 45.2% in luxury homes sold.
Phoenix had a 7% decline in new luxury home listings during the same period, with a median sale price of $1.55 million in the Phoenix Metro area.That is a 14% increase over the previous year.
Luxury real estate professionals in the area are reporting significant drops in both dollar volume and number of sales.
Despite the drop, sale prices remained relatively stable, especially in ultra-luxurious places where supply is limited like North Scottsdale and Paradise Valley. Let's take a closer look at these two locations.
Paradise Valley Real Estate Market Trends
The ultra exclusive, secluded town of Paradise Valley, AZ, is a magnet for luxury buyers for so many reasons, not the least of which are the exquisite homes for sale in the area.
Paradise Valley has one of the hottest luxury home markets right now. With high appreciation rates and interested out-of-state buyers, the local market here continues to heat up given the higher sales demand and low inventory.
In the month of December, only 22 homes were sold. That is down from 39 the previous year.
When examining recent trends, it looks like prices will not drop during the first quarter of 2023.
Here is some important data to show how this quarter is shaping up so far. Please note that these numbers are based on a 7-day average:
As of January 31st, the seven day average for inventory is 112, compared to 74 at this time last year and 91 just a month ago. Of that number, 12% are relisted.
Sale prices per square foot are rising slightly after a dip last month, although overall it has been pretty flat for the past couple of quarters.
The price per square foot on a listing is currently $816. For context, last year at this time it was $805.
Right now, the median list price in Paradise Valley is $4,982,500, which is up from last quarter but down from $5.4 million at this time last year.
The median price for new listings is $3,247,500, also up slightly from the previous quarter.
As of January 31st, the average days on market for a listing is 141 days, a steady rise from last quarter, but lower than this time last year, where the average DOM was 164.
Median days on market is 105, also trending up from last quarter. This time last year, the average was 109 days on market.
Currently, the advantage tilts slightly towards sellers based on market action trends (sales versus inventory).
This is a shift from much of the previous quarter, where buyers had a slight edge.
The market is heating up, and many metrics show that it will continue to be a seller's market in the coming months.
North Scottsdale Real Estate Market Trends
Located north of Shea Boulevard in Scottsdale, North Scottsdale is another highly-sought after area for those looking for an upscale community with luxurious housing options.
Here is the latest data we have, which is based on a 7-day average as of January 31st, 2023. Our focus here is on zip code 85255, so data may vary slightly based on the zip code you are looking at.
Currently there are 217 homes for sale, 10% of which are relisted.
This is a slight increase from this time last month, and a huge increase from the average inventory of 58 at this time last year.
Right now, the price per square foot is $522.
As in the previous quarter, the price per square foot has been essentially flat even while prices are rising.
Often this indicates that the new homes coming onto the market are more expensive and likely bigger than older homes.
The current median list price for homes in the market in North Scottsdale, specifically in the 85255 zip code, is $1,985,000, showing a moderate trend upward from last quarter, but down from about $3 million this time last year.
The median price of new listings is at $1,499,500.
The average days on market for homes is currently 95.
The average (mean) is calculated by adding all the sales prices and dividing them by the total number of sales.
Median days on market is 77. This means half of the numbers are higher and half lower than this number.
These metrics are trending up from the previous two quarters, but are slightly lower than this time last year.
The Market Action Index currently shows a score of 32, giving sellers a slight advantage.
Over the past several weeks, the market has been cooling. Since it is still a seller's market (barely), prices haven't started dropping.
But if demand continues to decline, we will likely start to see prices fall during first quarter.
Concluding Thoughts
As you can see, the real estate market has experienced some major highs and lows in the past couple of years, thanks in part to the pandemic's impact on how we live and the economic repercussions that it brought about.
It appears that the stock market, record inflation, high interest rates, and recession rumors will all play a role in consumer confidence for 2023.
However, many analysts predict that the market will slow down and normalize in the coming year, bringing with it more balance. Here are some general takeaways for 2023 so far:
While inventory is still low, it is growing. This is good news for buyers, who will now have a few more options–and a little more time–to place an offer on a home that best fits their needs and desires. Sellers can still enjoy having relatively low competition when it is time to put their homes on the market.
Mortgage interest rates will remain higher. According to most experts, interest rates will remain near current levels and possibly go higher, depending on what the Federal Reserve decides to do. For sellers, this means fewer buyers, so your property could be on the market longer than it would have been in the early part of last year. For buyers, this may mean that they will have to look for homes in a lower price range to accommodate for higher interest charges.
Annual home values continue to rise. Data shows that home prices are still rising year over year, although the rate at which they are rising will slow down, indicating a slow growth year. Because of the healthy buyer demand we are still seeing, coupled with low inventory, it doesn't look like we will see home prices drop aside from the normal seasonal trends.
Desirable luxury markets will see demand continue. As we mentioned earlier, despite a market slowdown, neighborhoods like Paradise Valley, North Scottsdale, Arcadia, and others are still highly coveted areas for celebrities, professionals, families, and well-to-do individuals looking for beautiful luxury properties surrounded by picturesque views, golf courses, spas, and other posh, high-end amenities. As such, home prices aren't expected to go down significantly.
If you are looking to buy or sell a luxury home in Paradise Valley, Biltmore, North Scottsdale, Arcadia, or North Central Phoenix, you will want to partner with a professional real estate agent that knows the local market inside and out to negotiate the best deal for you.
Thomas Osterman has been representing buyers and sellers in the Greater Phoenix area for over three decades. Get in touch with him today to get started!
---
Are you looking for a luxury AZ real estate expert that has experience helping affluent home buyers and sellers get the most for their investments in Arizona? Call Thomas at (602) 405-4052 and enjoy a more personalized real estate experience today.
Related Articles: