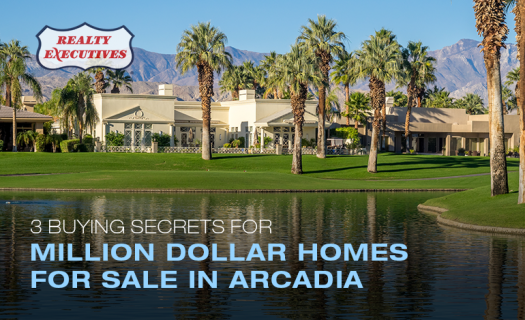 Arcadia is an exclusive neighborhood saturated with history and containing some of the most unique mansions for sale in Arizona. Listings for million dollar homes for sale in Arcadia are often hard to come by and command appropriately high prices, but the good news is that with the help of an experienced realtor in Arcadia, you can gain entry to some of the Arcadia homes for sale without having to spend your life savings to do so.
Here are my top recommendations for getting a piece of Arcadia, AZ real estate without having to fight tooth-and-nail:
Always Tap Your Ability to Negotiate
Real estate sales are a business, and like any business the final cost is not always black and white. Buyers may be able to leverage knowledge they know about the area, such as comparable sales, or they may be able to use information gleaned from the inspection to gain the upper hand.
For instance, you can help close a sale at a lower price by offering to cover 100 percent of the closing fees. You may also be willing to forego repairs for issues found in inspection in exchange for a price reduction — flexibility many buyers would not offer.
During this negotiation process, look to the business acumen and experience of an established Arcadia real estate agent in order to ensure that every move and offer you make brings you closer to your goal.
Target Arcadia Home Listings Older Than 90–180 Days
Most homes that can sell within around 30 days get close to 100 percent of their listing price. However, homes that sit on the market for three to six months or more are much less likely to get the price that they first listed.
These sellers are going to be much more desperate and willing to negotiate than those who are optimistic that they can get a good offer within a few weeks. Target these older listings, but be aware that there may be a good reason that the home has not sold yet. Perhaps there is a design flaw that makes part of the home less useful, or there is an issue like an aging pool that needs completely new pipes to work properly.
Weigh these cons against the opportunities you have to negotiate down the price of the home, and make sure to have a home inspection to cover all of your bases before you make an offer.
Find a Dated Home and Renovate
Many homes lingering on the Arcadia market suffer from dated design. This antiquated nature can affect the functionality of a home more than mere aesthetics. For instance, the home may have a large dining room that would not see much use taking up most of the ground floor.
Most people would balk at a buying a fixer-upper home like this, but remember that you may be one of the only people willing to make an offer on such a home. You can call in estimates to see how much renovation would cost and use that to help you discount your offer on the home to bring it closer to your ideal final budget.
Use an Experienced Arcadia Real Estate Agent
I have many years of experience as a luxury real estate professional in Arcadia selling and buying homes. I can guide you to the perfect properties and tactics you need to get an Arcadia home you will love at a fair price.
_________________________________
Are you interested in houses for sale in Arcadia? Contact Thomas Osterman, an experienced Arcadia real estate agent. Call 602-405-4052 to speak with Thomas now!
Read related articles: