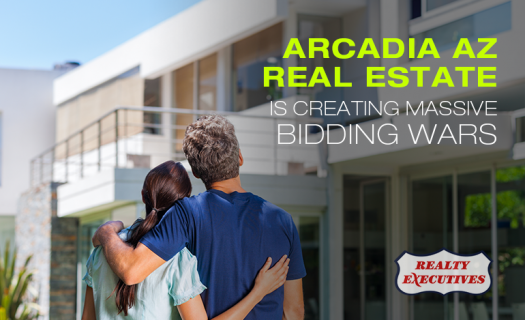 In the greater Phoenix area, Arcadia AZ real estate is regarded as a rare treasure, something that must be pounced on any time an opportunity arises. Rumors of upcoming listings persist in hushed whispers, and those in search of Arcadia homes prepare to throw their hat into the ring like an Olympian trains for the gold.
Part of this allure and mystique has to do with elusiveness, exclusivity and popularity. And, of course, the reputation for amazing homes is well-deserved. Beyond these obvious reasons, Arcadia represents something truly rare and unique. As development continues around Phoenix, the ratio of homes like Arcadia's becomes smaller and smaller.
Learn what makes living in Arcadia so special and why people often fight tooth and nail to make an offer on available Arcadia home listings by reading on.
Unique Architecture
History plays a large part of what makes Arcadia exceptional. The Arcadia neighborhood was developed in a time before modern subdivisions. Citrus orchards gave way to large plots of land several acres large. Pitching the area as a luxury retreat in a desert oasis, affluent residents flocked to live in Arcadia.
Settlement happened slowly, too. The first homes were built in 1925, with many more being added over the years, especially in the fifties. As a result of the long history and gradual development, a huge variety of home styles were used. Arcadia architecture has since become famous for its variety. Spanish haciendas, Edwardian mansions, American Craftsmens, sprawling ranch style estates and more — the homes in Arcadia are a feast for the eyes. Driving through is like an architecture lesson and a history lesson in one, and it lends a unique atmosphere to residential life.
Centralized Location
With a location seconds away from Scottsdale, 15 minutes from the airport and around 20 minutes to downtown Phoenix, Arcadia is almost literally in the middle of it all. You have instant access to Indian School Road and Camelback Road, both of which will take you quickly into the economic centers around Scottsdale and Phoenix. You can also easily reach Echo Canyon for an immersive romp in the natural Arizona landscape.
Despite this premium location, the large lot sizes and low density of Arcadia means that you can whisk yourself away from traffic and congestion when you come home. Enjoy peace and quiet without having to feel far away; Arcadia has the perfect balance.
Home Values Stay High
With historical homes, large lot sizes and next to no new inventory, demand for Arcadia homes almost always exceeds supply. As more people relocate to Phoenix over time, the rarity of Arcadia homes will only deepen.
These conditions are the perfect recipe for climbing values. Homes that have an irreplaceable history and an enduring appeal will see this trend continue into the foreseeable future. For this reason, buying a home in Arcadia is like a brilliant long-term investment that will see marked increases in value year after year.
Find Homes for Sale in Arcadia
If you want to become part of the exclusive club of Arcadia homeowners, stay in touch with your local Arcadia AZ real estate professionals. They can keep you up to date with the latest listings and home deals to ensure that you can become a part of Arcadia's glamour without having to bend over backwards to do it.
____________________________
Have you decided to buy a beautiful, luxurious home in Arcadia? Thomas Osterman, an experienced Arcadia Realtor, can assist you with your home buying process. Contact us via email or call (602) 405-4052 today!
Read related articles: