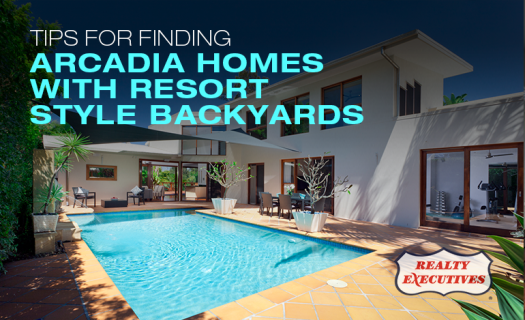 The days of flat, grassy backyards are out while new resort style yards climb their way to the top of the popular-trends chain. Can you just imagine what it would be like to bask in the summer sun in your own lounge chair by the pool after having dinner in your outdoor kitchen? If you're on the lookout for a new home, you don't have to imagine this scenario anymore – it can be your reality! There a number of ways you can find Arcadia homes with resort style backyards, but the most efficient way to find the right home is through a realtor.
Take Advantage of Open House Opportunities
The only way to learn about available Arcadia homes with resort style backyards is to search for them. One of the best ways to find new homes for sale in the area is to attend open houses. Oftentimes, these opportunities are exclusive to the realtor or the area, so you would not have been able to find these homes in an online search.
Not only will you locate homes with renovated backyards, but you will get to see these yards in-person. Instead of seeing flat images online, you can walk through the yard and envision your family gathered for a party or your kids enjoying some fun in the sun. Keep in mind that there are several different design choices that go into creating a resort style backyard, so you might be stepping into a world you couldn't have even imagined.
Keep an Eye Out for Homes Under Remodeling
As you are on the hunt for a new home, try driving through your ideal neighborhoods. Not only does this allow for you to scope out the specific areas where you could see yourself living in Arcadia, you can be on the lookout for homes that are being remodeled. Construction vehicles and contractors can indicate that the yard of the house is being worked on.
Of course, you will only want to pay attention to the Arcadia homes that are listed for sale, but a remodel might include the upgrade of the outdoor spaces. If you take interest in a house that looks as if it is being remodeled and is up for sale, you could turn to the help of a professional realtor.
Speak with a Professional Real Estate Agent
Speaking with real estate professional servicing Arcadia Arizona will be your best bet when it comes to finding homes with newly upgraded backyards. These experienced realtors will be aware of all the houses for sale in the area with resort style backyards. You will have the opportunity to choose from a handful of homes that best suit your tastes and preferences.
__________________________________
Are you looking for a luxurious resort style backyard? Thomas Osterman, an experienced Arcadia Realtor, can assist you with your home buying process. Contact us via email or call (602) 405-4052 today!
Read related articles: