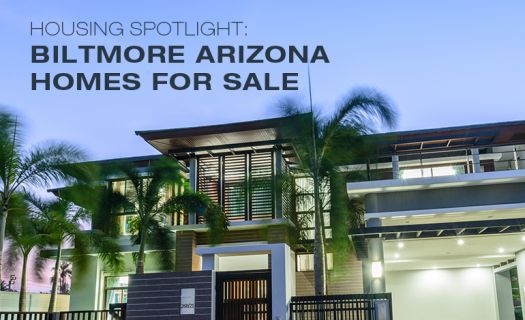 Discovering the best areas to live in the Phoenix metro area can be a cumbersome task. Luckily when thinking of locations to live the Biltmore area always comes to mind. Biltmore Arizona homes for sale maintain a strong reputation of prestige. The area surrounds the historic Arizona Biltmore Hotel and is known for its rich cluster of luxury entertainment, shopping, restaurants and million-dollar-plus mansions. It is also known for its proximity to the heart of Phoenix's financial district, meaning that residents have an extremely quick commute to work as well as easy access to some of Phoenix's finest businesses.
Anyone interested in Biltmore area living or real estate in the Biltmore area can read on to discover just why so many people clamor to find a home in the prestigious neighborhoods nearby.
The Perfect Abode for Professionals
If you are a business executive or other high-ranking corporate official, chances are that your company's central office is less than 20 minutes away from the Arizona Biltmore Hotel.
For example, Wal-Mart's Western Headquarters are located just a 15-minute drive to the south.
Intel, UPS, Costco, Bank of America, JPMorgan Chase, Cardinal Health and other Fortune 100 companies likewise operate near the downtown Phoenix area or within a short drive therein. Those who purchase one of the homes for sale in Biltmore AZ will therefore not only have a convenient drive to work, but will also likely come home to friends and neighbors who share similar job experiences and corresponding interests.
The Best of Phoenix a Stone's Throw Away
If you love fine shopping and dining, the Biltmore puts you within striking distance of some of the area's best boutique stores and cuisine, as once described in the New York Times .
The Biltmore Fashion Park, for instance, houses Saks Fifth Avenue and Vera Bradley stores in addition to delicious food at the Capital Grille and Stingray Sushi. Those looking to further please their refined palates can go to nearby Zagat-rated restaurants like Tarbell's, Vincent Market Bistro, Crudo and others.
Of course, there is the eponymous Biltmore Hotel itself. It offers the perfect rendezvous point for out-of-town visitors or a backdrop for locals to enjoy a spa day, a round of golf on one of the two world-class 18 hole courses, or one of the resort's many seasonal events. People get married at the Biltmore, enjoy business luncheons in their fine dining restaurants or simply soak up the beauty of its unique grounds.
Some of the Best in Luxury Home Living
Phoenix has no shortage of luxury homes, but for those who wish to live in the heart of town, the Biltmore area can supply exactly what they need. Million-plus mansions are the norm, many of which boast on-property amenities like a pool, tennis courts or guest houses.
Living on a property in Biltmore ensures you wield no small amount of prestige, helping indicate your status by simply sharing your home address.
Anyone wishing to attain the heights of comfortable, luxurious living in Phoenix can find practically everything they need in a Biltmore home. Properties are exclusive, however, so if you are interested you should contact a Biltmore Phoenix real estate agent to help you peruse available listings today.
_________________________________
Are you interested in houses for sale in the Biltmore Area? Contact Thomas Osterman, an experienced Biltmore real estate agent. Call 602-405-4052 to speak with Thomas now!
Read related articles: