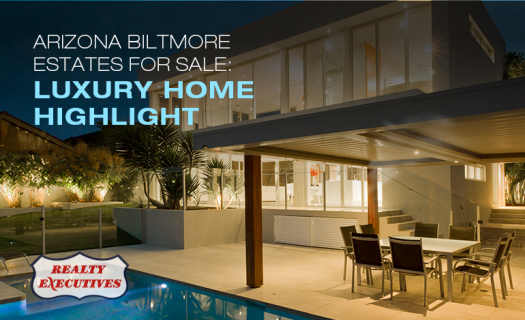 For people looking to move into the most prestigious location in Phoenix with access to all the area's most critical business centers and amenities, they need look no further than the Biltmore area.
The area containing Arizona Biltmore Estates for sale rose to prominence when the eponymous Arizona Biltmore Hotel was constructed back in 1929. Now, it continues to be surrounded by some of the most stunning mansions in Arizona. Real estate for sale in Biltmore is full of multi-million dollar estates and architecture hailing from some of the world's best contemporary architects, including former apprentices of Frank Lloyd Wright.
Explore these homes with us by looking at some of the most enviable qualities seen in the Biltmore, AZ area.
Breathtaking Multi-Million Dollar Estates
Walk up to the front door of 15 Biltmore Estate, and you are likely to wonder if you accidentally arrived at a four-star resort. This sentiment would be forgivable considering the property's spectacular lighting and captivating exterior design.
First built in 1997 with plans overseen by Vernon Swaback, 15 Biltmore Estate shows telltale touches of Swaback's 22 year apprenticeship with Frank Lloyd Wright while exhibiting his own brand of modern, contemporary tastes.
This $8.7 million home is just a sampling of the incredible desirability and beauty the area can provide. Other homes come in at a more "modest" entry point of just over a million dollars, but contain striking examples of modern architecture along with state-of-the-art kitchens, resort-style swimming pools and more.
Easy Access to World Class Biltmore Golf Courses
The Arizona Biltmore maintains two world-class golf courses that are renowned as some of the best golf courses in Phoenix. Golf course homes for sale provide hole overlooks or quick access to the clubhouse.
These include homes in the Taliverde community, which sit directly on the grounds while offering guard-gated oversight.
Limited Number of Residents
Since many of the sections around the Biltmore have legacy communities that have existed for decades, the historical and cultural nature of the Arizona Biltmore area is consistently well-preserved. New homes must meet design and property setback restrictions, limiting the number of infill housing projects and often requiring old homes to be demolished before new ones can be built.
The result is a lack of overcrowding and little danger of new developments infringing upon the existing amenities and views of your property.
Guard Gated Community
Guard gated communities near Arizona Biltmore include the aforementioned Taliverde as well as Colony Biltmore, Biltmore Shores and many more. These communities keep a close watch on entry in order to protect the safety of residents as well as preserve the community culture they uphold.
Find Property Listings near Arizona Biltmore
You can work with an experienced Arizona Biltmore area Realtor to find you the perfect property to enjoy the culture, history, beauty and comfort that the local communities provide. View our current Biltmore listings or contact me today to get started.
_________________________________
Are you interested in houses for sale in the Biltmore Area? Contact Thomas Osterman, an experienced Biltmore real estate agent. Call 602-405-4052 to speak with Thomas now!
Read related articles: