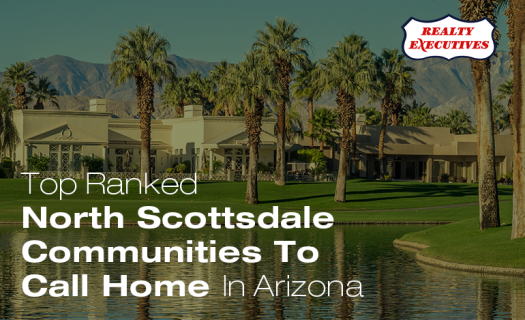 North Scottsdale is brimming with magnificent luxury subdivisions, planned communities and neighborhoods that all have wonderful, unique qualities of their own. In fact, there are so many amazing North Scottsdale communities that people interested in buying a luxury home in North Scottsdale may feel overwhelmed at all the choices.
Although all of them have a general high level of quality, each of the North Scottsdale subdivisions and communities has their own overwhelmingly positive trait that they excel at. To help guide North Scottsdale luxury home buyers and narrow down their choices, here are some of the most talked about communities in the area:
DC Ranch
DC Ranch is a gated community that first began development in the late 1980s. Since then, it has grown by leaps and bounds.
The community actually encompasses four smaller neighborhoods known as "villages," each with multiple housing types clustered around a community gathering point. The Desert Camp village surrounds the hub Community Center, which boasts an 8,000 sq. ft. facility on a nine acre lot. Included in the Desert Camp Community Center are lighted tennis courts, a heated pool, event spaces, a basketball court and a pickle-ball court. Other villages include the Silverleaf Village, the Country Club Village and Desert Parks Village. The latter area is part of an ambitious new community design project that encourages neighborly public gatherings.
There are two main country clubs in DC Ranch, each with their own 18-hole professionally-designed golf course and clubhouse. The DC Ranch Country Club is the original club facility, first established in 1997. Silverleaf Country Club was built more recently, and it includes a state-of-the-art spa facility within its 50,000 square foot clubhouse designed in a rustic Mediterranean style.
As you can see, DC Ranch has a diverse range of neighborhoods and amenities all tied together by a consistent dedication to quality and community togetherness.
Grayhawk
Grayhawk is a community renowned for its two award-winning 18-hole golf courses and abundance of natural park areas. Several smaller gated neighborhood developments make up the bulk of the area with condo and townhouse properties lining up near the clubhouse, golf course and parks. The Grayhawk Plaza Shopping Center offers boutique shopping, groceries, health clinics, fitness centers and restaurants.
Also located within the neighborhood are facilities that ensure the highest standard of excellence for every stage of life. Grayhawk Elementary is a renowned public school that is part of Paradise Valley Unified School District. It has been recognized several years in a row by the National Center for Educational Achievement. El Dorado Private School offers schooling and daycare for children aged 2 1/2 all the way to 8th grade school while promising a low student-teacher ratio. For older adults, the Vi at Grayhawk provides 24-hour continuing care and assisted living for people of retirement age who want to live in a sociable, vibrant community.
Since opening in 1994, Grayhawk has helped set the new standard in North Scottsdale communities with its high quality of architecture and planned design.
Troon Village
Troon Village was built right upon the edge of the development frontier. As such, it offers unparalleled natural views and privacy nestled within sight of the majestic McDowell Mountain Range. One of Troon Village's biggest draws is that they enjoy a slightly higher elevation than other parts of the Scottsdale Valley, allowing for slightly cooler, more comfortable temperatures and incredible views.
Like Grayhawk, Troon Village has two 18-hole golf courses, which were designed by former PGA player Tom Weiskopf and professional designer Jay Morrish. This same team developed the world-renowned TPC of Scottsdale Course just a few miles southwest of Troon Village. Troon Village developers made sure when designing the course and communities that native Sonoran Desert plants and natural washes were preserved, making this area one of the most environmentally-conscious developments around.
Neighborhoods in Troon Village consist of small, intimate clusters of luxury homes with smaller concentrations of condos, apartments and townhomes scattered throughout. These smaller subdivisions can be gated, guard-gated, and ungated depending on the buyer's preferences. Private lots winding up close to Pinnacle Peak and the McDowell Mountains are also available to home buyers seeking custom homes on private lots.
There are many more North Scottsdale luxury communities and neighborhoods worth mentioning, but these are the major three that draw hundreds of new residents to the area every year. Get in touch with a knowledgeable North Scottsdale luxury real estate agent to help you pinpoint exactly which home in which neighborhood would suit your lifestyle best.
_____________________
Are you looking for the best North Scottsdale community to live in? Let Thomas Osterman assist you in finding the perfect community in North Scottsdale. Contact us via email or call (602) 405-4052 today!
Read related articles: