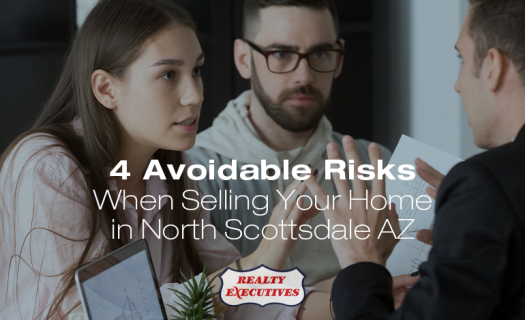 Selling your home is a big endeavor. Unfortunately, some homeowners choose to go it alone, without the help of a knowledgeable real estate professional. While this may seem like a good idea to avoid the associated fees incurred when selling a home, doing it yourself can open you to a number of risks. Discover the risks when selling your home in North Scottsdale AZ:
1. Inappropriately pricing your house for the market.
Do you know how much your home is worth? Really worth? Without the ability to run comps on the neighborhood and knowing enough about the market, many for-sale-by-owner sellers put too high of a price tag on the property. That means it often ends up on the market longer than it needs to be. Then by the time someone shows real interest, the seller can be so desperate to offload the property, you'll sell it under value. On the flip side, you may be the seller who lists your home for less than its value from the start, thereby losing money in the sale.
2. Lack of exposure for your property.
A sign on the lawn may attract the interest of a passersby, but what about the larger market? One of the keys to a quick sale is getting your home in front of as many potential buyers as possible — and that includes other real estate professionals. Marketing a home for sale takes knowledge of the industry that many do-it-yourself sellers don't have. It also requires the ability to list the home on the MLS, or multiple listing service.
3. Wasting your time on looky-loos: people who aren't interested in your home or can't afford it.
If you made time for every person who called about your property, you probably wouldn't have time for anything besides selling your home. An experienced real estate professional is adept at determining whether a caller is unqualified and just looking for some property ideas or a qualified, ready-to-buy buyer. Your Realtor will ask the right questions to learn about the potential buyer's ability to purchase your home before wasting time and getting you excited about the deal.
4. Finding yourself with a legal problem.
There's more to selling a home than deciding to put it on the market and finding a buyer. It is a complex legal transaction that includes multiple steps such as inspections, contracts, disclosure, appraisals, and insurance. Unless you know about all of the aspects of the legalities behind real estate, you could find yourself in a costly situation.
Don't risk putting yourself into this situation by representing yourself in the sale of your home. Instead, hire trusted real estate agents in North Scottsdale.
___________________________________________
Are you interested in houses for sale in North Scottsdale? Contact Thomas Osterman, one of the most experienced real estate agents in North Scottsdale AZ. Speak with Thomas by calling 602-405-4052 now!
Read related articles: