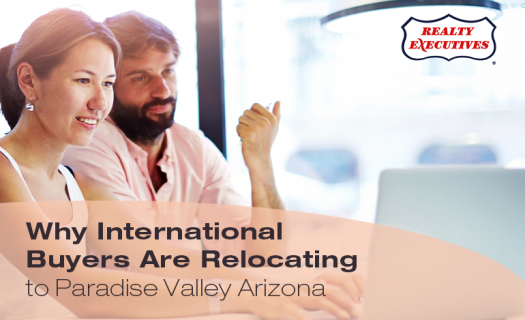 According to the National Association of Realtors, Arizona is among the top four states in which foreign investors purchased property in 2015, accounting for over 50 percent of total sales across the nation. There was a recent trend in Canadian home buyers to purchase property in Arizona to escape the cold of Canada for the winter.
European investors might find a similar joy in Arizona property, as it would be a complete change in scenery. Simply due to its close proximity to the capital of Arizona, the town of Paradise Valley already attracts a number of these investors. With the gorgeous weather, abundant amenities and upscale living, it is no wonder that buyers from all over the world are relocating to Paradise Valley.
The Weather in Paradise Valley
For most foreign investors, the climate in Paradise Valley is appealing. European home buyers, for instance, can enjoy the bright blue and sunny skies, as opposed to a more rain-heavy climate like you might find in most parts of Europe. Those from Canada enjoy the warm weather, as a break from their blustery winters.
However, what many don't know is that the climate in Arizona is varied. In the summer, the days can be warm and sunny, but the nights can be crisp and chilly. Most of the state is arid, where rain is not common, but that could be an attraction for foreign investors.
Location, Location, Location
Between the amenities in Phoenix and the gorgeous Phoenix Mountains Preserve , there is so much to be seen and done in this area. Moving to Paradise Valley is a great decision for any foreign investor, because the location offers endless possibilities. Not to mention that it is not a far drive to the international airport, so transferring to and from the area is not a difficult task. Using the right Paradise Valley real estate professionals will allow you to find the perfect location for your needs.
Whether you are an outdoorsman or prefer the city life, there is a little bit of everything for everyone in Paradise Valley. There's fine dining close by, spas and resorts and a great community with a rich history. There are numerous golf courses and parks where anyone can get some fresh air and partake in their favorite outdoor activities.
Unbeatable, Gorgeous Views
The scenic mountain ranges are simply breathtaking. They make for the most beautiful and unbeatable views. Foreign investors who purchase property in Paradise Valley are swept away by the gorgeous scenery that surrounds them. Many homes in the area are built so that the view is best seen from the house. While we know that the views in other parts of the world are equally as stunning, Paradise Valley is unique and unforgettable.
With an average of almost 300 sunny days a year, homeowners and visitors alike can take the opportunity to go out and explore these views. As one hikes up the mountain range, they can view this wonderful town from different vantage points. Imagine just how stunning it is as the sun starts to sink below the horizon – but the luxury doesn't stop there.
Luxurious and Upscale Living
Of course, one of the best parts about the area is the luxurious real estate. The Paradise Valley homes for sale are all extravagant in their own, unique way. No matter what the style or taste of homes the investor prefers, they are all blown away by Paradise Valley's upscale living.
There are a wide range of homes in the area to choose from to best suit the personal tastes of the investor. Foreign investors who are looking for a winter getaway might like to purchase a home that has a pool overlooking that gorgeous, Paradise Valley view. For those who prefer to live in the mountains, they are sure to find a lovely home that would suit their desires.
__________________________
Are you relocating to Paradise Valley soon? Contact Thomas Osterman today by email or call 602-405-4052 for more details on purchasing a home in Paradise Valley.
Read related articles: