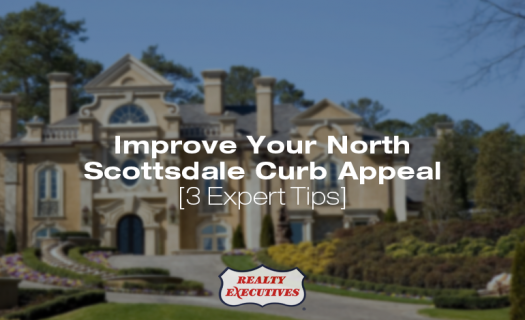 Listings in your area may already be budding like spring flowers. Ensure that you get the best price your home can garner with some tips to boost your North Scottsdale curb appeal through simple DIY home-improvement projects.
Doors to the Future
Any type of home improvement can help, but a beautiful door goes a long way. A brand-new door can hold behind it limitless opportunities, so create that feeling for potential buyers visiting your home. Add a new front door and screen, perhaps incorporating leaded glass or other feature design. If a new door is beyond your budget, upgrade your existing door by stripping the paint and brightening it up with a new color or stain. Add shiny hardware, such as a knob, lock, and knocker, for even more interest. Remember that frame: a beautiful door is not quite as stunning when surrounded by a shoddy, flaking frame.
When considering your front doors, look beyond the people entrance to the car entrance. In many homes, the garage doors take up a good percentage of the front façade, and they can make or break the home's overall appeal. As with the front door, consider either a new or updated look, ensuring that it complements the front door and the rest of the home's architecture. And how about some carriage lights to add interest and illuminate the property at night?
Welcoming Pathways
Just as you have doors for people and cars, you have pathways for both as well: the front walkway and driveway. While a straight line might be the quickest way to get from Point A to Point B, when it comes to the front entrance, meandering grabs more attention. You can line the walkway with perennial or annual flowers and add solar lights for nighttime clarity. Have you always admired a neighbor's front-yard koi pond with a walking bridge? Perhaps your future buyers will enjoy such a welcoming sight when they arrive to view your home.
Check your driveway to be sure it's in good condition. Would it benefit from resealing the asphalt? Or what about adding paver's stones or brick to mirror your home's materials? Your home can transition from bland to beautiful with just a little sweat to lay the stones!
An Overall Theme
Take a moment to look at the front of your home both nearby and from afar. Does it all fit well together? Does the front door feel welcoming? Is the yard well-lit and free of debris? Does your mailbox complement the look and feel you get from the home? What about your landscaping? And have you looked at the number to see if it's easy to spot — both during the day and at night? All of these components work together to create curb appeal that can elevate the entire look of the home and increase those bids for a quick, full-value sale!
__________________________________________________
Are you interested in houses for sale in North Scottsdale Arizona? Contact Thomas Osterman, one of the best real estate agents in North Scottsdale. Speak with Thomas by calling 602-405-4052 now!
Read related articles: