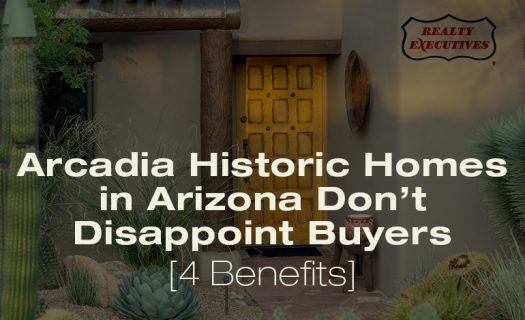 Arcadia is one of the most renowned communities in the area to Phoenix and Scottsdale residents for many obvious reasons. All of them essentially boil down to one general piece of praise: "Arcadia homes are unlike any other."
The unique flavor and character of Arcadia homes owe to their rich history. Unlike many other neighborhoods in the Phoenix/Scottsdale area, Arcadia historic homes were developed slowly over a period of several decades by many various interests. As such, no two homes are likely to share the same build date, architect, developer, or general "feel."
These qualities have lent an air of mystique and exclusivity over Arcadia homes. Any time Arcadia historic real estate is listed, knowledgeable home buyers scramble to earn a piece of the coveted lands. Their zeal for the properties stems from these four main benefits that Arcadia homeowners earn:
History Built-In to the Foundation
At the turn of the 20th century, Arcadia was one of the most extensively developed tracts of agricultural land in the Arizona desert. When the Salt River Valley Reclamation Project was begun in 1903, even more land was made open to possible development thanks to the reliable source of irrigated water from the Salt River. Together with the Arizona Canal to the south, Arcadia could become a "fruit basket" for orchards and ranchers who wished to take advantage of the sprawling rural lands.
Seeing the potential of the lands, wealthy landowners began buying up large parcels and platting them into sprawling rural "suburbs" for sale to elites. Homes were built on five to 10 acre lots amidst the mature desert landscape and former agricultural sites. Tremendous efforts were made to preserve the existing terraformation, so many developers stipulated that home buyers were expected to maintain citrus orchards that thrived in the area. Between 1919 and 1924, additional irrigation in the form of concrete pipes brought water from the Arizona Canal and other nearby waterways.
Every home was custom-built. Wood, brick, and concrete were used as opposed to the now-ubiquitous stucco. One home even discovered a 1919 dated newspaper embedded in one of the porch bricks. Development continued into the '50s and '60s when sprawling ranch complexes became the primary mode of home building.
Together, the traits of original, historic homes and sprawling lots dotted with orange, lemon, and grapefruit trees harkens Arcadia back to an area when Phoenix was still considered a borderline frontier.
Unique Architectural Statements
Modern developers do an amazing job of incorporating various styles into a fresh product, but when building hundreds of these homes at a time "variations on a theme" is the most that anyone can hope for.
By contrast, Arcadia homes were built over a long period of time with many different architectural modes to govern their design. You can find everything from traditional haciendas to authentic ranch homes to Craftsman-inspired mansions as you walk from street-to-street looking at historic homes for sale in Arcadia. No two houses are identical, and many of them share even more unique characteristics such as an eclectic lawn shape, mature citrus trees, a custom-built pool, and other qualities that separate every house from its neighbor.
No HOA Fees
Arcadia was built in a time when homeowners' associations were a relatively new concept. Over the years, many of the classic organizations dissolved or reformed. While there still exists a vibrant community spirit in Arcadia, you will not find the rigid HOA divisions seen in brand new "resort" style communities.
As a result, owners of historic homes in Arcadia do not have to tangle with grouchy neighbors, political power struggles, and the interminable fees that frequently stem from an HOA. Every homeowner gets to feel independent and use their property at their own discretion as they see fit.
Bragging Rights
Of course, the qualities of a rich history and unique traits make Arcadia historic real estate eminently desirable. Finding an Arcadia listing chock-full of personality and individual style sets homeowners apart from "cookie cutter" community members often seen in the newer developments.
You can live life at your own pace separate from artificial distinctions and unnecessary stress in the heart of one of Arizona's most breathtakingly beautiful regions. Lifestyles like this are truly hard to come by these days, making every Arcadia community member a diamond in the rough.
Gain access to all of these amazing perks by seeking out one of the rare and gorgeous gems in the historic Arcadia community. Let an experienced Arcadia luxury real estate agent help you track down the most exclusive listings and get your foot in the door to a stunning Arcadia home that will turn your friends as green with envy as the leaves on your citrus trees out front.
____________________________
Have you decided to buy a beautiful, luxurious home in Arcadia? Thomas Osterman, an experienced Arcadia Realtor, can assist you with your home buying process. Contact us via email or call (602) 405-4052 today!
Read related articles: