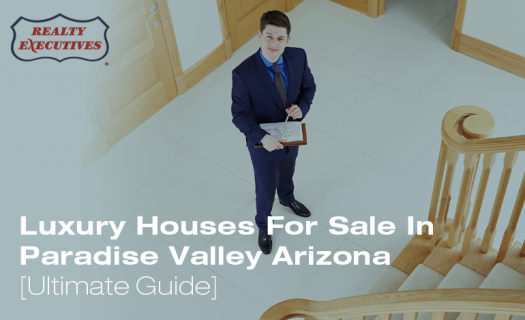 Buying a new luxury home is much like entering into a new business venture: equal parts exciting and terrifying. Even in Paradise Valley, Arizona, where gorgeous homes are easy to come by, people on the hunt for luxury houses for sale must use sound judgement.
The trick to recognizing the good opportunities and avoiding the bad is just like with any other venture: It all depends on the knowledge resources you rely upon. Finding ways to educate yourself about the market while also leveraging the networking skills of real estate agents who specialize in luxury houses for sale in Paradise Valley can go a long way towards helping you find your ideal property.
To help set you on the right path while avoiding mistakes, here is a guide to navigating the market of luxury Paradise Valley properties and tracking down the perfect one for you:
Know Your Wish List
The luxury property market can become overwhelming fast when buyers start looking at homes without any specifics in mind. Talent overflows in a market where builders, architects, neighborhood planners and craftsmen only deliver the absolute best to their clientele. Each home can feel more tempting than the last, making objective comparisons difficult to weigh.
Before you find yourself pulled in countless directions, take the time to sit down and decide what luxury home features you absolutely need most. Consider how you are going to use your Paradise Valley real estate — not just in the short term, but ten, twenty or more years from now. Whether you plan to still be in that home or intend to sell, you will need to prepare for the road ahead.
Picture your ideal life in Paradise Valley, and pinpoint the home qualities that will help make that life a reality. Start with key features like number of bedrooms and bathrooms, kitchen size, whether or not you want your own pool, amount of vehicles you can fit on the property and the types of rooms you need in order to live comfortably.
For instance, will you want a dedicated exercise room, or can you just put some weights and a treadmill in the den? Would you prefer a separate breakfast nook or a counter to eat directly in the kitchen?
Lifestyle and day-to-day routines are greatly affected by the layout and design of your home, so do not take your needs and expectations lightly. Write down as many "wish list" criteria as you can to start off with, then proceed to rank them in order of importance. This step will help you eliminate unqualified homes right off the bat.
Pinpoint Your Style
Secondary to how you are going to use the home, having aesthetic qualities you admire is important when making an investment in luxury Paradise Valley properties. After all, "style" can affect "lifestyle." Full carpets may feel great underfoot, for instance, but can irritate allergies for some.
Research the quality, level of care and typical use for home features and finishes. Perhaps the hardness and durability of Brazilian Cherrywood floors makes up for the fact that the color is not quite what you love, for example.
You may be surprised at the level of nuance home features and finishes contribute when evaluating them based on maintenance needs or how well they hold value. Enter the market with as much knowledge as possible, including being aware of more current, technical things like the latest security systems, air filtration systems and so on.
Find the Right Agent
A luxury home buying agent in Paradise Valley who has both expertise and experience can help guide you swiftly towards homes that will fit your needs most. They can fill in the blanks of your knowledge by explaining architectural details or desirable qualities in simple-to-grasp terms. They can also help you find the best neighborhoods or homes near the most popular schools.
Even more importantly, a veteran luxury real estate agent will have access to listings not found through simple web searches. Not every luxury home owner in Paradise Valley wants their property publicly listed on the MLS, after all. Use an agent who can network to track down the perfect listing for you in the perfect area while educating you about its subtleties.
With some core knowledge under your belt and a skilled agent at your side, locating the Paradise Valley luxury property that fits your needs perfectly can be an attainable goal and not just a pipe dream.
__________________
Having trouble locating your Paradise Valley home? Let Thomas Osterman, a top real estate agent in Paradise Valley, assist you in finding your next luxury home.
Read related articles: