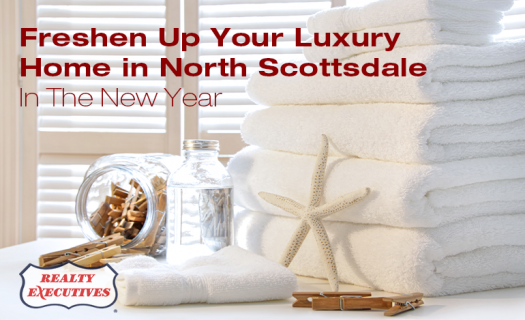 Ah, January. It's not only a new month but a new year, and that means people start to make promises to themselves about what they want to improve in the next 12 months. Rather than the typical resolutions to exercise more or eat better, why not resolve to freshen up your luxury home in North Scottsdale?
Declutter
Sure, you might not first think of getting rid of your excess knick-knacks when you think of being green, but those little trinkets usually get ignored after a bit as tastes change, eventually ending up in a landfill somewhere. Instead of spending a lot of money on new items, start first at flea markets, or even thrift shops for the items that will pull your décor together. You might even consider estate sales or reclaimed items or more green alternatives, such as soy candles instead of traditional wax, to add a touch of environmentally friendly class.
Clear the Air
So many of the items in your home contribute to your inside air quality, from the top to the bottom of the home. Take steps to clear your air and breathe better this year.
When it's time to paint the walls or that reclaimed nightstand, look for low-VOC (volatile organic chemicals) alternatives, which are available in a number of stores. One option is natural paints, which are often made of milk protein, limestone, clay, linseed oil, chalk, or starch. They'll look beautiful and ensure you're not breathing in toxic paint fumes.
Now look at your carpets, drapes, bedding, and furniture. All of these are composed of some sort of fabric. Much of the time, these pieces are made from synthetic alternatives instead of natural cotton, wool, sisal, or jute. Factory-made materials are full of chemicals and can seep into your home.
We all love the smell of a clean home, and you can scrub and sweep and then add that "fresh smell" with plug-in, spray-around scents. But at what cost are you making these choices? When it comes to cleaning, opt for natural products (you'd be surprised how much you can get done with lemon, vinegar, and baking soda!) and leave the chemical-laden, mass-produced cleaners on the shelves. And pass right by that smelly aisle in the store. To get rid of odors and keep your home smelling wonderful (without formaldehyde and other toxic chemicals), try essential oils, homemade potpourri, simmering cinnamon and oranges, or soy candles.
Support Sustainability
You've probably seen the Forest Stewardship Council (FSC) logo on paper and wood products. It signifies that the product materials were harvested in a sustainable manner and the company is socially and environmentally aware. You can look for the symbol on any wood products you buy, including furniture and flooring. Learn more at www.fsc.org.
Choose Energy Star
When looking for new appliances, check their Energy Star rating. Since 1992, the US and many other countries have adopted this rating system for nearly everything that plugs into the wall. Appliances and equipment that bear the seal usually use 20–30% less energy than required by the federal government. Not only will you lessen your usage of energy, thereby reducing your carbon footprint, you'll also save money in the long run.
______________________________________________________
Are you interested in finding the best North Scottsdale real estate agents to help you find a home? Contact Thomas Osterman, an experienced North Scottsdale Realtor. Speak with Thomas by calling 602-405-4052 now!
Read related articles: