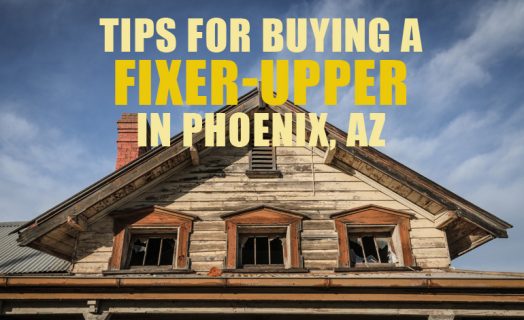 Looking for a fixer upper in Phoenix, Arizona?
You'll need the time and resources to put into a project like this. But it can be an extremely lucrative investment – for both its potential value as a rent or resell.
You might even be looking for a fixer upper to turn into your own dream home.
Our quick guide will point you in the right direction when choosing which home to purchase, and how to pull off a successful project.
What Does 'Fixer Upper' Mean?
It's a house which is a bit run down.
Or the owners might be selling it because it has some expensive problems they can't put right. For example, the need for an entirely new central heating system, for example.
The property needs some skilled help – and that's where you come in.
How Do I Choose a Home to Renovate?
There are a number of factors to consider when picking your fixer upper. We've listed the key ones here.
Location
It's important to consider the home's location. This will have a massive impact on the value of the home once it's been fixed up.
Let's say you've found something in need of a little work in an expensive Phoenix estate. If that's the case, it's possible to snap up a bargain and turn it around for a massive return on investment.
If it's in a less affluent neighborhood, the returns might not be amazing, even if you do a great renovation.
Is It Worth It?
There's no point fixing up a house if you'll lose money in the project.
Let's say you buy a property for $100,000 that desperately needs work. That work will come to around $150,000. But looking around the area, you see that it's rare to find any homes for sale at over $200,000.
To turn a tidy profit on that project, you'd have to hit a sale price of over $200,000 – which doesn't seem likely. Be realistic – if you don't think you can make a return, don't bother.
If you're unsure what a project could be worth once finished, consult with a highly experienced real estate agent to get their opinion.
Is It For Me?
The promise of a lucrative project can allure many people.
The truth is, few have the willpower to see through this kind of project. You need to be incredibly driven to battle through the various challenges.
It comes down to a matter of time management and the skills needed to direct a renovation project. And the ability to pitch in wherever needed!
If that's you, you'll power through this no matter what. But if you're looking for an alternative property-related investment, there's always the rental market.
Where Can I Find Expert Advice In Phoenix?
We hope your fixer upper is a real success story!
However, if you're looking for advice on taking on a fixer upper project or need answers to other real estate questions in Phoenix, contact Thomas Osterman today.
If you've already completed a renovation project and are looking for tips on how best to sell that new luxury home, check out our tips for a smooth sale.
_________________________________
Team up with one of the best north central phoenix realtors!
Call Thomas at (602) 405-4052 and enjoy a more personalized real estate experience.
Read Related Articles: