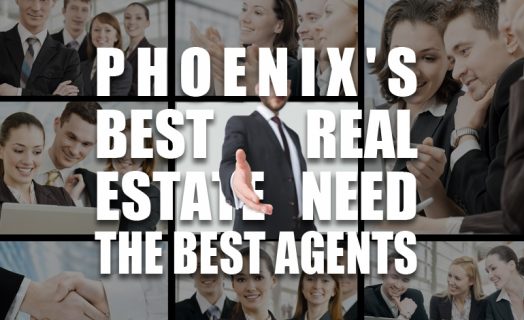 If you are thinking of buying a house in Phoenix, then you may already know that it is home to some of the best real estate in the U.S.
Phoenix, popularly referred to as "The Valley of the Sun", gets more sunshine than any metro area in the nation. But sunny skies aren't the only thing that earned its ranking as one of the metro top 50 places to live in the United States, according to U.S. News and World Report. There's plenty of other reasons that people from all around are looking to make Phoenix their home.
Based on the U.S. News and World Report scorecard, Phoenix earned an above average in every major category, including desirability, value, job market, and quality of life.
Do you want to know where you can find the best real estate that Phoenix has to offer?
Then, you'll want to get to know Phoenix's best real estate agents. They're the solution to help you find exactly what you're looking for!
The Best Real Estate Deals Require an Agent
I'm sure most home buyers ask themselves this question at some point in the process of finding and buying a house.
Perhaps you've heard of success stories where the buyers didn't need an agent. But those stories are few and far between, and in all likelihood, they may have come out better if they, too, had used an agent.
If you really want to find the best real estate in Phoenix, an agent can be heaven sent.
Here's why:
1. When It Comes to Legwork, There's No Substitute for an Experienced Professional
Sure, you can scour the internet and spend countless hours driving around looking for the addresses of homes for sale. But, an experienced agent can get you a list of the homes that meet your qualifications in no time flat. They'll know which areas are most desirable, and which homes are top-notch picks based on your preferences.
And, they can get you all of this information in no time flat. So you don't waste unlimited amounts of time searching for the best real estate in town that has everything you're looking for. An agent has already been around and has a good idea of what's out there, and which homes are worth a closer look.
2. An Agent Can Help You Make the Right Offer
The best agents know information that most buyers don't. Like how long a home has been on the market, how eager the seller is to sell, and where you can find homes that are priced at fair or lesser value.
Not only that, when you do find the home that you want to buy, an agent can wheel and deal on your behalf, often bringing down the price of the home considerably.
Sure, they'll usually get a percentage of the sale, but knowing how to negotiate, and getting the best price possible is generally far worth their cut.
3. A Buyer's Agent Is Working for You
When you hire an agent, it's often in your best interest to secure a buyer's agent who is working with your best interest in mind.
Otherwise, if working with a dual agent, it can be hard to know if they are working to get you or the seller the very best deal possible.
Are You Ready to See What an Agent Can Do for You?
If you are serious about finding a place to call home in Phoenix, at the best possible price, it's time that you talked with an experienced and professional agent.
You'll be amazed at how helpful it can be to have a great agent on your side.
Contact us to get started finding your Phoenix dream home today!
_________________________________
Making sure you're partnered with the right luxury Arizona realtor makes all the difference. Call Thomas at (602) 405-4052 and enjoy a more personalized real estate experience.
Read Related Articles: