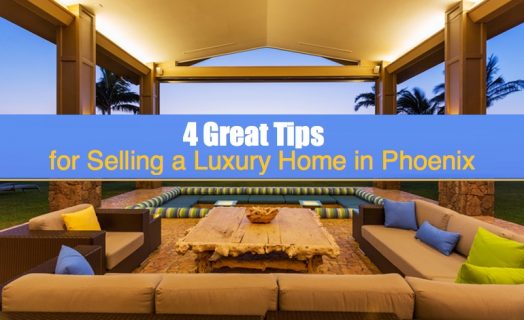 You have enjoyed your time in your luxury homes in Phoenix AZ, but now it's time to put them on the market.
So you do what every other homeowner does: put up a "for sale by owner" sign and wait for your phone to start buzzing.
Hours go by. Then days. Weeks, even. A handful of people (some genuine buyers and others shameless timewasters) will give you a call, stop by to check out your little slices of heaven, but nobody wants to unleash the cash.
You inspect the homes again, just to ensure they're still magnificent. You find they're picture perfect. What are you doing wrong?
Here is what you need to do to sell those homes:
Get the Pricing Spot On
Sure, it cost you a fortune to buy or build your home from the ground up, but that doesn't mean other people will be willing to cough a similar (or bigger) fortune.
This is where real estate market forces come into play. Depending on the home's exact location and how well you maintained and upgraded it, its value must have decreased or increased.
The trick lies in putting a price on this value. Price it too high and all you'll get are curious onlookers. Price it too low and you risk killing its "luxury appeal."
Before pricing your home, do an extensive market research. How much do similar homes in the area cost? Is the location presently a hot property market?
Use the Right Marketing Strategy
Even if your home looks like what you'll find on Mansion Global- complete with indoor pools and outdoor kitchens – you still need to market it.
Perhaps all you did was put a boring ad (with an address and a couple of property features) on a few listings.
In today's digital world, real estate marketing is all about high-resolution images and videos. Hire qualified property photographers and videographers to capture the home and tell its story from all angles, and then wait for your phone to go wild. Because listings with videos receive 403 percent more inquiries than those without!
Beyond property listings, put the ad on social networking platforms such as Twitter and Facebook.
Selling at the Wrong Time?
Well, your home should accommodate regardless of the four astronomical seasons.But when it comes to luxury property, some homes are designed and built for certain seasons.
As such, it's prudent to sell your luxury homes in Phoenix AZ at the right time. If yours is a summer luxury home, it's not advisable to sell it during winter when nobody wants to get a mile closer to a pool.
Use an Experienced Luxury Property Agent
Yes, there are downsides to selling your homes with the help of a property agent. You'll pay them a commission once the property is sold, and you could get a rookie agent who'll only make things worse.
However, hiring an experienced luxury home property agent, especially one based in Phoenix, is the best way to sell your homes. These pros have the experience, skills and contacts to get your home off the market almost as soon as it's up for sale.
Selling Luxury Homes in Phoenix AZ: The Bottom Line
Selling a luxury home can be a difficult task, but it can also be a simple task.
It all depends on how you execute it. Lucky for you, by now you know all you need to do is to price it correctly, get your timing right, use the right marketing strategies and, importantly, hire an experienced realtor to do the job for you.
Happy selling, and if you have any questions, we're only a phone call or email away.
_________________________________
Are you interested in buying a home in Scottsdale, AZ? Contact Thomas Osterman, veteran luxury Scottsdale real estate agent. Call 602-405-4052 to speak with Thomas now!
Read related articles: