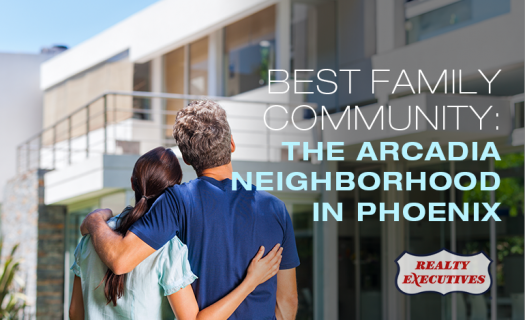 Ambling through the Arcadia area, you would be forgiven if you thought you had maybe stepped into the past. Big, historic homes on acreage lots, calm residential streets, towering mature trees, children playing and riding bikes — all of these scenes seem straight out of a suburban fairytale.
The idyllic nature of the Arcadia neighborhood in Phoenix is no coincidence, either, but rather the efforts of fiercely proud long-time Arcadia residents fighting tooth-and-nail for bylaws that preserve the mid-century character of the neighborhood from developers and commercial interests.
This time capsule effect makes Arcadia the perfect setting to raise children and have them grow up happy. When considering living in one of the Arcadia AZ homes for sale, you can appreciate the following benefits for your family.
Great Real Estate Options
The Arcadia neighborhood includes the area from Camelback Mountain to Indian School Road between 44th and 64th Streets. Real estate is typically in high demand given its quiet location, nearby amenities, and family-friendly atmosphere. Residents enjoy the best of both worlds by combining urban living with a rural, family-friendly feel.
Here you will find wide, picturesque streets lined with mature trees, attractive landscaping, and lush lawns. One thing you will notice when home shopping is Arcadia's trademark post-war, one-story ranches, which were built on oversized lots. Many home buyers opt to purchase these homes and then tear them down to build custom homes to suit on the large, beautiful lots.
Traditional home listings feature four or five bedrooms and are located on large grassy lots, which are ideal for hosting backyard get-togethers or sending the kids out to play for some exercise. Many include pools and attached or detached guesthouses—perfect for visiting family members or as a hangout for the kids.
In addition to homes for sale, you can also find luxurious townhomes on Camelback Road if you prefer something with lower maintenance. There is something for everyone in Arcadia!
A Location Right in the Middle of Everything
A lack of commercial development is a true blessing for Arcadia residents since it makes the area a quiet, calm oasis in a storm of Phoenix activity. Poke your head outside the neighborhood, though, and you have easy, convenient access to necessities, amenities and adventure.
Arcadia Park to the south is just a stroll or quick bike ride for most families, letting them get some exercise and romp on the green spaces or playscape. Arizona Falls and the Arizona Canal Trail are also to the south, enabling safe fun for families and older children. Enjoy a walk along the Canal or picnic in the cool of the shade with the backdrop of the wonderfully designed waterfalls at Arizona Falls, a small hydroelectric park that is a popular gathering spot for families.
If your kids are into sports, there are plenty of opportunities in and around Arcadia. If you have a budding hockey player or figure skater, you will love AZ ICE, which offers youth hockey leagues and skating lessons. ONE Sports Nation provides several sports opportunities for young athletes, including volleyball, flag football, cheerleading, soccer, baseball, and basketball. No matter what the interest, you will find it close by.
Art lovers will appreciate the Shemer Arts Center and Museum, which was designated as "one of the 10 best museums in Phoenix" by USA Today. Located at the corner of 48th Street and Camelback Road, this historic home is a well-known cultural center for kids and adults alike. Enjoy the exhibits and take part in an array of workshops, lectures, adult or youth classes, and other events. There is even a summer camp for kids ages six to thirteen. Of course, you can find a variety of other art venues throughout the Scottsdale and Phoenix areas.
Family outings at the Phoenix Zoo, Desert Botanical Garden or Echo Canyon Park are also easy to arrange. Golfers will love having the Arizona Country Club nearby as well as the Arizona Biltmore, Papago and Rolling Hills golf courses just a few minutes away.
Other attractions like the David and Gladys Wright House and the Phoenician Resort are conveniently next door to Arcadia too.
First Class Shopping and Dining
Getting shopping or business done is also easy with downtown Scottsdale nearby and the Phoenix Sky Harbor International Airport less than fifteen minutes away. And even though there are thankfully no commercial centers in Arcadia proper, there are plenty of high-end shopping opportunities—such as the Village at Camelback Mountain and the posh, iconic Scottsdale Fashion Square—located just outside the neighborhood. Residents also frequent the Biltmore Fashion Park, a mainstay for upscale shopping and dining in Phoenix's Uptown neighborhood, which features stores like Saks Fifth Avenue, lululemon, and more in a peaceful park-like setting.
There is no shortage of fine dining opportunities for even the pickiest palates. Great neighborhood haunts like Chelsea's Kitchen or Postino's are local favorites, as are La Grande Orange, The Vig, and the Original Pancake House. No matter what you are in the mood for, you can find it within minutes in nearby Scottsdale or Phoenix.
Amazing Schools
As any Arcadia realtor can tell you, finding good schools in Arcadia is no challenge.
Arcadia lies within the Scottsdale Unified School District, a top-performing public school district with 22 schools that have earned the highest ratings in the state. Hopi Elementary is right within Arcadia, while Tavan Elementary, Ingleside Middle and Arcadia High are within a quick drive or bike ride to the south.
Pre-school opportunities also abound, including the well-regarded Arcadia Montessori to the south and the Hills School and Atelier institute inside the neighborhood.
For parents seeking a non-traditional education, Arcadia's location is a windfall. The Arcadia Neighborhood Learning Center (ANLC) offers alternative curriculums for K-6 students in addition to myriad after school and child day care programs. There is also the Great Hearts Charter School, Veritas Prep, St. Theresa Catholic School and more are also nearby. The prestigious Brophy and Xavier Prep Academies, both top ranked schools in Arizona, are located close by in Phoenix.
Arcadia Is Full of Kind, Friendly Families
As mentioned before, Arcadia is an old-school community dictated more by what it leaves out than what it adds in. You won't find any resort-style amenities here, nor will you find strip malls or townhomes being slapped together in a few weeks.
Instead, you will find huge setbacks that create spacious yards for children to play in under the shade of large citrus trees. You will also find friendly neighbors eager to find new playmates for their children and new lifelong friends for themselves.
Become a part of the Arcadia family, and give your children a blissful life they will thank you for later by contacting a local Arcadia neighborhood real estate agent today.
_________________________________
Are you interested in homes for sale in Arcadia AZ? Contact Thomas Osterman, an experienced Arcadia Area real estate agent. Call (602) 405-4052 to speak with Thomas now!
Read related articles: