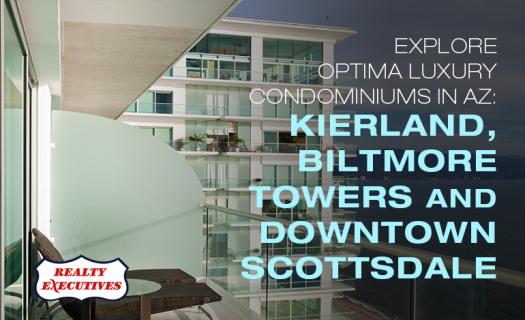 Are you considering a luxury second home or vacation home in the Phoenix or Scottsdale area? Maybe you are looking for a residential community that offers high-end amenities without the hassle and upkeep of a single-family home.
If you fall into either of these categories, you'll want to check out the exclusive Optima residential communities in Phoenix and Scottsdale. These ultra-luxurious lock and leave condos and penthouses are perfect for residents on the go as well as home buyers who just want to enjoy living in a great location with a resort-like feel. Read on to learn about three Optima luxury condominiums in AZ and what each has to offer.
Optima Kierland in the Heart of North Scottsdale
North Scottsdale has long been coveted for its amenities, beauty, and exclusivity. There are many different real estate options available, but for those who want to enjoy luxurious living at its finest, the Optima Kierland is a must-see.
Situated in the urban core of North Scottsdale, the Optima Kierland boasts four towers with 360 degrees of breathtaking views. An architectural marvel, these towers were designed to complement and blend with their desert surroundings.
Home Features
These unique condominiums and penthouses offer a different approach to high-end living. The living spaces are modern and elegant and boast fantastic views. Residents enjoy the following specifications:
Floor-to-ceiling windows with designer roller screen shades and high ceilings that amplify each room's spaciousness
Quartz or granite countertops
Luxurious European cabinetry
Bosch kitchen appliances and Whirlpool washer/dryer
Private indoor parking with remote garage door access
Internet and DirectTV satellite TV service
Many upgrades available
Large, private terraces
Additionally, each residence is smart home compatible with electronic door locks, which is great for those who use the unit as a vacation or second home.
Open, flexible floor plans offer residents the freedom to create a truly bespoke living experience. Buyers can even combine units to suit their needs.
The towers are interwoven with 5.5 acres of lush, well-manicured open space with walking paths and calming water features, making Optima Kierland a true oasis.
On-Site Amenities
Award-winning architects David C. Hovey and David Hovey Jr. designed Optima Kierland to cater to the lifestyles of its residents. As such, Optima Kierland provides residents with amazing luxury amenities chosen to enhance the health and well-being of those residing in the towers. Some of these amenities include:
Tranquil Sky Decks with rooftop pools, sauna, steam room, and hydrotherapy areas
A rooftop walking and running track with amazing mountain views
Impeccably landscaped walking paths showcasing sculpture gardens and sparkling water features
Welcoming communal areas, entertaining spaces, and firepit seating areas
An outdoor theater
Fully-equipped fitness and sports areas
Indoor/outdoor yoga studio
Vertical gardens to enhance privacy and connect residents to nature
Surroundings
As if the on-site amenities weren't enough to blow you away, the surrounding area is equally spectacular. World-class golf courses, spas, fine dining, high-end shopping, and miles of trails for cycling, walking, and hiking are just beyond your doorstep in the heart of North Scottsdale.
If you are interested in calling the Kierland home, get in touch with an experienced North Scottsdale realtor like Thomas Osterman to help you find just what you are looking for.
Optima Biltmore Towers in Phoenix
Are you taken with the historic charm and beauty of the Biltmore neighborhood in Phoenix? Then you'll want to see what Optima Biltmore Towers has to offer. Located on the southwest corner of Camelback Road and 24th Street in Phoenix, Optima Biltmore Towers offers affluent residents luxury condominiums near the exciting Biltmore Corridor.
Home Features
Completed in 2006, these two architecturally striking fifteen-floor towers house 230 condo units. Residents enjoy many top-shelf features in Optima Biltmore Towers, including:
Floor-to-ceiling windows
Amazing views of the city from higher floors and the rooftop
Large private balconies
Spacious bedrooms
Contemporary kitchens
Private, secure underground parking
Many luxury upgrades
On-Site Amenities
Residents enjoy access to many lavish amenities at the Optima Biltmore Towers. Some of these include:
24-hour fitness center with top of the line equipment and locker rooms
Relaxing spa and sauna
Steam room
Concierge service located on site
Incredible rooftop pool with breathtaking city views
Community clubhouse for activities and socializing
Beautifully landscaped courtyard
BBQ area
Regular social events
Elevators
Business Center
Surroundings
Optima Biltmore is located in the Biltmore Fashion District, which gives residents easy access to catch a movie, shop at posh boutiques and high-end retail stores, or dine at one of many five-star restaurants. A myriad of art, cultural, and other entertainment venues are in close proximity, so the sky is the limit if you want to enjoy all Phoenix has to offer. If you love to golf, grab your clubs and head on over to the Arizona Biltmore Golf Club or explore many other award-winning golf courses in the area. With the Sky Harbor airport only eight miles away, you have easy access to come and go as you please.
Optima Camelview Village in Downtown Scottsdale
Situated on thirteen acres in downtown Scottsdale, the Optima Camelview Village offers luxury living in the midst of a vibrant city. With architectural beauty and sustainability, impeccably landscaped outdoor greenspaces, and unmatched amenities, this is a perfect home for affluent home buyers looking for an upscale urban dwelling, second home, or vacation home.
Home Features
Similar to the Optima Kierland, units boast the following features:
Floor-to-ceiling glass walls for panoramic views of Camelback and Mummy Mountains (from many homes)
Nine-foot ceilings
Gourmet kitchens with designer appliances and granite countertops
Library or media room
Unique spaces for you to personalize
Large, angled garden terraces for privacy and natural beauty
Hi-speed internet, DirectTV, and Comcast HD cable
Cool, secure private underground parking with elevator access to take you right to your home
On-Site Amenities
Resort-style amenities abound at the Optima Camelview. Some of these include:
Indoor/outdoor swimming pools and waterworks
24,000 square foot fitness center, locker rooms, steam rooms, and personal trainers
Outdoor putting green
Spas and saunas
Fitness center with separate workout studios
Leisure amenities including a party room (with catering kitchen), dog park, BBQ areas, and more
Basketball/racquetball courts
Green roof buildings with a park-like atmosphere
Service amenities including an on-site concierge, dry cleaning, grocery delivery, business center with wi-fi, and more
Retail and dining facilities
Click here for a detailed list of all that Optima Camelview Village has to offer.
Surroundings
If you ever felt like leaving home—and with amenities like these you wouldn't have to—you are just steps from world-class shopping at Fashion Square, and near to all of the fine dining, entertainment, culture, nightlife, golfing, and more that downtown Scottsdale has to offer. For added convenience, you are just twenty minutes from both the Sky Harbor Airport and the Scottsdale Airport.
Finding the Perfect Luxury Condominium
In order to find that perfect getaway, second home, or primary luxury residence, we recommend working with a top real estate agent with expertise in the Phoenix and Scottsdale luxury markets. Thomas Osterman has been helping affluent clients successfully buy and sell properties for nearly two decades. If you are interested in a personalized buying experience, get in touch with him today!
_________________________________
If you're considering purchasing a property in the Phoenix or Scottsdale area, it is important to find a realtor you can trust. Thomas Osterman, a top luxury real estate agent in Scottsdale, has over fifteen years of experience assisting clients with their luxury home buying and selling needs. Give him a call today at (602) 405-4052.
Read Related Articles: