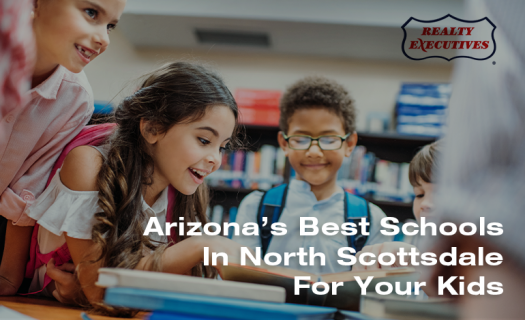 When you move to a new area, your primary concern might be with your child's education. In the North Scottsdale area, there is an abundance of fantastic schools for your child to attend. Even with access to multiple state universities, your child can achieve a higher education without leaving home.
Whether you want your child to go to a private, Montessori or public school, we have them all. With a variety of luxury North Scottsdale real estate, we are sure that you are going to find a home that you love and that is convenient to your child's education. If you are relocating, here is a list of the best schools in North Scottsdale, so that your child can continue their education at a great institution.
Private Schools
There are a number of private schools in North Scottsdale which your child can attend in order to receive a fantastic education. Whether your aim is for your child to go to a smaller school where the student-to-teacher ratio is lower, or if you want them to be taught in a religious-based setting, you still have many options. Finding North Scottsdale homes for sale near these schools won't be a concern either, as these schools are located throughout the area.
For instance, the International School of Arizona has a fewer number of students and teaches grades pre-k through five. If you have a younger child who is just starting out, and you think that they would excel in a setting such as this, you could consider this school. It is located in the southern part of North Scottsdale, which is good if you work in or around Phoenix.
At Notre Dame Preparatory school, there is a larger student body, but they teach grades nine through 12. The location for this school could not be any better, as it is located in the center of North Scottsdale. El Dorado Private School teaches the middle grades, among many other wonderful establishments.
Montessori Schools
If you want to introduce your child to their own independence and a new approach to their educational developments, you should consider sending them to a Montessori school. In the North Scottsdale neighborhood, there are a number of Montessori schools so that children can learn differently with an effective teaching approach. Like the private schools, these Montessori schools are scattered about the area, so that you don't have to sacrifice purchasing your dream home.
Mission Montessori Academy is a high-ranking school that teaches kindergarten through eighth grade. With under 300 students, you know that your child will receive excellent education in a classroom that has a good student-to-teacher ratio. This particular school is located in the southeastern corner of North Scottsdale off of Shea Boulevard.
Public Schools
Some of the best education in North Scottsdale lies within our public school system. Though these school sizes tend to be on the larger side, they still have great ratings and can provide your child with the knowledge they need in order to succeed in life. Though you may be assigned a certain school depending on where you live, you can rest assured knowing that your child will be receiving a proper education.
For example, Sonoran Sky Elementary in the southwestern corner of the area has high ratings, a lower number of students and teaches kindergarten through sixth. If you want to live in the northwestern corner of North Scottsdale, you can send your child to the equally as great school, Desert Sun Academy. This pre-k through seventh grade school has similar ratings and the same number of students.
High schools located in the area include Desert Mountain and Chaparral, both of which have extremely high ratings. They are located on the southeastern and southwestern corners of North Scottsdale so that you would be able to find a home in a location that best suits the entire family. Additionally, as mentioned earlier, North Scottsdale sits just outside of Phoenix, where there are several higher education institutions your child can choose from for college.
_______________________________
Are you looking to move to the North Scottsdale area? Let Thomas Osterman, an experienced North Scottsdale AZ real estate agent, assist you in finding a home while keeping your child's education in mind. Contact Thomas by email or call 602-405-4052 today!
Read related articles: