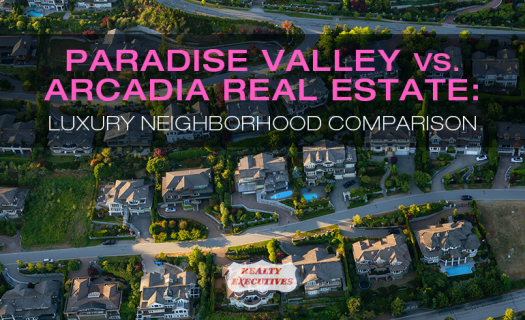 Are you considering moving to an upscale neighborhood in the greater Phoenix area?
If so, you've likely already heard about Paradise Valley and Arcadia, AZ.
While they are both great places to live, they are very distinct from one another.
Read on for a luxury neighborhood comparison of Arcadia and Paradise Valley, AZ, to help you decide which is right for you.
What Is Paradise Valley, Arizona, Like?
As Phoenix's wealthiest suburb, Paradise Valley is conveniently located northeast of downtown Phoenix and just west of Scottsdale.
Consistently ranked as one of the top fifty wealthiest communities in the United States, Paradise Valley is the gold standard when it comes to a secluded, exclusive town.
For this reason, Paradise Valley's affluent neighborhoods are a magnet for celebrities, actors, athletes, business executives, and others seeking luxury, privacy, and breathtaking natural views.
Residents of Paradise Valley enjoy quintessential desert landscapes and majestic views of Camelback Mountain, Mummy Mountain, and the Phoenix Mountain Preserve from their large, private lots.
With its agrarian history, the town of Paradise Valley has been intentional in its efforts to limit commercial development, retaining the beauty and peaceful surroundings that residents have always enjoyed.
Instead of strip malls, you will see schools, churches, medical facilities, and resorts.
While quiet, there is no shortage of things to do nearby. This includes dining at the landmark El Chorro Lodge and other local eateries.
You can also relax and unwind or enjoy a first-class golf experience at one of the town's resorts.
Of course, if you are looking to do some shopping or enjoy the vibrant nightlife in the area, downtown Phoenix and Scottsdale are just a short drive away.
Paradise Valley, AZ, Real Estate
When searching for real estate, you will find a broad range of luxury housing options, including 1950s brick ranch homes with natural desert landscaping, white-pillared mansions with topiaries and manicured lawns, and modern glass and steel estates along Camelback Mountain, Mummy Mountain, and the Phoenix Mountain Preserve.
High-end townhomes, condos, and other housing options are available for those looking for a luxury property with minimal upkeep.
Most properties are nestled behind gates, long driveways, and thick oleander hedges.
According to realtor.com, the median listing home price is currently $3.9 million, which is a whopping 41.3% year-over-year increase.
The median sold home price is $3.1 million. For March 2022, Paradise Valley was considered a seller's market, with homes sold for approximately the asking price. Homes for sale currently range from $310,000 all the way up to $30.6 million.
Luxury homes in Paradise Valley tend to sell for higher prices than in nearby communities, especially in this current seller's market.
If you are interested in buying a home in Paradise Valley, we highly recommend working with a veteran Paradise Valley realtor to help you navigate the ultra-competitive market.
Would you like to learn more about specific Paradise Valley communities? Click here to read our post on the Best Paradise Valley AZ Communities for Affluent Home Buyers.
What Is Arcadia, Arizona, Like?
With Camelback Mountain along its northern border and the Arizona Canal along the southern border, Arcadia is conveniently located south of Paradise Valley and west of Old Town Scottsdale. Arcadia real estate runs from 64th St to 68th St and Camelback Mountain to Thomas Road.
Young families love the area because of the great schools and family-friendly environment.
Homeowners enjoy lush landscaping with vibrant green grass, mature palm and citrus trees, and oleander hedges. Residents stay active with numerous walking and biking trails.
Dining options abound at La Grande Orange and other nearby restaurants, offering something for everyone!
If you enjoy art, the Shemer Arts Center is a must-see.
Arcadia, AZ, Real Estate
When it comes to real estate, there are a number of options from which to choose. Post-war ranches, on oversized lots, have always been a trademark of Arcadia real estate.
Currently, the trend for luxury home buyers is to buy up these homes to tear them down and do a custom build.
By doing that, homeowners enjoy luxurious living in a highly sought-after community.
Traditional Arcadia home listings have about four or five bedrooms and plenty of grapefruit, orange, and lemon trees, as well as palm trees and foliage.
Pools are also quite common in these neighborhoods, and the typical landscaping is mature and very well-kept.
Guesthouses are often attached to or close to the principal home, which makes this area well-suited for families.
Furthermore, the abundance of green landscaping on these lots helps keep the air temperature cooler in summer, which is great if you like to enjoy the outdoors or have kids or pets playing in the yard.
You would be hard-pressed to find desert landscaping in Arcadia.
In addition to large custom homes and flip-worthy ranches, you can find a variety of other housing options at different price points in neighborhoods like Windemere, Sherwood Towne, and Golden Keys.
Realtor.com's housing market report shows that as of March 2022 the median listing home price was $1.5 million (up 18.7% year-over-year) and the median sold home price was $1.3 million.
The Arcadia neighborhood is considered a seller's market, meaning that there are more people looking to buy homes than there are homes available.
Homes are selling for approximately the asking price.
Arcadia real estate is always in demand. Competition for homes is especially high right now, so if you are looking to buy a luxury property, we encourage you to partner with an experienced Arcadia realtor to help you find the perfect home.
Should I Buy a Luxury Property in Paradise Valley or Arcadia, AZ?
These communities both have distinct features and are great places to live—you just have to find the one that best fits your preferences!
If you are having trouble deciding on a neighborhood or are ready to buy your next home, get in touch with Thomas Osterman.
With his decades of experience helping luxury buyers and sellers in the Phoenix area, he can help you find your ideal home, even in this challenging market!
---
Are you looking for a Paradise Valley real estate sales agent that has experience helping luxury home sellers and buyers get the most for their investments in Paradise Valley? Call Thomas at (602) 405-4052 and enjoy a more personalized real estate experience today.
Related Articles: