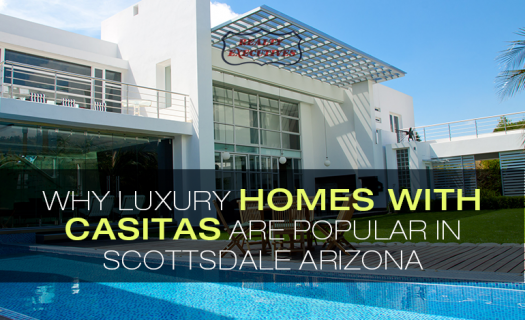 Scottsdale, Arizona, is a city located just east of Phoenix, the state capital.
The city is well known for its amazing golf courses, stunning desertscape and mountain views, and high-end homes.
This is especially true of exclusive North Scottsdale, where it isn't uncommon to find luxury homes with casitas, which are small guest houses or similar structures located on the property.
Of course, small is a relative term as some of these guest houses are larger than the average home in central Phoenix.
These casitas can be used for a variety of purposes, such as a guest house, office, or studio.
The popularity of luxury homes with casitas in Scottsdale has increased in recent years, as more and more people are recognizing the benefits of having one.
The Popularity of Luxury Homes with Casitas in Scottsdale, Arizona
When it comes to home features that Scottsdale, AZ, luxury buyers are seeking, separate guest houses, or casitas, are on the short list of most popular features.
After all, having a living space separate from the main house lends itself to so many uses. Here are some popular reasons why home buyers are seeking casitas:
Children are growing into young adults and need their own space while going to college or saving for a home of their own
Homeowners take in aging parents
Out-of-town guests frequently visit, or visit for extended periods
The main home is lacking in space
Homeowners require more storage space
Aside from being used as additional living spaces, homeowners come up with creative uses for their casitas.
Popular Uses for a Casita on Your Luxury Scottsdale Property
When you think about all the benefits of having a casita on your property in Scottsdale, Arizona, the list is endless.
From extra living space to a home office or studio—or even just a place to relax and get away from it all—a casita can be incredibly useful.
If you're considering adding one to your property, here are some of the top reasons why you should consider purchasing a luxury Scottsdale property with a casita (or room to build one):
Extra living space – As mentioned previously, casitas are a great way to provide additional living space for family members or guests without breaking the bank.
For families with aging parents, disabled family members, or multi-generational families, a casita is a no-brainer. It offers a private living quarter where relatives can be independent while still being on the property.
Since it is typically a smaller structure built on one floor, casitas are easily accessible for those with mobility issues.
Added privacy – Casitas are a popular option for home buyers looking for extra privacy. Casitas are typically located in the back of a property, away from the main house.
Quiet office space—Since the pandemic, many workers have been sent home to work. Although things are normalizing, it is predicted that a large percentage of employees will continue to have the option of working from home, at least part of the time. With its living space and a bathroom, a casita can be the perfect option for a remote workspace.
Home Gym—Are you having trouble finding a dedicated space for your private home gym? A casita may be the answer. Bring in all the equipment and play your music as loud as you want without disturbing others in your household. You can even shower before returning to the main house.
Man Cave—Maybe everyone you live with doesn't share your enthusiasm for sports. No problem. Invite some friends to watch the Diamondbacks, Suns, and Cardinals play, and scream at the TV to your heart's content while the kids watch cartoons in the house. A guest structure outfitted with a main area, kitchenette, and bathroom will provide everything you need for game-day fun.
She-Shed—Set up a private nook in your casita for your craft or art supplies, or designate a private spot to relax and have a glass of wine with friends. Here are some ideas for she-shed inspiration.
Private Spa—A spa should be a relaxing oasis. How about turning that casita into a luxurious home spa? You can add a hot tub, sauna, or even an infrared sleeping bag depending on the space you have to work with. Add in a comfy robe, some scented candles, and your favorite facial ingredients for the full experience.
Music Studio—If you are looking for a tucked-away place to make music, look no further than your casita. Instead of spending big bucks on studio time, you can outfit your own backyard studio with just a computer, digital audio workstation, audio interface, MIDI keyboard, studio monitors, headphones, and a microphone. Also, consider adding an acoustic treatment or acoustic foam sound absorbers to deaden reverberating sound.
Personal Storage—If you are running out of room in your home or garage, a casita is a great place to store your seldom-needed items or outdoor equipment.
Rental Income—While casitas are usually used for guests or family, some homeowners rent their casitas out to generate extra income. This, of course, is contingent upon whether your city and/or HOA allow for it.
Do Casitas Add Value to a Luxury Home?
Yes, casitas are very desirable to buyers given their versatility and convenience.
In fact, in a National Association of Realtors survey that was cited by The Nest, about 33% of Americans are willing to pay up to $3,000 more for a home that has a casita.
If you are a homeowner toying with the idea of building a casita, go for it!
You will enjoy having it, and when it comes time to sell your luxury Scottsdale home, it will be even more attractive to buyers.
If you are looking to purchase a luxury home with a casita, buy confidently knowing that when you decide to sell in the future, you will get a return on your investment.
Conclusion
Casitas are becoming wildly popular for all the reasons above. If you are in the market for a Scottsdale luxury home with a casita, get in touch with Thomas Osterman.
He can help you find the perfect home, even in this competitive seller's market.
Contact him today and put his decades of experience to work for you!
---
Are you looking for a luxury real estate agent in Scottsdale, AZ that has experience helping luxury home sellers and buyers get the most for their investments! Call Thomas at (602) 405-4052 and enjoy a more personalized real estate experience today.
Related Articles: