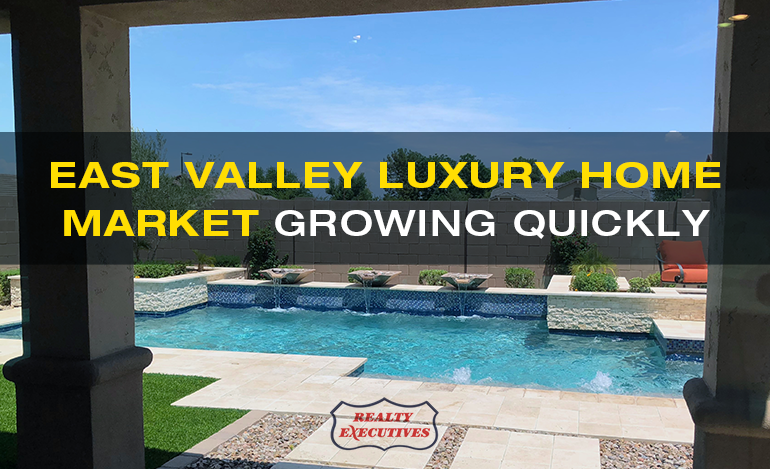 Although tens of thousands of people in the Valley lost their jobs due to the pandemic, home prices have soared in the past couple of years with no signs of slowing.
This is especially true in the East Valley, which is now considered to be home to several of Arizona's hottest neighborhoods.
Some of the most rapid growth is taking place in South Scottsdale, Mesa, Gilbert, Chandler, and Queen Creek.
Many of those working in the Phoenix metro area have settled in these nearby communities, especially with more freedom to work remotely due to COVID-19.
With great infrastructure, ample amenities, and high-quality schools, the East Valley is an incredibly attractive option for many reasons.
Luxury homebuyers can choose from a number of high-end homes to suit their discriminating tastes.
Read on to learn why the East Valley luxury home market is growing quickly in these areas.
Hottest Neighborhoods in the East Valley
Here are some of the East Valley's fastest-growing neighborhoods.
Note: If you're in the market for a luxury home, now is a wonderful time to get started since interest rates are still low. That said, the competition is fierce, especially if you are trying to go it alone. We recommend partnering with a seasoned luxury real estate agent who can help you secure the perfect property.
Scottsdale (South)
While the Scottsdale housing market is pretty competitive in general, the south end of Scottsdale is starting to garner a lot of attention due in part to Papago Plaza, which is being completely revamped.
With the updates, this plaza will have space for shops, restaurants, hotels, and luxury apartments. Its attractive amenities and proximity to Tempe make the area especially attractive to couples and young professionals.
As of December 2021, the median sale price for a home in Scottsdale was $760,000, and homes sat on the market for an average of 33 days. Luxury home prices in the area can go significantly higher, especially luxury real estate in ultra-exclusive North Scottsdale.
Mesa
Mesa is one of Arizona's largest cities and is popular for its affordable housing options. It has plenty of commercial areas with retail stores and restaurants that make it a great place to live.
Recently, the first large master-planned development to sprout up in the Phoenix metro area in nearly ten years broke ground in Mesa.
Eastmark is 3,200 acres and will include new home developments along with two major employers—Grand Canyon University and GT Advanced Technologies (supplier of iPhone components). This development is set to become the next big economic engine for the East Valley and will give residents an "interconnected" community where they can walk or bike to school, work, parks, and more. One hundred buyers have already purchased single-family homes here. Prices range from $200,000 to $600,000.
Of course, whether you are looking for luxury properties like an urban condo with amazing on-site amenities, a large single-family home in a private gated community, or a lakefront or golf course home, there are many high-end housing options available to suite any preference.
Like many surrounding areas, the Mesa housing market is considered very competitive right now. As of December 2021, the median home price was $425,000 with an average of 32 days on market. Luxury homes generally start in the $900,000s and go up from there.
Gilbert
This town has experienced rapid growth over the past decade or so. It offers excellent school districts, parks, and many entertainment options, including golf courses, shopping centers, and movie theaters. The demand for Gilbert luxury homes has never been higher, and it seems that this trend will not abate any time soon.
With a bustling downtown area and vibrant night life, this area is attracting young professionals and families who want a luxurious home and yard, great schools, and proximity to urban amenities without having to go all the way to Scottsdale or Phoenix.
The Gilbert housing market is considered very competitive right now. As of December 2021, median home prices were $532,000. Homes are selling for an average of 1% above the list price (3% for hot homes) and are pending within 26 days on average. There are several luxury properties for sale, starting in the $900,000s.
Chandler
Chandler is another large city with excellent schools and parks as well as plenty of large homes with spacious yards. South Chandler is particularly attractive to larger families for these reasons.
South Chandler is also experiencing a boom due to the growing market for tech jobs within the Silicon Desert.
The Chandler housing market is considered very competitive right now. If you are looking for a luxury home in Chandler, prices start in the high $800,000s.
In December 2021, the median price of a home in Chandler was $495,000. Homes were pending within 28 days on average.
Queen Creek
Made up of nine neighborhoods, Queen Creek is a growing part of the East Valley. With close proximity to Phoenix and its well-kept parks, wide open natural spaces, and mountain views, it is a wonderful place to live. This community is family-oriented and boasts a vibrant economy and well-educated population.
The Queen Creek housing market is considered somewhat competitive right now. The average home is selling around list price. As of December 2021, the median sale price was $559,950, with an average time on the market of 29 days.
Currently there are several luxury homes to choose from in the Queen Creek area starting in the high $800,000s.
Finding Your Luxury Dream Home in the East Valley
If you are interested in selling or purchasing a luxury home in the Valley, it's important to choose a local real estate professional with extensive experience in the luxury market. Thomas Osterman has been helping clients buy and sell luxury properties for twenty years. Contact him today to put his expertise to work for you!
---
Are you looking to buy or sell your home in the Greater Phoenix area? Work with a real estate agent that has experience helping luxury home sellers and buyers get the most for their investments for decades! Call Thomas today at (602) 405-4052 and enjoy a more personalized real estate experience today.
Related Articles: