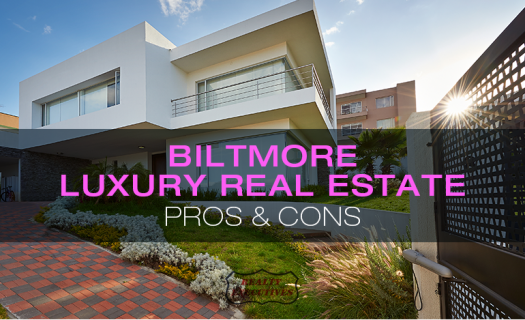 The high-end real estate market in Phoenix is booming, and Biltmore, Arizona, luxury real estate is no exception.
The Biltmore neighborhood is seeing a lot of action, with prices for homes skyrocketing.
Many people are attributing this to the strong local economy and the increasing number of people moving to Phoenix from out of state as a part of the Sun Belt Surge.
The Biltmore area is known for its luxurious homes and amenities. There are prestigious golf courses, restaurants, and shops in the area, in addition to plenty of parks and walking trails.
The homes in this area are typically larger than average and come with features like pools, tennis courts, and other luxury amenities.
The high-end real estate market in Phoenix is expected to continue to grow in popularity.
If you're looking for a luxurious home in a beautiful setting, the Biltmore area is definitely worth considering.
Since the Phoenix luxury home market is hot right now, we recommend reaching out to a top Biltmore realtor to help you secure the home you've been dreaming of.
About Biltmore, Arizona
The Biltmore, Arizona, area is located between Camelback Road and Lincoln Drive and 24th to 32nd Streets.
It is a bustling neighborhood with its own shopping district, recreational facilities, and other amenities.
The town's centerpiece is the world-famous Arizona Biltmore Resort, a luxury hotel and golf resort that dates back to 1929.
Biltmore's location makes it an ideal base for exploring all that northern Arizona has to offer.
About The Arizona Biltmore Resort
When an entire neighborhood is named after a resort, you know it's something special.
The iconic Arizona Biltmore Resort and surrounding area are a symbol of the amazing things that Phoenix and the Valley have to offer residents and guests.
Nicknamed "the jewel of the desert," the Biltmore Resort can hold around 740 guests and is spread out over thirty-nine immaculately manicured acres.
Patrons enjoy several tennis courts and swimming pools, a five-star European spa, fine dining, and two award-winning 18-hole golf courses.
With Frank Lloyd Wright as the consulting architect, this landmark has been visited by several presidents and high-profile guests from around the world.
Pros Of Owning Biltmore Luxury Real Estate
Owning Biltmore real estate is a dream come true for many people. Here are some pros to owning a luxury property in Biltmore, AZ.
Abundant High-Class Amenities
The exclusive Biltmore neighborhood offers plenty of amenities and features that are perfect for anyone looking for a luxury home. These include:
A myriad of shopping opportunities at the outdoor Biltmore Fashion Park and other areas
An abundance of five-star restaurants
Healthy grocery shopping options close to home including an urban Whole Foods Market, Trader Joe's, and more
Championship golf courses
Charming Surroundings
This area has been described by the New York Times as an "elegant desert-dwelling with a Midwest touch," and we agree wholeheartedly!
When walking or driving through Biltmore, you will be delighted by the enchanting scenery that features lush green grass, mature shade trees, beautiful gardens, bubbling fountains, and amazing historical architecture.
Outdoor Activities
In addition to taking in the beautiful mountain views and desert scenery, residents enjoy walking, hiking, and biking along the Arizona Canal Trail or nearby Piestewa Peak Park.
Great Schools
For families, good schools usually rank at the top of the must-have list when choosing a neighborhood.
The Biltmore area is an attractive option in this regard given its proximity to Phoenix Country Day School, one of the top-ranked schools in the state, along with other high-quality schooling options.
Luxury Real Estate with a Convenient Location
The homes are situated in an ideal location that offers easy access to all the best shopping, dining, and entertainment options in the area.
Additionally, it is only 20 minutes from about everything, including the airport, downtown Phoenix, Camelback Mountain, and other popular areas.
The homes themselves are incredible. You can find bright, airy patio homes lining the golf course, condos with soothing courtyard fountains, and even tucked away old-world Spanish Colonial Revival estates.
Many come with top-of-the-line features and amenities that make them perfect for anyone who wants to live in luxury.
From the gourmet kitchens and spacious bedrooms to backyard pools and high-end outdoor living spaces, these homes have everything you need and more.
Cons Of Owning Biltmore Real Estate
When it comes to luxury real estate in Phoenix, there are few areas more coveted than the Biltmore neighborhood.
With its prime location and stunning architecture, owning a home in this prestigious community is the ultimate status symbol.
But before you rush out and buy your dream home here, it's important to consider the potential drawbacks.
High Price Tag
Biltmore homes are notoriously expensive. While you can find affordable properties, many of them come with a hefty price tag, especially the closer you get to the Arizona Biltmore Resort.
If you're not prepared to spend a fortune on your monthly mortgage payments, you may want to look elsewhere.
Lack of Privacy
If you want your luxury home to be tucked away in a quiet, low-profile location, a possible downside of Biltmore living is the lack of privacy that often comes with it.
That isn't to say that you can't find a secluded property, just that it isn't quite as private and secluded as a town like Paradise Valley would be.
Final Thoughts
In conclusion, both proponents and detractors of Biltmore, Arizona luxury real estate would agree that this area offers a high quality of life.
Its gorgeous surroundings, coupled with its many amenities, make it an attractive place to live.
Whether you are looking for a home to retire in or one to raise a family, Biltmore has something to offer everyone.
If you are interested in learning more about this unique area, please contact us today.
Thomas Osterman has decades of experience helping clients find their dream homes—even in tough seller's markets like this one!
---
Are you looking to buy or sell your home in Biltmore Arizona? Work with a real estate agent that has experience helping luxury home sellers and buyers get the most for their investments! Call Thomas at (602) 405-4052 and enjoy a more personalized real estate experience today.
Related Articles: