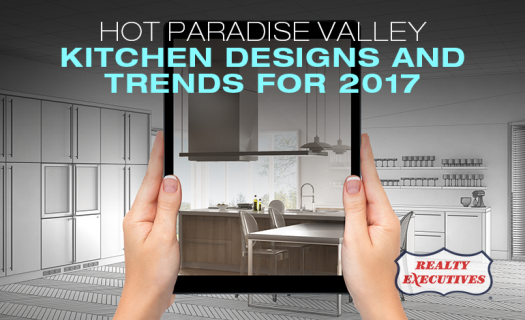 As a style-conscious homeowner, you do everything you can to make sure that your home is on the cutting edge of design trends, most particularly in your kitchen. However, no matter how hard you try, it can sometimes be difficult to stay ahead of the kitchen style curve. Fortunately, getting modern home kitchen design is easy when you choose to live in Paradise Valley. Paradise Valley luxury homes, and their kitchens, possess some of the most unique, enticing design features that a homeowner could hope to find. Discover some of the top Paradise Valley kitchen designs to look out for in the upcoming year and find out how you can move to this leading community.
Give Your Kitchen Counters a Unique Look
One of the hottest kitchen design trends in recent memory is the centering of the entire room around an island. Kitchen islands provide a focal point for the room, making it important that you make your island as attractive as possible. To give kitchen islands an eye-catching touch, many Paradise Valley homeowners are choosing to install waterfall granite. Waterfall granite provides a number of benefits, but the main one is its signature look, with the granite cascading over the edge of the countertop and onto the side pieces. If you're looking for a design trend guaranteed to set your kitchen apart, there's no beating waterfall granite.
Seamless Transition Between Inside and Outside
Many modern homeowners are seeking to blur the line between indoor and outdoor spaces, making it feel like their home is a part of nature instead of separate from it. For Paradise Valley homes, one of the most exciting design features in 2017 is replacing the exterior of the kitchen with sliding glass doors. Not only does this make an easy transition from inside to outside, it also provides a kitchen with a tremendous amount of natural light, adding a one of a kind rustic feel. While it can be labor intensive, installing sliding glass doors around the entire exterior of a kitchen is a design trend poised to take the world by storm.
Turn Your Regular Kitchen into a Smart Kitchen
In the past, homeowners have been content to allow their kitchens to be solely used for cooking, forgotten as soon as the meal is complete. All that is about to change with the advent of smart kitchens. By providing spaces for your most necessary electronics, including automated kitchen tools, turning your regular kitchen into a smart kitchen makes this once bland room feel like the technological hub of your home. When you experience a smart kitchen for yourself, you'll wonder how you ever lived without this innovation.
Get a Sleeker Look with Hidden Appliances
Perhaps more than anything else, modern home design is about uniformity of appearance, with sleek lines and smooth contours. However, because of bulky appliance, this can be hard to achieve in a kitchen. In 2017, however, one of the hottest design trends for Paradise Valley homes will be hidden appliances, finally giving kitchens the stylish look you want. When your major appliances are not in use, they can be hidden away, giving your kitchen the pristine look that you've always dreamed of.
Find Homes with Great Paradise Valley Kitchen Designs
Among their many other benefits, Paradise Valley homes are set to offer homeowners the best in modern kitchen design in the coming year. The best way to get these cutting-edge features is to move to Paradise Valley, which means you need real estate services in Paradise Valley to help you find the right home with the best kitchen design.
___________________________________________
Are you interested in houses for sale in Paradise Valley Arizona? Contact Thomas Osterman, an experienced Paradise Valley Realtor. Speak with Thomas by calling 602-405-4052 now!
Read related articles: