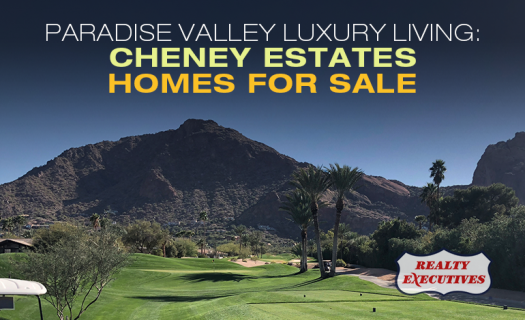 Potential home buyers know that whatever neighborhood they choose must offer more than great homes. A good community should provide its residents with fantastic views, plenty of recreational opportunities and the kind of security that comes from living in an exclusive neighborhood. In Paradise Valley, the only community that offers all of these qualities, and more, is Cheney Estates. Cheney Estates is one of the premier neighborhoods in Paradise Valley, and Arizona as a whole, causing its homes to fly off the market. Read on to learn three reasons why Cheney Estates homes for sale are in high-demand and why you need to act fast to become a part of this community.
1. Beautiful Mountain Vistas
When you step outside of your home in the morning, you want to see more than just the typical neighborhood scenery. You want a view that reminds you of the immensity and wild beauty of nature, and this is exactly what you will get when you tour real estate for sale in Cheney Estates. By moving to Cheney Estates, you will get access to some of the most breathtaking mountain views in the entire state of Arizona, making it an event every time you leave your home or look out of your window. Compared to other Paradise Valley neighborhoods, the natural beauty that is featured in Cheney Estates is unparalleled.
2. Opportunities for Top Quality Recreation
Although many home buyers prioritize the amenities offered by a community, it is also helpful to consider attractions located near your potential neighborhood. If you value recreational opportunities, particularly golf, then you should strongly consider making Cheney Estates your new home. Local to Cheney Estates are two world class golf courses, offering you the convenient opportunity to sharpen your skills, play a relaxing eighteen holes with your friends and neighbors, or even improve your health. For homeowners that value the recreation opportunities that a community offers, there is no better neighborhood in Paradise Valley to move to than Cheney Estates.
3. Cheney Estates Homes for Sale Offer High-Level Security
Perhaps more than anything else, the community that you move to should offer you and your family a high-level of security. After all, you cannot feel truly at home if you do not feel safe. Cheney Estates truly understands how important peace of mind is when choosing a new home, which is why this gated community offers the added protection of an on-site guard. Having a double layer of security like you will find in Cheney Estates is sure to make your family safer than ever before, making this the perfect community to call home. An increased level of comfort and safety is one of the main reasons that home buyers are flocking to Cheney Estates.
Connect with a Realtor to Get the Right Home for You
When you are looking for a new home, you want to pick the absolute right fit for you and your family. You want a home that fits you like a glove, and to find this perfect-fitted home you need to start looking in Cheney Estates. Getting access to the best Cheney Estates homes for sale is as easy as working with an expert Cheney Estates Paradise Valley Realtor. The right realtor will be solely focused on your home buying needs, helping you and your family to find the right house and neighborhood for you, and when you look for a home in Cheney Estates, you will be sure to get exactly what you want.
____________________________________________
Are you interested in houses for sale in Cheney Estates? Contact Thomas Osterman, an experienced Paradise Valley Realtor. Speak with Thomas by calling 602-405-4052 now!
Read related articles: