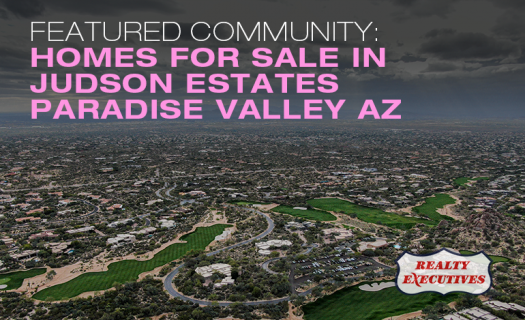 Looking for a new home involves many equally crucial decisions to make sure that you and your family find a property that fits your needs exactly. More than any other factor, you want to move to both a premier town and an exclusive neighborhood, and in Paradise Valley, AZ the only community you should consider relocating to is Judson Estates. This luxury neighborhood offers everything that a homebuyer like you could want, from fabulous amenities to multi-million dollar home listings and beyond. If you're thinking about a move to an affluent Paradise Valley community, learn why you need to look for homes for sale in Judson Estates.
Choose a Premier Community that Offers Peace of Mind
There are a number of things that a quality community should offer to its residents, but possibly the most important factor is peace of mind, which is exactly what you'll get when your family moves to Judson Estates. Unlike other Paradise Valley neighborhoods you could move to, Judson Estates offers the type of community security that can only come from guard gated luxury homes. Choosing to live in Judson Estates means getting access the most luxurious, safest homes in the entire state of Arizona. It's no wonder that more and more homebuyers are seeking to become a part of this community every single day.
Join One of the Most Exclusive Neighborhoods in Arizona
If you've never considered moving to a luxury community before, then you might be asking yourself one simple question: What separates a good community from a great community? Well, while there are many possible answers to this question, the one that you should pay the most attention to is exclusivity. You want a neighborhood that is highly sought after and very selective, and this is precisely the reason you should pursue a move to Judson Estates. Arizona's most affluent, competitive home buyers are all seeking to move to Judson Estates, marking this as the premier community in the entire state, if not the whole country.
The Best Amenities You Can Find in a Home
More than any other type of home, luxury homes have to offer their owners quite a bit in terms of luxurious amenities. Every property in Judson Estates offers home buyers some of the best luxury home amenities that money can buy. Basketball courts, practice golf holes, playgrounds and much, much more are all on the menu when you choose to buy a Judson Estates luxury home. While other premier neighborhoods boast amenities of their own, they simply cannot match the versatile lineup that you'll have access to when you live in Judson Estates.
Connect with the Best Homes for Sale in Judson Estates
As we have seen, there are a number of issues that you as a home buyer should consider when looking for a luxury home in a luxury neighborhood. Security, exclusivity and fabulous amenities are what qualifies a neighborhood as luxury, and only neighborhood that offers all of these features in Paradise Valley, AZ is Judson Estates. If you're considering moving your family to this premier community, then you need the expert advice of a Judson Estates Paradise Valley AZ Realtor. Your realtor will be able to connect you with great homes for sale in Judson Estates that will fit your family like a glove. Stop waiting and start planning your move to Judson Estates today.
_________________________________
Are you interested in houses for sale in Judson Estates in Paradise Valley? Contact Thomas Osterman, an experienced real estate agent in Paradise Valley. Call 602-405-4052 to speak with Thomas now!
Read related articles: