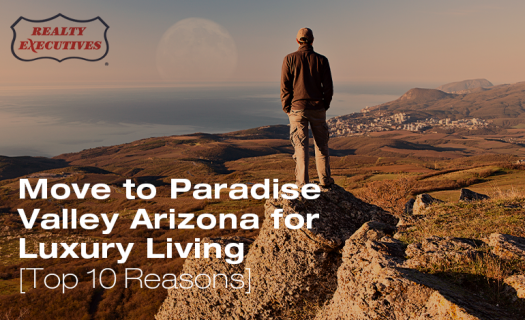 The city of Paradise Valley, Arizona, could not have received a more fitting name. Located just a few minutes by car from Phoenix, Paradise Valley offers unbeatable value. Enjoy the bounty of nature, living away from the messiness and noise of the daily grind, but still find yourself close enough for a quick jaunt to any of the countless plusses of vibrant urban life. By the end of this short article, it should be clear as day that some cities simply have it all. Here are the top 10 reasons you should crave to move to Paradise Valley.
A Community That Looks Out for One Another
Rightly first and foremost on everyone's mind is the safety of his or her family, guests and possessions. You will be glad to know that the strong sense of community fostered in Paradise Valley is bolstered by constant attentiveness to the safety and wellbeing of its residents. The city at large hosts many safety fairs and other programs designed to inform and protect the populace. In addition, certain communities offer the added peace of mind provided by gate and guards. No matter your particular preference, you can rest assured that you are as safe as can be.
Beautiful Mountain Ranges
Who would not love a good hike? The proximity of the Camelback and Mummy mountains makes you feel closer to nature without having to drive an hour out of town. Revel in the 294 sunny days per year, on average, giving you plenty of opportunities to explore the natural splendor of the surrounding area.
Speaking of Splendor: SUP
A special use permit (SUP) governs the area of Paradise Valley, stipulating that the maximum housing density is not to exceed one unit per acre. This means that, regardless of which nook of the valley you call home, you will have room to breathe. Discover how wonderfully refreshing it can be to simply take in the view, thanks to that acre or more of land that belongs solely to you.

The Finest Restaurants
On the other hand, though living in the midst of nature is all well and good, the cosmopolitan American craves a complement to the natural beauty of Arizona. This, Paradise Valley provides in spades with being close to the best in upscale shopping, fine dining and nightlife in Scottsdale. Stop by one of the many wonderful and varied eateries nearby, and pick up a slice of the good life.
Spas, Resorts and More
In addition to excellent gastronomical options, Paradise Valley also gives you access to truly luxurious spa and resort experiences. Isn't it time you treated yourself to a little pampering?
A Wide Range of Options to Choose From
Now that you know you will be sitting pretty on your own private acre, the time has come to choose where exactly to hang your hat. The property for sale in Paradise Valley offers a unique and varied selection. Homes range in size, all the way up to shiny, large luxury models. You can pick your preferred environment. Want the convenience of being able to play quick round of golf before work? Would you rather wake up each morning to an awe-inspiring view of the valley? Perhaps you are an avid equestrian? Well, for each of these cases, and many more, the homes in Paradise Valley provide an enticing answer. You are free to live on the golf course, astride the mountain or let those majestic horses roam your property.
A Rich History
You can drink in the rich history of Paradise Valley simply by walking around and seeing the sights. Incorporated on May 24, 1961, this 12,820 person town's history goes back to the late 1800s, when three surveyors coined the name "Paradise Valley." After World War II, when residents of Scottsdale and Phoenix were looking to expand their borders, it became clear to the more rural-oriented Valley-dwellers that they should forge their own destiny.
Unique Philosophy
Paradise Valley's colorful history, and the needs of its denizens, informs its unique philosophy. Over the course of its more than five decades of existence, residents have preserved the town's original mission: "to maintain a residential community in a quiet and country-like setting with little government intervention."
A Wealth of Attractions
Anyone living in or just stopping by the Paradise Valley area should pay a visit to the statute erected on February 14, 2014, in honor of Arizona native Barry Goldwater, Republican Senator for three decades and 1964 Republican presidential nominee. Aside from this landmark, the Scottsdale-Phoenix metropolitan area makes available to residents and tourists alike a host of cultural attractions. Scottsdale's Sonoran Desert, for example, has inspired generation after generation of artists whose work adorns the museums and streets of the city.
Let's Not Forget Golf
If teeing off in style is an essential component of your existence, you will be pleased to note that Paradise Valley opens the doors to Camelback Golf Club, Mountain Shadows Golf Club, Paradise Valley Country Club and numerous other courses nearby.
For these reasons and countless more, Paradise Valley is the place to be.
_____________________
Do you want to move, but are having trouble deciding on where to live? Let Thomas Osterman, the best Paradise Valley real estate agent in Arizona, show you everything Paradise Valley has to offer. Contact us via email or call (602) 405-4052 today!
Read related articles: