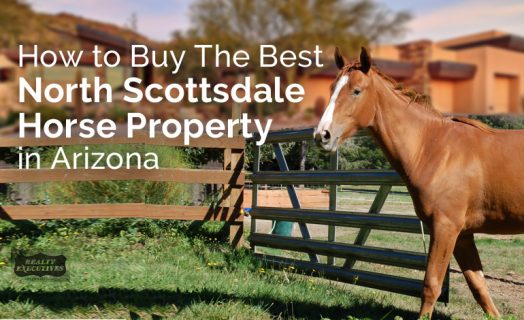 Buying a horse farm is the dream of many people, especially in Arizona, where ranches form an important part of our history and economy. Unfortunately, too many people jump into these purchases without knowing the ins and outs of such a purchase. Buying the right farm can be a dream come true, but buying the wrong one can be a lifelong nightmare. Make sure that before you take the plunge on your dream North Scottsdale horse property that you understand all the things to consider and avoid mistakes.
Find the Right Real Estate Agent
This cannot be understated. If you're going to get the right property — the right ranch to make your dreams of owning horse property come true — you need the right North Scottsdale equestrian real estate agent in your corner.
A good realtor has been through the process before. They know what things to take into consideration, what details you need to cover, and what not to overlook. They can be the best ally in your quest, and make sure that you get the perfect horse farm for your needs.
Know the Acreage You'll Need
The first thing to keep in mind is to understand the size of farm you'll need. How many horses do you own, or how many do you plan to own? Do you plan to ride on the property, or is it just to house your horses? If you only own one or two horses, you can probably get by with five acres or so, but you'll also probably want some room to expand down the road. Do some research to find out the ideal acreage for the number and kind of horses you have, and for what you want out of the property.
Check Out the Existing Stables
Quite probably the most important aspect of your new property is the suitability of the stables. Make sure they're in good repair, solid condition, and that they have plenty of room to comfortably house your horses. Examine the barn for structural deficiencies and make sure that it's relatively clear of pests that could harm or present a danger to your horses.
Make Sure the Water Supply is Right
You want to be sure that you've got a solid water supply as well. Horses drink more water than people do, so you want ready access to H2O, which in the desert can sometimes be tricky. However, by the same token, you need dry footing on the property as walking horses through swampy land can result in injury and lameness. That means you'll want plenty of drainage as well.
Get Familiar with Zoning Laws
Finally, zoning laws are essential. Too many people overlook this critical aspect of buying a North Scottsdale horse property. Just because a property was previously zoned for horses, that doesn't necessarily mean the zoning will transfer to you or will meet your specific needs. Work with your realtor to explore the zoning of the property and get the necessary paperwork in order to be sure you can use the property for your intended purpose.
If you're looking for help buying a new luxury horse property, work luxury real estate expert, Thomas Osterman.
_________________________________
Are you interested in buying or selling a home in North Scottsdale, AZ? Contact Thomas Osterman, your luxury North Scottsdale real estate agent. Call 602-405-4052 to speak with Thomas now!
Read related articles: