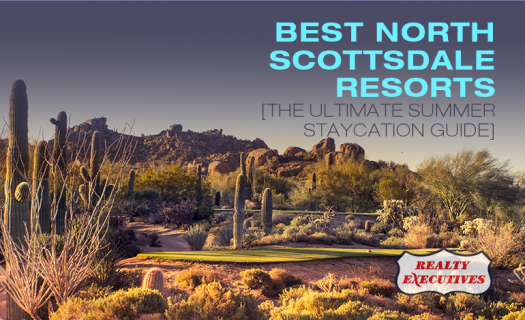 The concept of the "staycation" really took off about ten years ago, during the Great Recession, but it's gained ground ever since. There's something to be said for a vacation that happens right around the corner, that doesn't require spending months of planning or bankrupting yourself in the process. Staycations can be relaxing in a way that traditional vacations aren't, and here in North Scottsdale, we've got great opportunities. Visit some of the best North Scottsdale resorts if you're looking for a vacation experience that's right in your backyard and doesn't require a long road trip or expensive travel.
Experience the Essence of Arizona
The Westin Kierland resort and spa in Phoenix-Scottsdale bills itself as "the Essence of Arizona." It offers a modern destination with an old Arizona feel and has offerings for business retreats, family vacations and more. They'll offer you a personalized package from upscale dining, family fun adventures, or a day away at the spa. It's all right here, just around the corner.
Focus on Wellness
The Fairmont Scottsdale Princess is a resort getaway that is largely focused on wellness and well-being. In fact, it's even called the Well & Being Spa. This resort location creates a completely personalized experience that is designed to make you feel more alive and healthy from start to finish. Try Aerial Yoga classes, experience aromatherapy massage, and work out a personalized plan of exercise and nutrition. Here it's all about feeling empowered to live a better life.
Enjoy the Sonoran Desert
The Sonoran Desert is one of the most beautiful and breathtaking locations in the entire United States and the Scottsdale at Troon North is located right in the heart of it. A unique fusion of cosmopolitan living and old-fashioned Western lore, here you'll experience everything from riding the trails and looking at breathtaking sunsets, to lounging in a beautiful pool or playing on some of the best golf courses around.
Style and Substance in the Mountains
One of the more traditional resorts on our list, the Scottsdale Marriott is nonetheless sublime. Located in the McDowell Mountains, it features the best in modern amenities with high-end hotel suites, outstanding service and everything you want in a relaxing stay. Besides the luxurious suites, spend time at the modern fitness center, relax in the pool and enjoy the best in Southwestern cuisine at the fine restaurant.
The best thing about any of these resorts is that they all allow you to get away for a few days and relax, just a few minutes from home. There's no need to engage in extensive planning, pack tons of gear or leave the house behind for a week at a time. Just relax and enjoy the best of life, all without leaving your own backyard.
If North Scottsdale seems like a great place to live, now is a great time to relocate. You'll want the right realtor to help you find the very best North Scottsdale homes for sale, and that's real estate veteran, Thomas Osterman. Contact me to start your search today!
_________________________________
Are you interested in buying or selling a home in North Scottsdale, AZ? Contact Thomas Osterman, your luxury North Scottsdale real estate agent. Call 602-405-4052 to speak with Thomas now!
Read related articles: