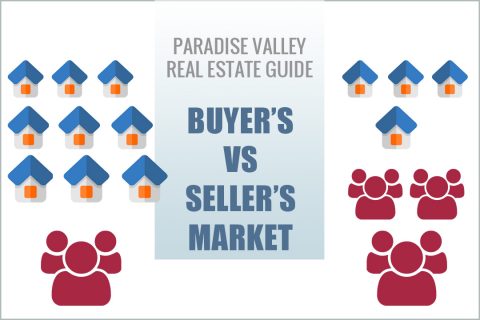 If you're new to the real estate game, you're probably confused about the difference between a buyer's market and a seller's market, terms that get thrown around all the time. In fact, even veteran buyers can sometimes be staggered at trying to forecast the market. This understanding, however, can be critical to getting the best deal on your next real estate sale or purchase deal. Get the best deal or the most value from your real estate transaction by understanding a buyer's vs. seller's market, and learn when to take the plunge.
The Paradise Valley Buyer's Market
A buyer's market is also known as a "cold" real estate market. These conditions are in favor of those looking to purchase real estate. If you're looking at the Paradise Valley market and you note a lot of houses for sale and many of them seem to be sitting on the market for a long time, you may be in the middle of a buyer's market. In this kind of market, houses sell for below market value, which in turn decreases.
If you're looking to purchase real estate, this is likely the right time to contact a realtor and start your search. You can get a much better deal on a place in a buyer's market, and you'll have much more bargaining power as you approach closing in terms of asking for amenities, upgrades, and repairs.
The Paradise Valley Seller's Market
A Paradise Valley seller's market, on the other hand, is a situation where there aren't many houses available, where houses fly off the market almost as fast as they're listed, and may sell for well above the initial asking price. These conditions arise when an area becomes a target destination with tons of people looking to move in while the people there don't necessarily want to leave.
If you're a seller, these markets are the time to consider letting your property go. You could get an outstanding value for your home and you're in control of the negotiations. Look for properties to go off the market within three months, for very few homes to go up for sale, for listing prices to be on the rise and fewer marketing efforts for homes in the neighborhood.
Buying or Selling Well in Any Market Condition
Sometimes, unfortunately, you're in a position where you need to buy or sell in an unfavorable market. In these circumstances, there are some important strategies to adopt. Always make your best offer right up front. Don't overanalyze the home price. Be ready for a bidding war, no matter the climate. Always get prequalified for your mortgage before going in.
Finally, get an experienced real estate agent. The right agent can make all the difference in your buyer's vs. seller's market transaction, whether you're a buyer or a seller. If you're looking to make a sale or purchase in this area, work with the best Paradise Valley, AZ, real estate professionals, contact Thomas Osterman Today.
_________________________________
Are you interested in homes for sale in Paradise Valley AZ? Contact Thomas Osterman, your luxury Paradise Valley real estate agent. Call 602-405-4052 to speak with Thomas now!
Read related articles: