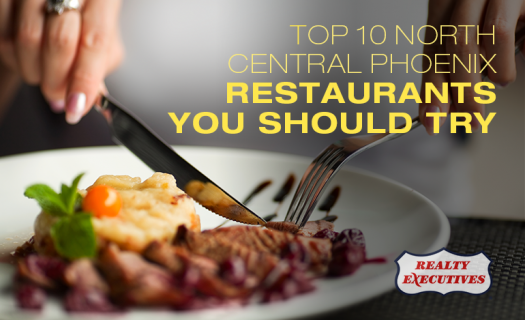 If there's one thing you can say about North Central Phoenix, it's that there are outstanding eateries all over the city. Discover the top ten North Central Phoenix restaurants you should try out, from top wineries and ethnic cuisine to All-American fare across the area.
Postino Central: A Phoenix Classic
This restaurant is one of the most revered in the city and offers four branches, each with its own unique flare. The original is intimate and classy, a wine bar with constantly changing bottle lists and a solid selection of craft beers as well, and the food is just as good.
Windsor: Historic Eats
Located in the historic neighborhood for which it's named, Windsor is an old-school neighborhood pub and bar complete with backyard patio dining, good friends, and companionship. It offers great beer and wine selections, Prohibition-era cocktails and some of the best bar food fare around.
The Clever Koi—Asian Craft Cocktail Bar
This restaurant thrives on experience—its staff is energetic and fun as well as focused on giving you a unique experience on each visit. It's got an open kitchen design and offers fun and interesting craft cocktails, which run a broad spectrum of beer, wine, sake and spirits that are perfectly matched to the food offerings.
Spoke & Wheel: Classic Family-Style Eats
A classic family-style pub and tavern, which offers contemporary American eats with a Southwestern touch. They use fresh, local ingredients and grind their own meat right in house as well as baking their own bread. Fresh and organic are the words of the day here, and the food is to die for.
Federal Pizza: 50s Vibe with Modern Beer
Named for the old Federal Bank building in which it is situated, this wood-fired craft pizza bar offers both dine-in and drive-thru service. It uses a modern approach tied to a 1950s aesthetic to give a truly classic experience combined with the best current craft beers, wines and more.
Timo Wine Bar: Classy and Refined
Timo claims to deliver an ultimate guest experience based on ambiance, an intimate atmosphere and some of the most welcoming service around. They offer an outstanding wine list and their food is chef-level top notch.
St. Francis: Urban Family Fare
This urban restaurant right in the heart of the city is family-owned and operated, and offers a broad range of outstanding food options at prices that aren't going to break the bank. They offer free kids' meals, a seasonal menu using fresh produce and a daily happy hour in a bright and cheery environment.
Mora Italian: Good Friends, Great Pasta
If you're looking for the best Italian food in the entire region, Mora Italian is among the best restaurants in the Phoenix area. Right in the middle of the Seventh Street Stretch, this restaurant carries a classic vibe that'll make you feel like you're right in the middle of Venice.
Joe's Midnight Run: The Best of the Forties (but not the year)
Describing itself as a "culinary remix," Joe's Midnight Run is an attempt to revive and revitalize the classic Joe's Drive-Thru Liquor establishments that served the region for decades. They offer a great selection of craft beers and spirits, as well as wine on tap. Of course, their food is also top-notch and their Grilled Pulpo and Tart Tatin are not to be missed.
Okra: A Taste of the South
Last but certainly not least, check out Okra Cookhouse & Cocktails and try some authentic Southern eats with an Italian-fusion twist. Their Southern Fried Chicken in three varieties cannot even be described.
Looking to move to an area where you'll get some of the best food around? Foodies looking to live in this region need to work with the best North Central Phoenix real estate professionals, like Thomas Osterman. Give him a call to start your search today!
_________________________________
ENJOY A MORE PERSONALIZED BUYING EXPERIENCE NOW!
Call Thomas at (602) 405-4052 and let's find your Central Phoenix dream home.
Read Related Articles: