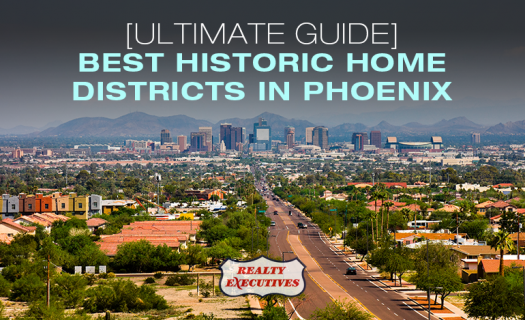 Phoenix has many new, vibrant areas of the city that show off its growth as an evolving urban area, but history grounds the city's character. This charm is most evident among the best historic home districts in Phoenix, which were built as a testament to the city's maturing appeal in the early 20th century.
Historic homes for sale in these neighborhoods exemplify why Phoenix is unique among other growing southern American cities. Come explore their scenic byways and charming, lamp-lined streets as we delve into five of the most important historic suburbs in Phoenix.
Windsor Square Historic District
In 1929, the Phoenix Evening Gazette announced the start of the subdivision that would later become Windsor Square with a resounding banner headline: "Home Project to Involve Millions." At the time, the Arizona Biltmore and Brophy College Preparatory School were practically brand new. Winsor's charming curved streets still show off the charm of early 20th-century architecture as it headed towards a triumphant revival of countless classic aesthetics.
Today, Windsor Square lies just off the Central Corridor next to some of the most important businesses and desirable shops in the city. B
Medlock Place Historic District
Just across Central Ave from Windsor Square sits Medlock Place, a small but equally important contribution to the historic landscape of Phoenix.
Medlock's beginnings are actually even older than Windsor Square, Arcadia or most other historic Phoenix neighborhoods. It was first platted in 1897, although suburban development didn't occur until a few decades later, when homes and land were first opened to the public in 1926. The charming, low-key homes and quaint sense of history all exemplify what developer Floyd Medlock described as a neighborhood that mixed "city conveniences with country delights."
Yaple Park Historic District
Nestled along the Arizona Canal and 7th Ave, Yaple Park has an incredible off-the-beaten path appeal despite lying right near the heart of Downtown Phoenix. Small town shops and cafes like Joe's Diner preserve the relaxed character.
The neighborhood is mostly comprised of Transitional Ranch homes built between 1931 and 1949, with each one representing a distinct architectural mode as well as the the vogue details of the time. Between its delightful small homes, laid-back demeanor and enviable location, Yaple Park is the perfect place for retired couples, people looking to downsize and young professionals who want a more low-key lifestyle near downtown.
Willo Historic District
Further south from Yaple Park, you will find a striking historic area between McDowell Road and Thomas Road. Known as the Willo Historic District, this neighborhood is located just a stone's throw away from the gorgeous Encanto Park and within a short walk to Roanoke Plaza, the Phoenix Theater and several museums. Homes represent a broad range of revival styles, including Tudor and Adobe homes, and are marked by well-kept lawns with mature trees.
Encanto-Palmcroft Historic District
In the late 20s, two Palmcroft subdivisions and the Encanto subdivision were stunning examples of the "City Beautiful" movement that emphasized the importance of putting suburbs close to parks. As a result the historic homes in the Encanto-Palmcroft area face one another to create a unique impression that shares its character with the surrounding landscape.
Like the Willo Historic District, homes built here encompass a broad range of "Revival" architectures, including Tudor Revival, Georgian Revival, Adobe Revival and more. These homes are also located next to the beautifully breathtaking Encanto park, which has its own amusement park and a nine-hole golf course.
Find One-of-a-Kind Houses in the Best Historic Home Districts in Phoenix With an Experienced Realtor
All of the homes in these neighborhoods are stunningly unique, which means that they are both rare and highly sought after when listings hit the market. To get your foot literally in the door, you are going to need a historic Realtor in Phoenix with knowledge of unlisted properties and the negotiating know-how to help you make the perfect offer.
_________________________________
Are you interested in historic homes for sale in Phoenix? Contact Thomas Osterman, an experienced Phoenix real estate agent. Call 602-405-4052 to speak with Thomas now!
Read related articles: