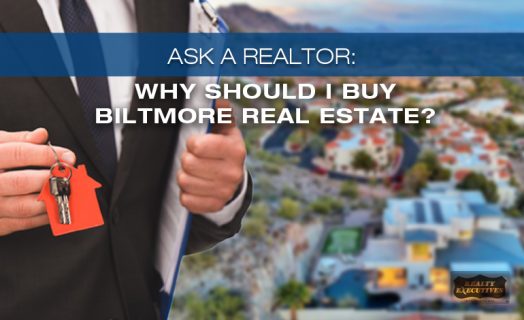 Biltmore, AZ is becoming one of the hottest destinations in Arizona for new home buyers. Whether just moving around the corner from another neighborhood or from another state or even country, people are flocking to this area. Others are curious as to why real estate in Biltmore is so desirable and wondering whether it is, in fact, the right move for them. There's plenty of reasons why this area is popular. Discover all of the various reasons why it's a great idea to buy Biltmore real estate, from history to home values, and how to find your dream home.
Arizona Biltmore History
Biltmore, AZ is constructed around the Arizona Biltmore Resort & Spa, which first opened on February 23, 1929. The neighborhood is considered a Phoenix Point of Pride and is the single most acclaimed neighborhood in the city. Showcasing the architecture of Frank Lloyd Wright, the Biltmore itself is a masterpiece of modern architecture, and its opening was attended by tons of notables amongst the high society of the era.
Marilyn Monroe was known to frequent the area and cited the pool as her favorite anywhere. It's also where Irving Berlin wrote "White Christmas." By 2003 the Biltmore had become one of the largest event venues and largest hotels in AZ, drawing notables from high society figures to presidents and world leaders. With such a legacy of history behind it, it's no wonder people flock here!
Biltmore Home Values
As a result of the local hotel and spa industry, home values in Biltmore are consistently high but not unaffordable, making this a great place for everyone looking to start a family or move into a nicer home in a great neighborhood. As of this writing, homes can be found ranging from $145,000 condos to single family homes for $299,000 up through true luxury properties and estates costing over $2 million.
This means that there's something for everyone in this neighborhood! With such a great variety of real estate available, there's no reason not to consider the Biltmore area when you start looking for your family's next dream home!
Biltmore Amenities
Of course, what's a home without things to do nearby? The Biltmore region has all the amenities you could possibly want, whether it's fine dining, good drinks, and company, or family-friendly attractions or outdoor recreation and fitness. You could start with the Biltmore Resort itself, with its multitude of swimming pools, restaurants, and spas. You could visit the Wrigley Mansion. The Carnival of Illusion is one of the most enjoyable family entertainment attractions out there.
Check out beautiful vistas at Piestewa Peak or Camelback Mountain. While you're out and about, check out Arizona Outdoor Fun or enjoy the Echo Canyon Trail and Recreation Area. For the kids, there's the Children's Museum of Phoenix, and for adults, check out the Phoenix Art Museum.
There's really no question that the Biltmore area is the pride of Phoenix. There's something here for everyone from young executives to single families and more. If you're looking for the best Biltmore real estate agent to get you settled in the area, call on Osterman Real Estate. We'll get you started on your quest for a dream home in the Biltmore area today!
_________________________________
Enjoy A More Personalized Buying Experience Now!
Call Thomas at (602) 405-4052 and start looking for your Biltmore AZ dream home.
Read Related Articles: