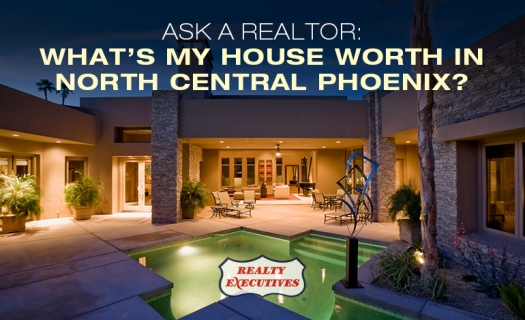 Estimating the value of your home, and your possible asking price when selling that home, is never a simple task. Real estate market forces change winds constantly, and two nearly identical homes can have quite different values based on where they are located in the city.
When wondering, "What's my house worth in North Central Phoenix?" realize that a complex formula and a lot of know-how go into to determining your home value in Phoenix. Many of the aspects you would think matter most for value end up influencing the price very little, while some factors you might overlook end up being quite important.
So, when thinking about how to value my home or any home for sale, here are the factors I might look for:
Remember That a "Property" Is a Piece of Land, Not Just the Home on It
Many people forget the value of land itself when buying or selling real estate. "It's the one thing they're not making any more of," as the saying goes, so land that is in high demand will almost always be a greater influencer of property value than the home itself.
When assessing the value of land, home appraisers and other home valuation experts will look to current sales activity as well as the scope of development within the area. If certain indicators of increasing demand are present, then that land will be worth a whole lot no matter what type of home is on it. In fact, some land parcels are so valuable that developers must raze seemingly desirable homes in order to avoid depreciating the land's value.
So what factors might a North Central Phoenix realtor look at when predicting the value of a land parcel?
High-end economic activity like retail in sustainable, mixed-use planning
Limited obstructions or noise sources, so no large industrial operations and no extremely busy roads
Proximity to in-demand schools and commercial or business centers, such as being next to a ritzy country club
Location within a buffered space, i.e. a neighborhood
Age demographics of neighbors; younger families drive up value
Notice how property descriptions emphasize factors like these first and then move onto amenities or unique home features later. That listing priority indicates their importance for property value.
Assessing the Home Value
When looking at your home's home value, you once again have to get rid of your assumptions. Things like square footage and number of bedrooms still matter a great deal, but if the home has an impractical layout — like it's converted from a sprawling 60's motel — then having tons of bedrooms will not necessarily drive up the home value.
Similarly, an amenity like a pool generally adds value to a property but it might also take some away.
So, more so than bedroom count features and amenities, valuation experts will look to the age of the home, the popularity of its general architectural style, and how well the home has been maintained or updated. For instance, a historic mansion with an aging wiring system may have less market value than a smaller, less-impressive new home with updated safety and efficiency standards. The reason being: no matter how much character a home has, the new owner will still have to sink money into renovations to bring it up to modern standards.
Therefore, you must consider the age of your home and the amount of renovations or upkeep you have put into it. You also have to consider things that would make it appealing to the average contemporary family. Things like number of bedrooms or unique features like granite countertops will likely add value on top of this baseline, but the baseline is what matters most.
Researching Recent Closing Prices for Homes Sold Comparable to Yours
The valuation methods above may seem esoteric, but they enable a much clearer process called looking at comparable properties or "comps."
Comps are recent home sales in your area with lot positions and home types that roughly match your own. Each comp is adjusted to account for differences in square footage, bedroom count, layout, features, style, special considerations, and so on, and then they are averaged together to produce a fairly accurate value assessment for your own home. You can then determine an opening asking price and a target closing price based on that number and current market activity in your area.
If all this comparing and number crunching sounds complicated, that's because it is!
It takes a knowledgeable Realtor in North Central Phoenix with experience selling in your community to accurately assess comparable properties and determine your home's value. If you want the expertise that can give you a leading edge when pricing your home, then do not hesitate to contact me today.
_________________________________
Are you interested in selling your home in North Phoenix? Contact Thomas Osterman, an experienced Phoenix real estate agent. Call 602-405-4052 to speak with Thomas now!
Read related articles: