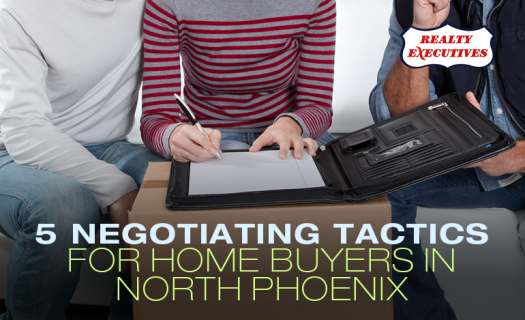 Buying homes for sale in Phoenix has gotten tougher as more and more demand floods the market. Getting the home you want at a reasonable price these days requires smart real estate negotiation strategies. Whether you are trying to compete with an all-cash offer or trying to get a little wiggle room on the close date when buying a home, you always have to account for the seller's perspective and think about ways to hold their interest.
If you are worried about your ability to get your foot in the door of a perfect home or have a personal request honored, then make sure to give some of the following negotiating tactics for home buyers a try.
Be Professional
Remember that a home transaction puts home sellers in the position of a professional salesperson. A huge chunk of their personal assets are on the line, and they are going to be wrangling with dozens of other people during the process, only some of whom are other prospective buyers.
As such, always put on a polite, professional face during negotiation discussions. Make sure not to waste the seller's time, to be specific in your requests and to be forthcoming with information they absolutely need to know. At the same time, do not show your hand if it is not relevant to the seller, such as telling them your maximum possible offer right off the bat.
One thing to definitely avoid is manipulation. Being a bully or trying to use guile to get what you want is almost always going to result in a seller becoming frustrated and skipping your offer for someone less stressful to deal with.
Submit an Offer Letter That Is Memorable
Your offer can include a brief one-page letter explaining your reasons for buying their home, your logic for your offer and why you think you would be a good fit for the seller's needs. You can include a touch of emotional appeal — such as saying something like "when I first set foot in the home, I was instantly transported to my childhood and decided this was the place I wanted to raise my family" — but try not to overdo it. Your offer should be convincing in terms of its benefits to the seller, not its benefits to you.
If you can make your letter memorable, your offer can often stand out among similar ones, even ones slightly above yours.
Want Something Special? Don't Be Afraid to Ask for It in the Contract
A great way to submit a competitive offer without painting yourself in a corner is to ask for payment in-kind. So if you go a couple thousand over your comfort zone, you can balance it out by making a request. It can be asking for furniture or asking for closing costs to be covered, but many home sellers look at the potential for more cash-in-hand and decide they value it over any favors you request. With this strategy, you effectively meet the buyer in the middle while still delivering a highly competitive offer.
Use Days on Market to Get a Better Price
When weighing a home's fair value from your perspective, make sure to discount it relative to comparable properties based on its days on market. If a home has been on the market for over 90 days, the seller may be more likely to budge on their asking price. However, keep in mind that they may have dropped the price incrementally several times since their first listing.
Hire an Expert Negotiator
All of the above tactics may be able to help in general, but only an experienced real estate agent can analyze a situation and respond with the most advantageous approach. Increase your chances of getting a gorgeous home you want at a reasonable price by working with a local Phoenix real estate agent who can convince a seller that their needs are your needs.
_________________________________
Are you interested in homes for sale in North Central Phoenix? Contact Thomas Osterman, an experienced Phoenix real estate agent. Call 602-405-4052 to speak with Thomas now!
Read related articles: