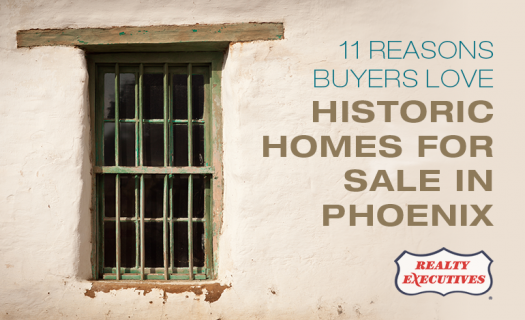 Phoenix has been experiencing record growth in recent decades, but it also has a long history stretching back to before the turn of the last century. This legacy has left us with countless Phoenix historic homes built through some of the most critical points in its history while corresponding to some of the most bold and iconic architectural movements of their time.
Historic homes for sale in Phoenix simply outclass many newer homes, which often lack classic charm and character. So whether selling a historic home or buying a historic home, those on the Phoenix real estate market can count on the following 11 benefits of Phoenix historic homes:
1. History
Talking about the history of historic homes is far from redundant. After all, each of these homes has a fascinating story to tell.
For instance, the Dr. Lowell Wormley House — plainly visible while driving past 1912 E. Broadway Rd. — was first built in 1949 for one of the only three black doctors practicing in Phoenix at the time. The home remains a private residence and was listed on the Phoenix Historic Property Register in 2005.
2. Location
Phoenix was a much smaller city when many of its historic homes were built. This fact means that as the city grew, some of the most prominent business centers and points of interest were clustered around these properties. The result is convenient access to some of the most popular businesses in the area.
3. Architecture
"They don't make 'em like they used to" holds true when looking at the more striking properties you will find in the Central Phoenix area, including Arcadia and Arcadia Lite, which exhibit incredible examples of design trends from the '30s and '60s, respectively.
4. Ability to Rehab
There are plenty of options for renovating historic homes while preserving their original character and charm. Some companies in Phoenix even specialize in supplying modern replacements for outdated architectural practices, such as supplying low emissivity glass panes for historic window frames.
5. Authentic Home Features
You know your property will stand out when it boasts home features you just don't see anymore, like richly detailed herringbone wood floors, laundry chutes, built-in window seats, door transoms and more.
6. No HOA
Spending serious money on a home should mean that you can do whatever you want with it within legal bounds. Historic properties won't stand in your way thanks to their general lack of an overseeing Homeowner's Association.
7. Tight Knit Communities
Historic neighborhoods were built for walking and waving to your neighbors. Expect a warm welcome and lifelong friends when you move in.
8. Neighbors Take Pride in Their Homes
Tragically, moving into a "nice" neighborhood does not always mean having neighbors that uphold a classy standard, but historic homes often attract residents who put in the care and respect their property deserves. Having conversations about someone's struggle to keep 80-year-old citrus trees preserved is not uncommon in these communities.
9. Demand is High — Supply is Low
This trait means that historic neighborhoods are exclusive and competitive, ensuring that not just anyone can move in next door.
10. Builders Don't Build Like They Used To
This point cannot possibly be iterated enough! Most luxury homes built now are built rapidly and with the same cheap materials found on lesser-priced homes, just with nicer trim on top. On the other hand, features like original wood windows contain strong, old-growth timber that cannot be replaced using current builder inventory stock.
11. Easy to Market and Sell
Every homeowner should have a long-term plan, and historic Phoenix homes offer one of the best. If you decide to sell the home a few decades or years down the road, you will have a hard-to-get property that buyers will no doubt clamor for.
To start finding a piece of gorgeous historic property to call your own, you can contact a North Central Phoenix real estate agent now!
_________________________________
Are you interested in historic homes for sale in Phoenix? Contact Thomas Osterman, an experienced Phoenix real estate agent. Call 602-405-4052 to speak with Thomas now!
Read related articles: