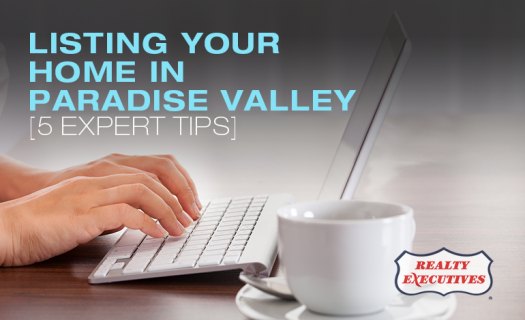 Paradise Valley, Arizona is a prestigious community full of high-end homes, so when listing your home in Paradise Valley, you will want to meet the high expectations of buyers drawn to the area while presenting your home in a way that does it justice.
The good news is that selling your home in Paradise Valley does not have to be chore. Along with the help of a knowledgeable Paradise Valley real estate advisor, you can use these following tips for selling a home in Paradise Valley to increase your chances of success.
Stage Both the Interior and Exterior of Your Home
Point #1 in the modern book of how to list your home would likely say "make sure it is staged." However, the definition of staging has evolved in recent years, and many forget that it includes your home's exterior.
So, traditional staging tips are a great starter for making your home feel breezy and contemporary, but they may not go far enough. Your first order of business is to apply those same principles to your home's exterior. Reduce clutter in terms of outdoor art, outdoor furniture and even the number of ornamental plants.
For instance, if your home has a pool, stage just a small set of lounging chairs and store most of your remaining furniture elsewhere to make the space feel more intimate and exotic. Also, be sure to trim back all trees and shrubs, especially ones touching your house or overhanging above your roof.
Get a Professional Photo Shoot
Photographic talent is hard to quantify but easy to recognize. While your eldest daughter or Uncle Arty may be a wiz behind the camera during family gatherings, they lack the experience of a professional home photographer uses to make your home truly shine from all angles.
A true pro photographer will have specialized equipment for the shoot, will recognize the perfect angles to capture your home while lending dimensionality and they will know how to post-process the photos to bring out their best qualities without making them feel over-touched.
So, support a local talented artist while literally representing your home in the best light possible.
Do a Video Walkthrough
Professional home photos remain a must, but in our modern, digital age, videos have ascended to almost as high of a priority. When doing real estate video the right way, you not only provide a virtual tour for your home, but you are also creating engaging content that can draw attention to your listing online.
Best of all, a skillfully done video home tour can already build an early emotional relationship with your home for interested buyers.
Hold A "Pick Your Neighbor Party" for Your Current Neighbors
While you could easily call your home showing an "Open House," the current trend is to entice your neighbors to come and bring referrals with them, hence "picking their neighbor."
These events also offer compelling reasons for the neighbors to attend and bring somebody with them, such as serving drinks and/or offering a referral bonus to anyone who brings in a buyer that closes on the home.
Consider Enticing the Buyer with Incentives
Many homes are hard to compare side-by-side, but buyer incentives can be the factor that pushes your home over the edge and convinces someone to buy it. The incentive does not even have to have a substantial cash value, just draw attention. For instance, a home with an included indoor arcade-style basketball hoops game can encourage parents to take a closer look, and so can something like a free cruise trip.
More practical incentives like offering to pay the home inspector fee or contribute to the down payment can also make buyers appreciative while nurturing their interest.
You can use all of these innovative techniques along with some old-fashioned realtor know-how when you enlist the help of an experienced Paradise Valley real estate agent like me to help sell your home. Contact me to get started today!
_________________________________
Are you interested in houses for sale in Paradise Valley? Contact Thomas Osterman, an experienced PV real estate agent. Call 602-405-4052 to speak with Thomas now!
Read related articles: