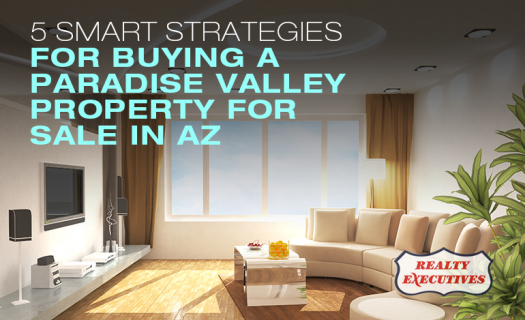 When passionate Paradise Valley residents incorporated the city in 1961, they did so with a strong motivation to preserve the historical and tranquil character of the area. They succeeded amazingly, and now every Paradise Valley property for sale maintains this vision in its own unique and inviting way.
In fact, the sheer diversity of PV real estate can be mind boggling, leading aspiring area homeowners to wonder how they can best approach the task. Should they choose the spacious ranch home with its recently renovated pool? Or maybe the smaller, but more personality-rich historical home, once secretly owned by a famous 1960s artist?
Nagging questions like these can make deciding on a Paradise Valley home for sale difficult, so make use of the following tips when trying to narrow your options and find the best homes worth looking at.
Create an Amenities Wish List
When house hunting, we usually take the bare minimum for granted, especially with luxury properties. Since every home you look at will likely have plenty of bedrooms and garage space, you will have to look beyond basic needs and take thorough stock of your wants.
Even if they are just "nice to haves," such an amenity checklist can make objectively comparing apples to oranges much easier. Focus on the utility of such amenities versus their upkeep, such as the enjoyment you will get out of a large pool versus the extra time or money spent keeping it clean.
Keep a broad definition of "amenity" in mind, as well, which can encompass something as simple as "that nice skylight window in that one home's living room." Every home in Paradise Valley is unique, so give credit where it is due.
Do Personal Research Online
Viewing luxury homes for sale takes a lot of work, and in the hot Arizona sunlight it can be downright exhausting.
Keep the search productive and efficient by vetting any possible homes thoroughly online before you view them. Yes, some features are more or less impressive in person compared to online, but finding out more about the home and the neighborhood helps maintain focus while maximizing the gains from each in-person visit.
Take an In-Depth Tour of Each Possible Home and Ask Questions
Some things take getting used to, and others are not quite what they seem. Rule out the possibility of an inaccurate first impression by taking a second tour of every home on your shortlist and evaluating it from a needs-based perspective. Those heart oak baseboards may not seem so appealing after a second look at the tiny master bedroom closet, for instance.
Consider Buying Through a Luxury Real Estate Auction
Home auctions are an opportunity to purchase hard-to-access properties, often at a below-market price. Keep tabs on any upcoming real estate auctions – http://www.investopedia.com/articles/mortgages-real-estate/10/should-you-buy-at-an-auction.asp , and try to investigate the available property (or properties) in depth so that you know for sure what you are bidding on ahead of time since most are purchased in AS-IS condition.
Connect with an Experienced Paradise Valley Realtor
Finding a realtor familiar with Paradise Valley can significantly improve your home search process. They can quickly answer questions about any neighborhood or home, and they can point you towards homes that best fit your needs as well as all of your amenity wants.
Connect with a Paradise Valley buyers Realtor today to start viewing the homes you have always dreamed about.
___________________________________________
Are you interested in houses for sale in Paradise Valley Arizona? Contact Thomas Osterman, an experienced Paradise Valley Realtor. Speak with Thomas by calling 602-405-4052 now!
Read related articles: