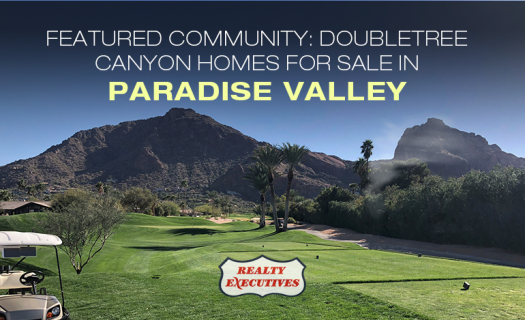 Doubletree Canyon is a charming community first developed in the '80s that is quite established and unlikely to swell in size anytime soon. It is located on N Tatum Road and backs up to the gorgeous Phoenix Mountains Preserve. Residents of Doubletree Canyon homes for sale can enjoy seclusion and safety thanks to the guard-gated entrances, and they also have quick access to some of the region's best amenities.
Put short, homes for sale in Doubletree Canyon are hidden gems that offer a healthy mix of the qualities that make Paradise Valley residential communities great. Here are just some of those qualities you are likely to love:
Mountainside and Mountain View Homes
Doubletree Canyon is a well-spaced neighborhood, giving residents plenty of acreage to enjoy their backyard vistas.
And what vistas they are! Living in these homes for sale in Paradise Valley means that you have several peaks from the Phoenix Mountains Preserve in view, including Lookout Mountain and Shadow Mountain. Just a few miles to the south east, Camelback Mountain and Echo Canyon may also be visible.
Some homes in Doubletree Canyon even have the benefit of a long, private driveway that lets you live secluded upon the mountainside itself. This allows you to be completely immersed in nature in order to appreciate what makes Paradise Valley true to its name.
Guard Gated Community
In addition to the low residential density, guarded gates keep traffic and activity in Doubletree Canyon appropriately low. You can be assured that any unauthorized persons will be promptly turned away at the gate. This added security can give you and your family peace of mind, even when vacationing many miles away from home.
Records are also kept for video and human surveillance of all entry points. Solving problems and detecting potential intrusion sources is made much easier through this constant oversight.
Close to Shopping and Golf
Even though the neighborhood is somewhat insulated from North Scottsdale bustle, it still has quick access to some of the most desirable businesses and locales in the area. The luxurious Paradise Valley Mall, for instance, is located just to the north. The aforementioned Preserve as well as the Echo Canyon Park are also easily accessed, as is the Desert Botanical Garden and Phoenix Zoo just a few miles to the south.
Those who love golf are sure to adore living in Doubletree Canyon. The Paradise Valley Country Club and Camelback Country Club can be found to the south, while Camelback Golf Club and Stone Creek Golf Club spread diagonally across the northeast.
Many other world-class golf resorts are located in the vicinity, giving those who love the links countless opportunities to try new challenges and improve their game.
Finding Doubletree Canyon Homes for Sale
Anyone interested in these amenities and many more can enlist the help of a Doubletree Canyon real estate agent to help them find the perfect property for them.
_________________________________
Are you interested in houses for sale in Paradise Valley? Contact Thomas Osterman, an experienced PV real estate agent. Call 602-405-4052 to speak with Thomas now!
Read related articles: