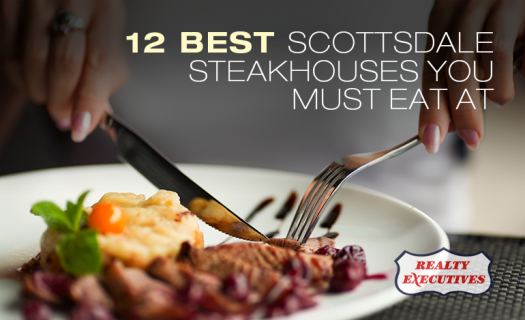 Scottsdale's lavish dining scene culminates with the many sumptuous and scrumptious steakhouses we have throughout the area. Whether entertaining business guests, celebrating a special occasion or just spoiling yourself on an average night out, these mouth-watering maisons du manger are sure to impress your taste buds as well as your fellow diners.
So, to ensure that you are getting only the most top-shelf dining experiences the area has to offer, here are the best Scottsdale steakhouses:
Mastro's City Hall
Anchored appropriately enough in Scottsdale's Fashion Square mall, Mastro's City Hall location delivers on the quintessential steakhouse experience. Rich décor, intimate seating, crisp white table linens, recessed lighting and dark woods all solidify this location as one the most well-rounded steakhouses in Scottsdale, AZ.
Orange Sky
Orange Sky's mind-boggling dining experience provides fiery sunsets worthy of its name. Located on the top floor of the Talking Stick Resort, Orange Sky transports you with its bold décor and sweeping, romantic vistas of the Scottsdale skyline.
Dominick's Steakhouse
Elegant and opulent, Dominick's Manhattan-influenced provides a clubby atmosphere and a unique dining experience with its reflecting pool and greenhouse roof.
Deseo
Those looking for an eclectically original dining experience can find it at Deseo, named after the Spanish word for "desire." Nuevo Latino cuisine infuses each dish with playful and surprising twists, including big eye tuna with a cumin crust and "millionaire tacos" filled with lobster, Japanese hamachi, ceviche ahi tuna and yuca.
Fleming's Prime Steakhouse
With two Scottsdale locations and a formidable talent for pairing delectable steaks and seafood with the perfect vintage, Fleming's comfortable atmosphere and extensive by-the-glass wine selections are sure to keep you coming back for more.
The Capital Grille
Don't let The Capital Grille's buttery dry-aged steaks steal the show; their selection of lamb chops, shellfish, caviar and fish should have you exploring your daring side — all served amidst heavy Frank Lloyd Wright design cues honoring his contribution to the area.
J&G Steakhouse
Located atop the decadent Phoenician Resort, this magnificent restaurant offers an expertly crafted, no-frills menu inside a high frills atmosphere overlooking the Scottsdale skyline.
Fogo de Chao Brazilian Steakhouse
The Fogo de Chao chain may be rising in familiarity across the country, but that does not make it any less delicious or fun. Hail servers carrying around well-seasoned and perfectly roasted cuts of meat to obtain unlimited servings of crispy, juicy goodness.
Preston's Steakhouse
A substantial menu with over a dozen choices in cuts of steak and more available wines than most upscale Scottsdale bars, Preston's Steakhouse is an impressive experience that benefits from the owner's multi-generational culinary heritage.
Mastro's Ocean Club
While Scottsdale is several hundred miles from the nearest beach, Mastro's Ocean Club brings the shore to you with its extensive selection of seafood and sushi. It also has a more airy, contemporary atmosphere compared to the Mastro's City Hall location.
Eddie V's Prime Seafood
Seafood is the focus at Eddie V's, with loads of sea bass, sole, swordfish and more served alongside their traditional steak cuts.
Ruth's Chris Steak House
The original fine dining steakhouse chain, Ruth's Chris solidifies its status as a crowd pleaser with impressive takes on classic dishes like clam chowder accompanying their buttery steak cuts.
Enjoy Even More Unique Dining Experiences
Whether you wish to live next to the finest restaurants or want to wine and dine people interested in buying your home, cuisine and culture intersect readily with the North Scottsdale real estate market. For this reason, it takes a knowledgeable Realtor in North Scottsdale Arizona familiar with the area to make the most of every home buying or selling opportunity.
_________________________________
Are you interested in houses for sale in North Scottsdale? Contact Thomas Osterman, an experienced Scottsdale area real estate agent. Call 602-405-4052 to speak with Thomas now!
Read related articles: