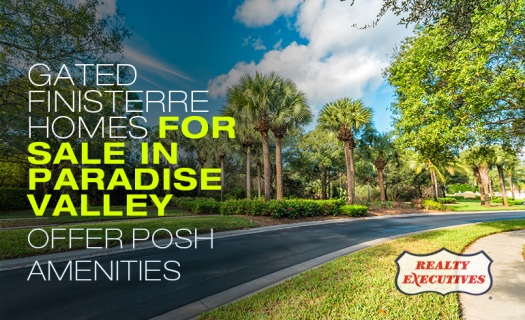 Phoenix and Scottsdale have some of the most eminent luxury communities in the Southwest. Within these cities, Paradise Valley is known as one of the more exclusive and desirable areas worth moving into.
Going one step further, Finisterre stands at the peak of gated communities within Paradise Valley, making it the true creme de la creme and a crowning jewel of the region. Stunning, movie-worthy mansions, impressive landscaped gardens and breathtaking mountain views all characterize Gated Finisterre homes for sale. Anyone who wants to live at the culmination of opulence can find it in Finisterre along with these incredible amenities:
A Limited Access Gated Community
Many unwelcome variables that can adversely impact living in a neighborhood come from people who do not live there. Traffic trying to take shortcuts, people parking where they should not, solicitors and of course criminals all create an undesirable element that makes people feel less secure in their own homes.
At Finisterre, entrants must present proof of residency or obtain permission from residents before entering. Registered guests and family members can all enter freely into the community, while those who have no business there are rightfully kept out.
24-Hour Security and Peace of Mind
Homes for sale in Finisterre likely come equipped with their own security system, but they have an ally before anyone even approaches the door. On-site guards are posted at both primary gated entrances.
Patrol guards work around the clock to keep an eye out for suspicious activity. These hard-working individuals have a duty to keep families and property safe, something they have proven to do exceedingly well in the past. A check of the Raids Online crime map for the area shows zero incidents in the past year.
Walking and Biking Paths
Despite being a gated, affluent neighborhood, Finisterre residents are not one to hide behind their fences. They enjoy taking leisurely walks around the neighborhood and in the larger Paradise Valley area. Walking paths created specifically for residents make the neighborhood a safer and more pleasant place to traverse on-foot. Strolling past gorgeous, multi-million dollar mansions with incredible landscaping and unique architectural features can become a daily pastime.
Thanks to the security, kids of nearly any age can enjoy riding their bikes around the well-lit neighborhood streets. Extremely low traffic and a strict no-thru-traffic policy also greatly reduce the risk of collisions, helping parents keep their minds at ease when their children go out for exercise.
Access to Recreation, Shopping, and Restaurants
Paradise Valley is home to some of the most upscale businesses and establishments in Arizona. Residents of Finisterre can become members at the Paradise Valley Country Club to enjoy rounds of golf on the Parkland-style 18 hole course. They can also get pampered at the Sanctuary on Camelback spa before enjoying world class cuisine at elements.
All of these activities and amenities can contribute to an incredible, relaxing lifestyle that will practically ensure that your life in Finisterre will be a happy one. Contact a Finisterre Paradise Valley Realtor to find listings for incredible homes in Finisterre today.
_________________________________________
Are you interested in houses for sale in Finisterre? Contact Thomas Osterman, an experienced Paradise Valley Realtor. Call 602-405-4052 to speak with Thomas now!
Read related articles: